If you're a mushroom lover, this savory mushroom galette is a MUST to make. I love the combination of the creamy cheeses and the buttery mushrooms. It's easy to make gluten-free using my pie crust recipe, too.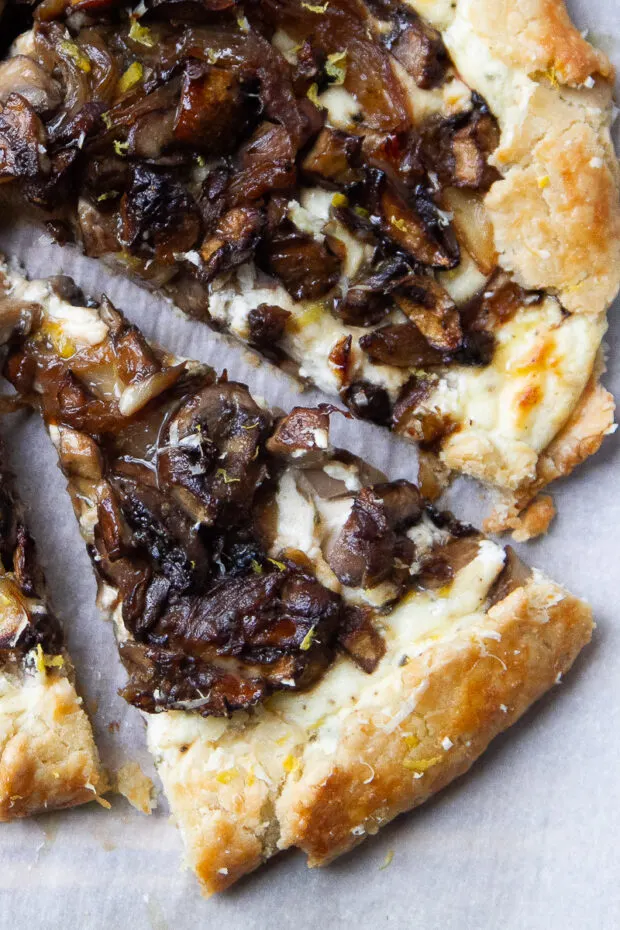 If you're a mushroom lover, this savory mushroom galette is a MUST to make. I love the combination of the creamy cheeses and the buttery mushrooms.
When my kids complain about mushrooms, I reassure them that's there's still time for them. And that their mother didn't like mushrooms until she was in her 30s. It's never too late, my friends.
If you're on the fence about mushrooms (I get it. They're super weird!), I think you'll love them like this.
The mushrooms are caramelized in a little butter with some onions and then go for a roast on top of a ricotta-goat cheese mixture wrapped in a delicious, flaky pie crust.
Mushroom Galette Ingredients
The ingredients for this mushroom galette recipe are pretty straightforward and easy to find.
You'll need…
pie crust
mushrooms
onions
garlic
You'll also need the ingredients for the cheesy filling (my favorite part!). It's just a mixture of
whole milk ricotta cheese
goat cheese
Parmesan
some simple seasonings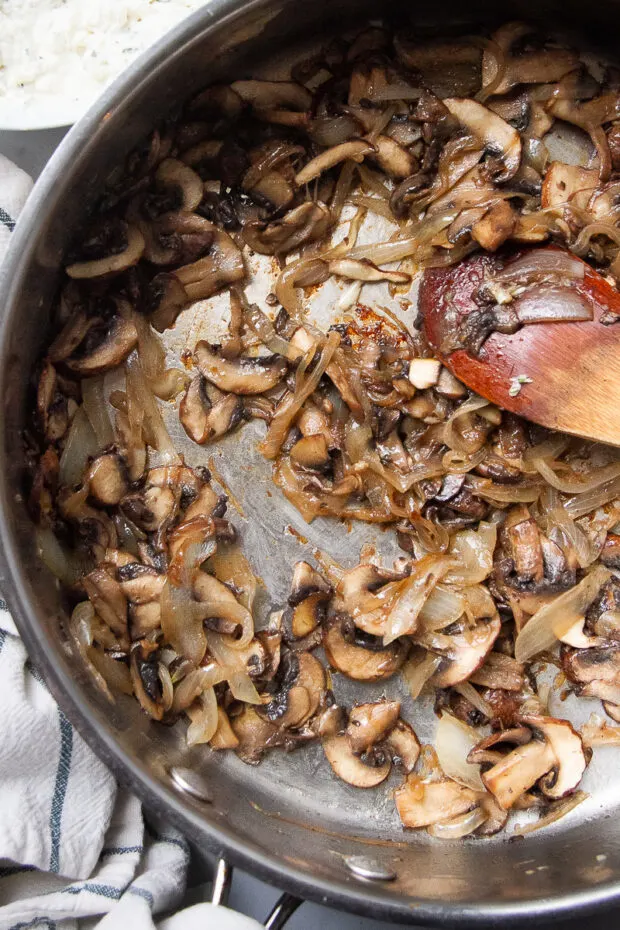 Caramelized Onions & Mushrooms
Speaking of caramelizing onions & mushrooms… they're really versatile!
I love them in these Chipotle Caramelized Onion & Mushroom Burgers. You can also use them as a topping for steak, baked potatoes, meatloaf, or grilled chicken!
It does take time though. If you've never caramelized onions before you'll be surprised to hear that you don't actually need to add any sugar.
For realsies. The natural sugar in the onions makes them plenty sweet — especially if you get sweet onions or vidalia onions.
You just need a little patience as those pungent little strans cook in a skillet over medium heat for a while.
What kind of mushroom are best for a galette?
Any kind you like! Really… any kind you can find easily. A mix of mushrooms would make the flavors more interesting, but I've made this several times with just cremini or baby bella mushrooms and it's always delicious.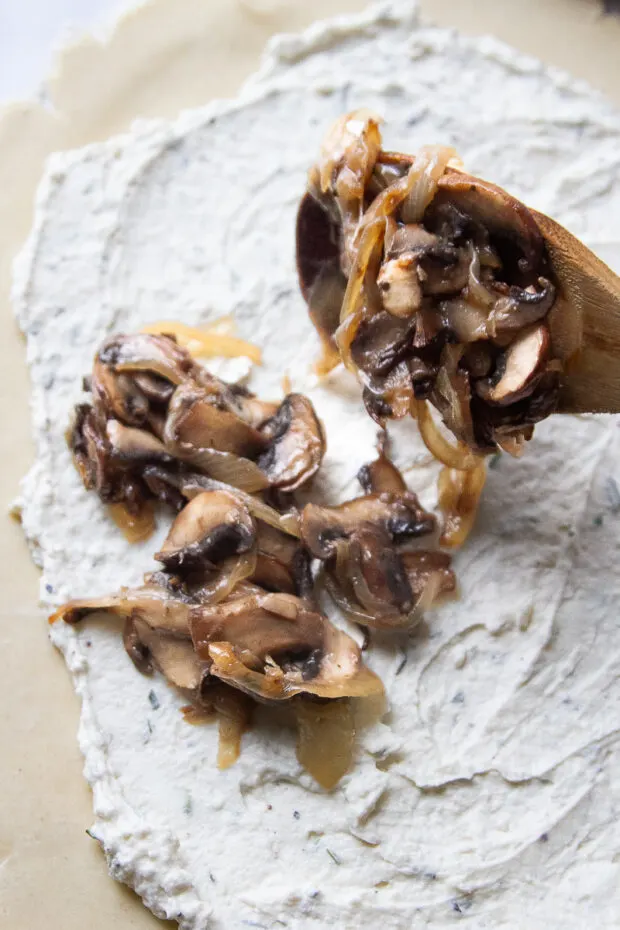 Best way to clean mushrooms
Remember that old recommendation of never washing mushrooms because they'll absorb a bunch of water and then your dish will be watery?
Well. That's not entirely true.
Updated recommendations say that rinsing them is just fine if you don't soak them completely under water.
(Plus, Alton Brown did a Good Eats episode on this years ago and since then I've always washed mine!)
What is a galette?
A galette is a free-form pie and comes from the French word "gale" which means "flat cake". All you need to do is roll out the dough on a lightly floured surface, add the filling to the center and fold the sides around.
Most galettes have sweet fillings — like fruit. I really love a savory galette, and this mushroom one might be my favorite.
The best part about making a galette is transferring the dough to a pie plate (the worst part, amiright?).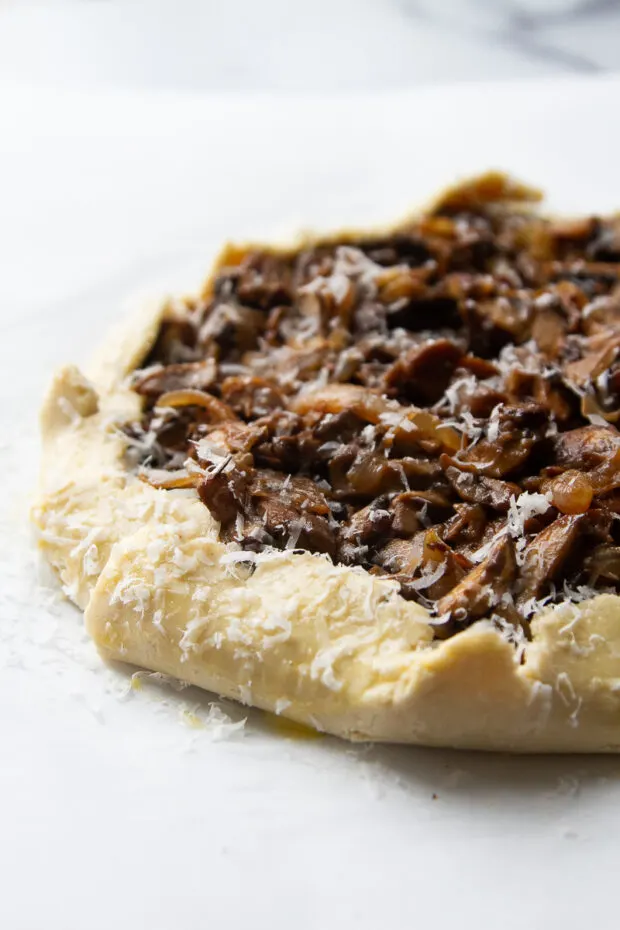 Gluten Free Pie Crust for a galette
You can any kind of pie crust for this galette — even a gluten-free one! If you need a recipe, use my Perfect Gluten Free Pie Crust Recipe. It's stellar. And pretty forgiving.
I highly recommend using parchment paper for this recipe since it'll make it easier to transfer the pie dough to a rimmed baking sheet before you assemble and add the egg wash.
Prepping the galette ahead of time
To be honest, this recipe is a little fussy for a weeknight meal, but you can make the pie crust ahead of time (or even roll it out and cover/chill a day or so ahead) as well as the mushroom-onion mixture!
That would take a good 30 minutes off your prep time and would go in the oven really quickly.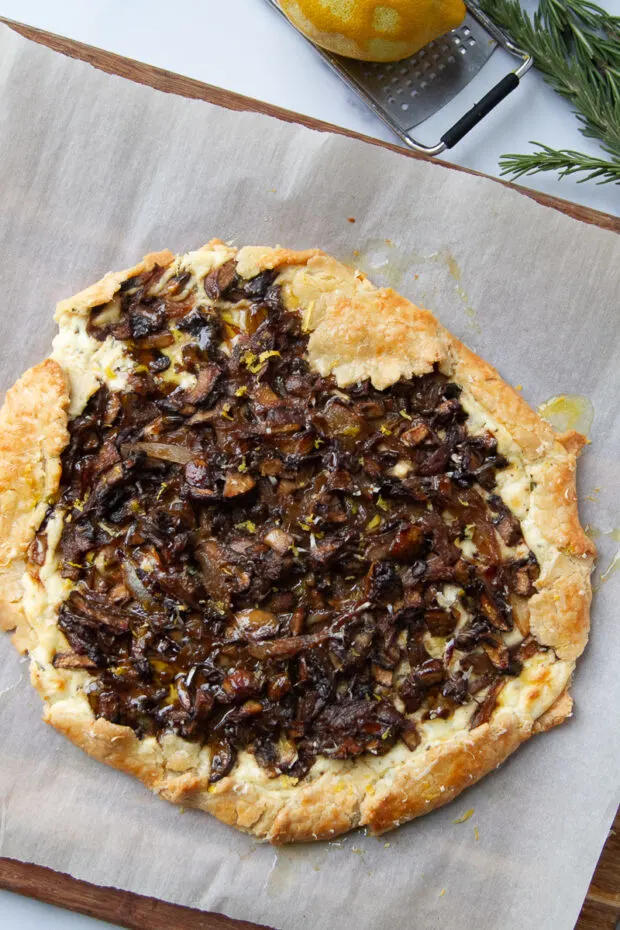 Ideas for serving
How pretty is this? It almost reminds me of a pizza. Heh. If this is something you'd like to try, but don't want to make it during the week (or because your kids will freak out. I'm with you. There would be a mutiny at my house), here are a few ideas to serve this mushroom galette.
Dinner Party: If you're hosting Thanksgiving or another holiday dinner, this is a great option to have if one of your guests is a vegetarian. (It's not a vegan recipe, though. And I would check with your guest if they eat eggs and dairy.)
Brunch: Serve this alongside some hash browns and eggs and I will show up at your door for brunch.
New Mama/Sick Dinner: Wouldn't this be lovely with a salad kit to take to a mom who just had a baby?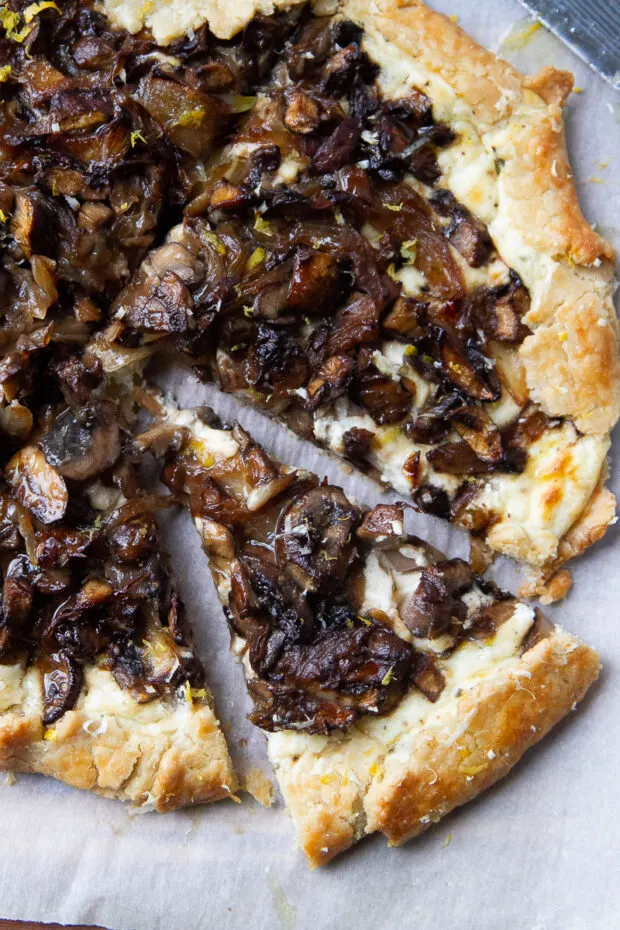 More Mushroom Recipes on Perry's Plate
If you're a mushroom lover, here are a few more of my favorite recipes with mushroom:
Chipotle Caramelized Onion & Mushroom Burgers
Double Mushroom Burgers with Roasted Garlic Aioli
Creamy Dairy-Free Mushroom Soup
Chicken Rice and Mushroom Skillet
Spaghetti Squash with Roasted Mushroom Garlic Sauce
---
If you make one of my recipes, be sure to post it on social media and tag me at @perrysplate or #perrysplate so I can send you some love!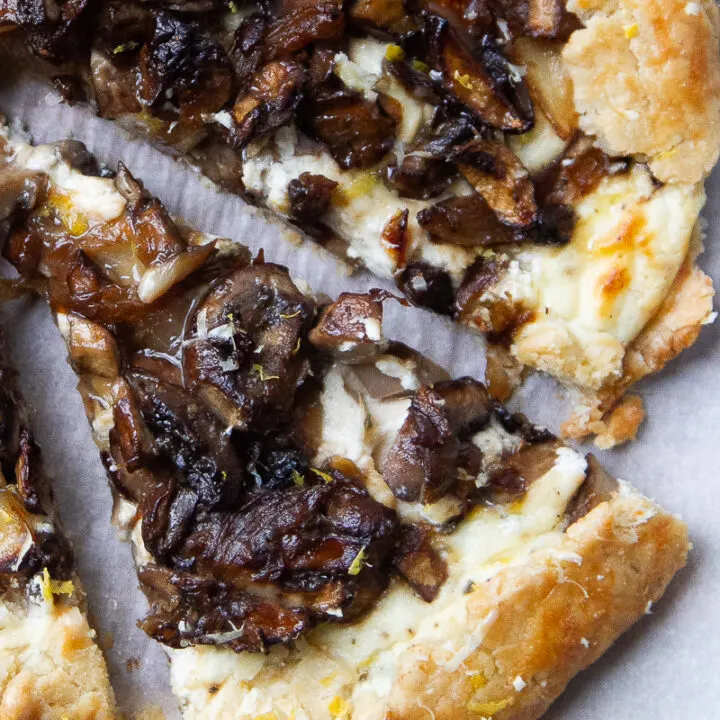 Mushroom Galette with Goat Cheese & Caramelized Onions
If you're a mushroom lover, this savory mushroom galette is a MUST to make. I love the combination of the creamy cheeses and the buttery mushrooms. It's easy to make gluten-free using my pie crust recipe, too.
Ingredients
Dough for one Pie Crust
3 Tablespoons butter or oil
3/4 pound mixed mushrooms (about 4 cups)
1 large yellow onion, sliced thinly
1/2 teaspoon sea salt
3 garlic cloves, crushed or Microplaned
3/4 cup whole milk ricotta cheese
1/2 cup crumbled goat cheese
1/4 cup + 2 Tablespoons finely grated Parmesan cheese
1 teaspoon chopped fresh rosemary (or 1/4 tsp dried)
1/4 teaspoon freshly ground black pepper
1 egg
1/2 lemon
Extra-virgin olive oil, for drizzling
Instructions
Preheat oven to 400 degrees F.
In a large skillet, heat the butter over medium-high heat until the butter melts. Add the mushrooms, onions, and 1/2 teaspoon salt. Cook, stirring occasionally, until the mushroom juices release and evaporate and caramelized onions turn golden brown, about 15-20 minutes. Add the garlic during the last few minutes of cooking.
In a medium bowl, stir together the ricotta, goat cheese, 1/4 cup Parmesan, rosemary, and 1/4 teaspoon pepper until well mixed.
On a large sheet of parchment paper, roll the dough into a 12-inch round. Slide the parchment paper with the dough on it onto a half sheet pan.
Spread the ricotta mixture evenly over the dough, leaving a 2-inch border. Spoon the mushroom mixture in an even layer over the cheese. Fold the border of the dough over the mushrooms, pleating the dough every 2 inches.
Whisk the egg in a very small bowl and brush over the edges of the crust. Sprinkle the remaining 2 Tablespoons Parmesan cheese on the edges of the crust as well.
Immediately transfer to the oven. Bake until the crust is golden brown, about 25-30 minutes. Grate the lemon zest directly over the mushroom filling and drizzle with a little olive oil.
Cut tart into wedges and serve immediately.
Notes
MAKE AHEAD TIP: Cook the mushroom and onion mixture a few days in advance if you like. Just store it chilled in an airtight container until you're ready to add it to the galette.
I made this recipe using my Perfect Gluten-Free Pie Crust recipe. That recipe makes two rounds, but you can wrap and freeze the second round for a later time (or make two galettes!).
Recommended Products
As an Amazon Associate and member of other affiliate programs, I earn from qualifying purchases.
Nutrition Information
Yield

4
Serving Size

1/4 of the galette
Amount Per Serving
Calories

817
Total Fat

56g
Saturated Fat

24g
Trans Fat

0g
Unsaturated Fat

27g
Cholesterol

108mg
Sodium

988mg
Carbohydrates

62g
Fiber

5g
Sugar

6g
Protein

20g
The information shown is an estimate provided by an online nutrition calculator. It should not be considered a substitute for a professional nutritionist's advice.
Recipe adapted from Cooking with Love by Carla Hall.
This post may contain affiliate links. Any purchases made by using these links won't cost you any extra and helps keep my content free. These links may be Amazon links as I am part of the Amazon Associate Program.