These Paleo-friendly meal plans are for six dinner recipes and a dessert thrown in for fun! All of these recipes are paleo friendly, seasonal, and most can be easily adapted to be Keto/Low-Carb or Whole30 friendly.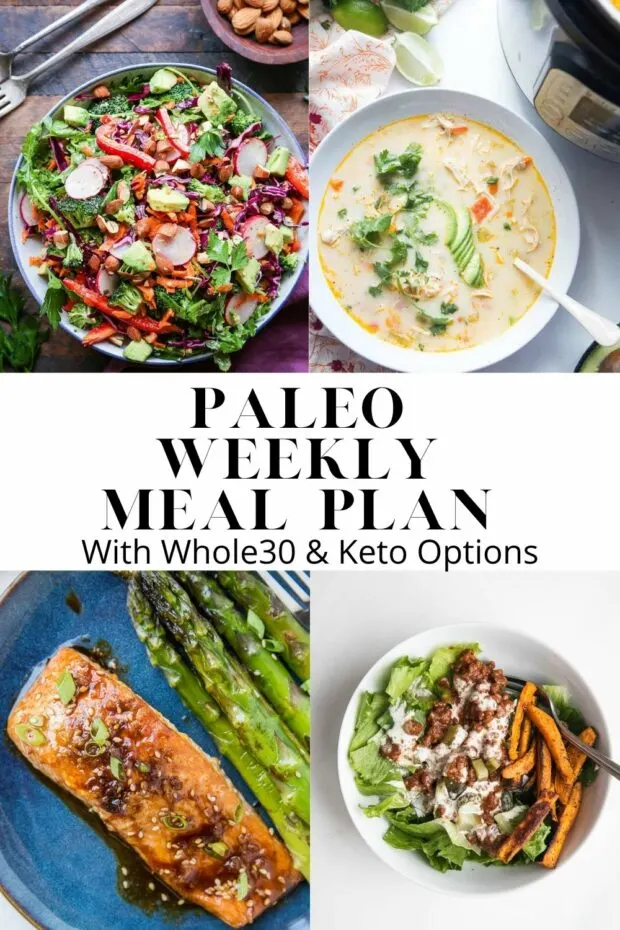 We made it through January! *fist bump*
This week's plan has a lot of bold flavors and bright colors! (Our faves!)
It was only a matter of time before I tossed a Salad Joe into one of these meal plans. Just trust me on this one and give it a shot. It's one of my favorite quick-prep dinners that my family never gets tired of.
While I was assembling this meal plan I realized I had never eaten Ropa Vieja. Julia's version looks totally delicious, so I think I'll make it next week! It's one of her most popular recipes.
I also pulled out an oldie — the Thai Toasted Coconut Cashews. Has anyone ever made those? They're lightly sweetened with a hint of heat.
Have a tasty week!
xoxo
Natalie
---
Sunday
GREEN CHILE CHICKEN & SPAGHETTI SQUASH BAKE — I love the addition of green salsa and a splash of paleo ranch to give it some creaminess. Avocados on top are a must!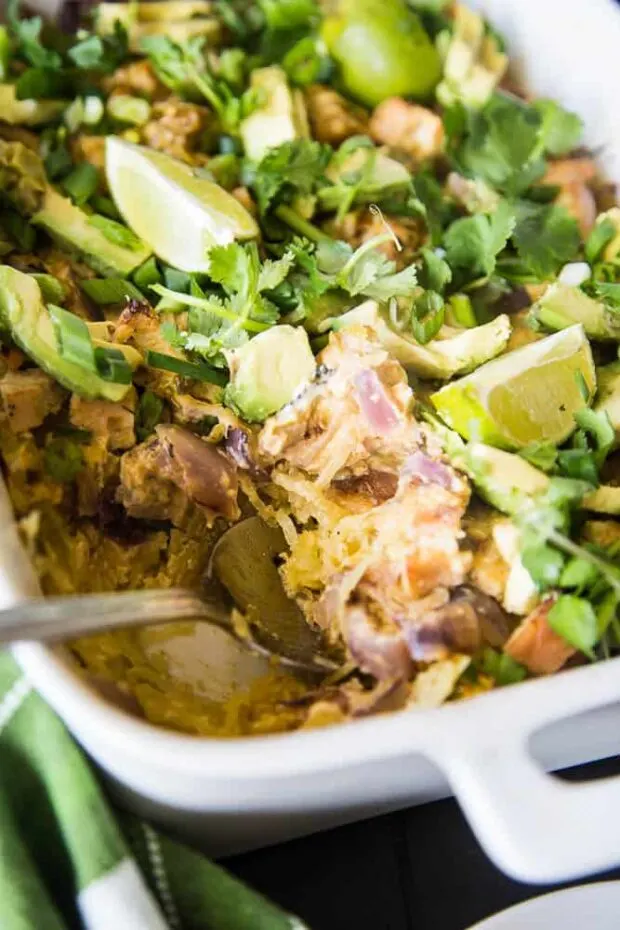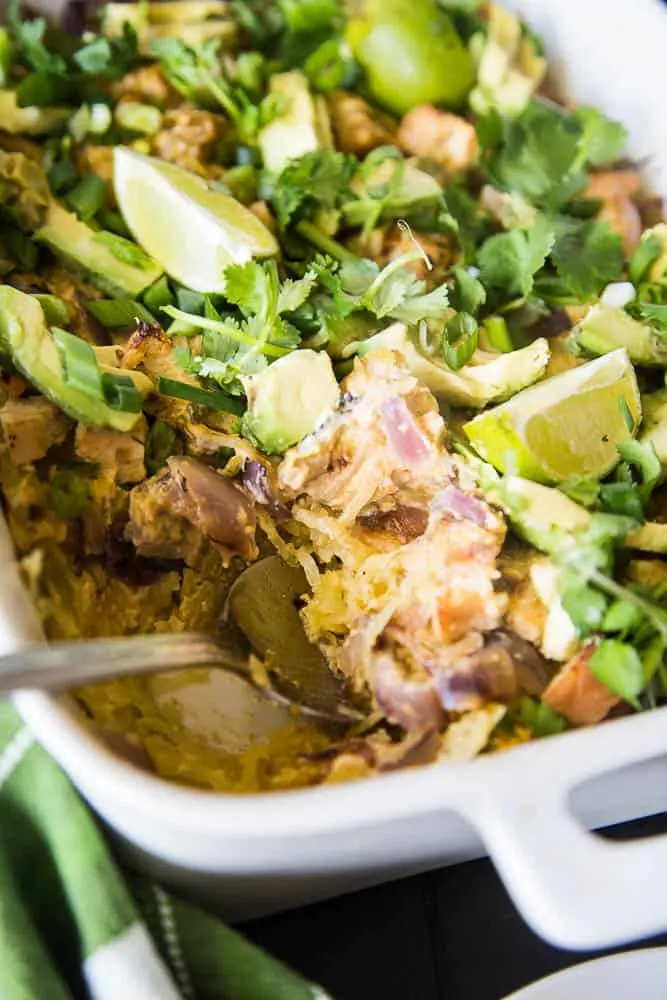 Special Diet Note: Recipe is paleo, Whole30-friendly, and low-carb as is — if you use paleo-friendly Ranch dressing
Prep Ahead: You can roast the squash, onions, and chicken ahead of time and assemble the dish with the sauce and bake it when you're ready. (1-2 days in advance)
Substitutions: Use another type of blended salsa in place of salsa verde, if you like.
Monday
SLOW COOKER (OR INSTANT POT) ROPA VIEJA – Ropa Vieja, or tender Cuban-style shredded beef, is stewed in a pepper tomato sauce. With slow cooker and pressure cooker instructions, you can make this delicious recipe in either your crock pot or Instant Pot!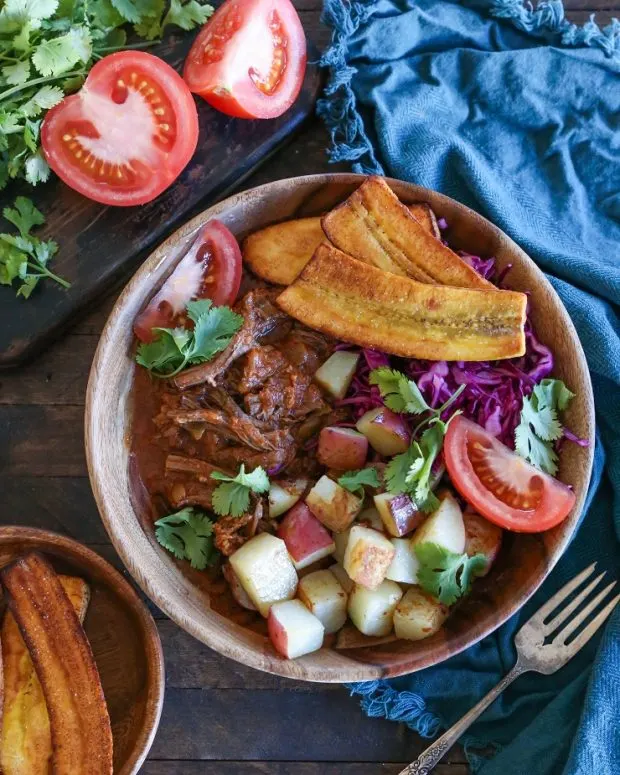 Special Diet Note: This recipe is paleo and keto if you serve with cauliflower rice instead of potatoes
Prep Ahead: No need to advance prep.
Substitutions: Serve the shredded beef with your choice of sides instead of roasted potatoes, plantains and cabbage slaw.
Tuesday
SALAD JOE'S (SLOPPY JOE SALADS) – This unconventional way of serving Sloppy Joe's has become a family favorite! Sloppy Joe meat is excellent over salad greens with paleo ranch, diced pickles, and a side of sweet potato fries.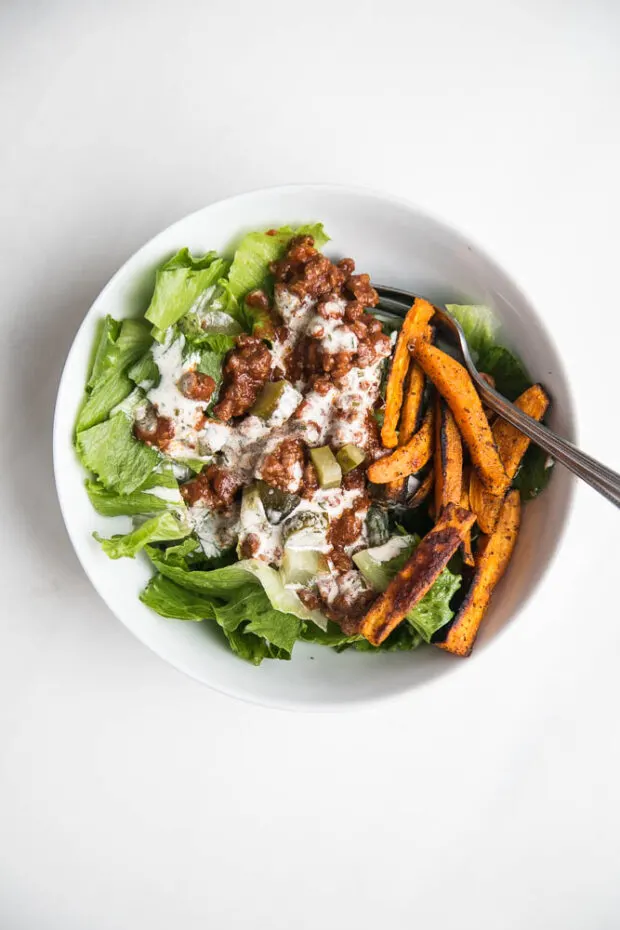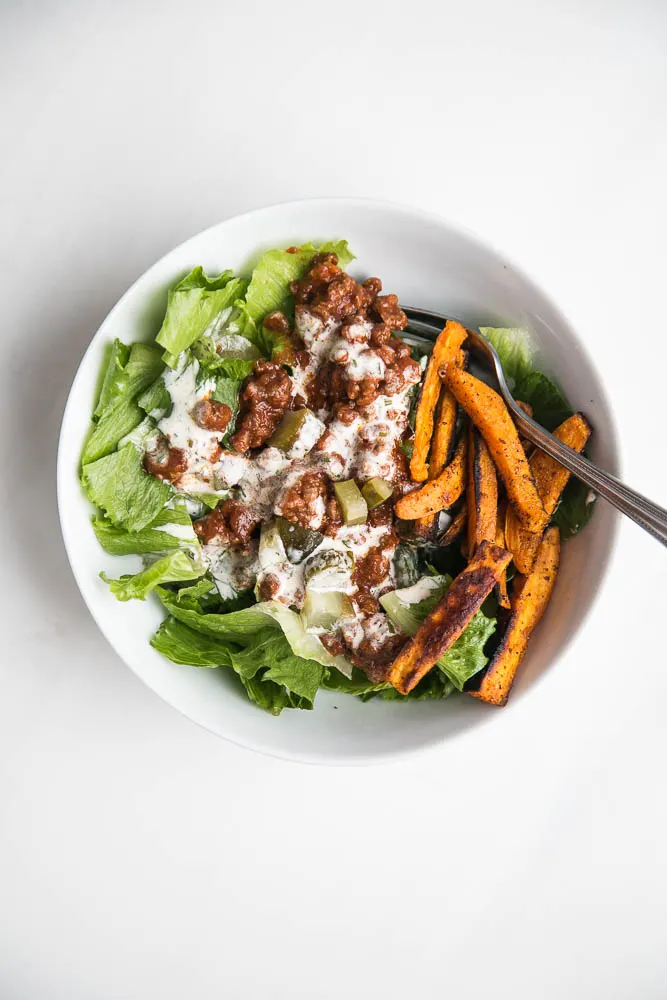 Special Diet Note: Recipe is paleo as-is.
Prep Ahead: Salad greens and pickles can be prepped ahead of time.
Substitutions: If you can't find sugar-free ketchup, omit the ketchup and add a light drizzle of honey.
Wednesday
PALEO ASIAN BAKED SALMON & ASPARAGUS — Paleo Asian Baked Salmon made soy-free and refined sugar-free. This amazingly flavorful baked salmon recipe is easy to prepare and is seeping in delicious flavor!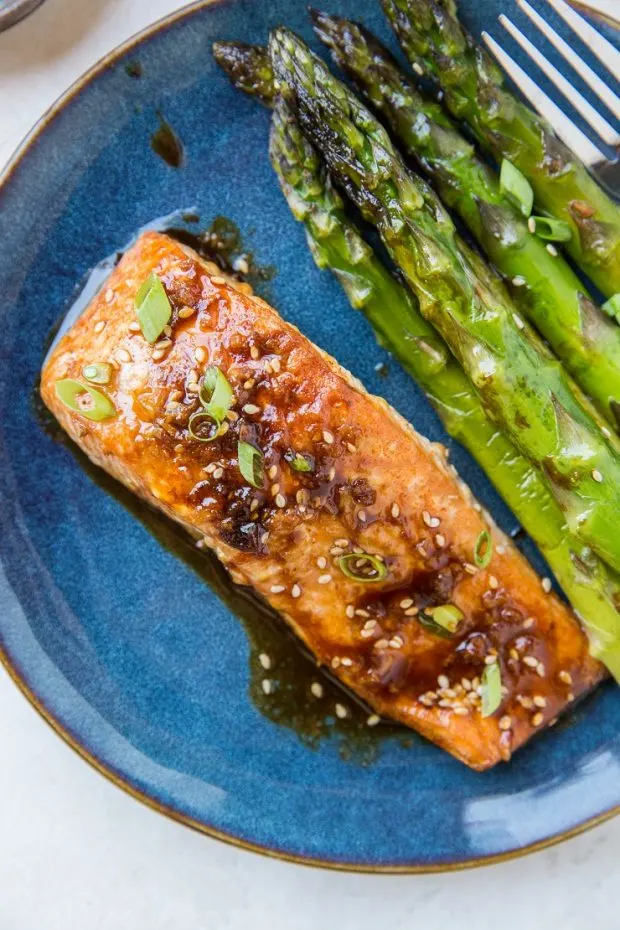 Special Diet Note: Recipe is paleo.
Prep Ahead: Salmon can be marinated up to 12 hours in advance.
Substitutions: Serve the salmon with your choice of sides – steamed rice, cauliflower rice, roasted or sautéed veggies are great!
Thursday
CREAMY SOUTHWEST CHICKEN SOUP — This is a southwest version of our favorite chicken soup for Instant Pot! Using almond or coconut milk makes it creamy and dairy-free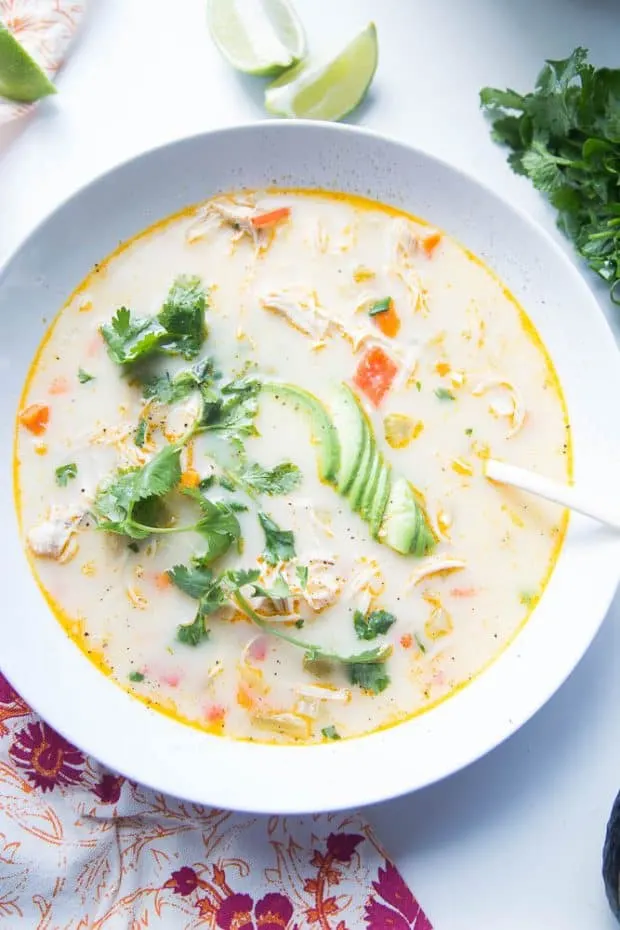 Special Diet Note: Recipe is paleo, Whole30, and low-carb if almond or coconut milk is used to make the soup creamy. (Watch almond milk ingredients if you're doing Whole30.)
Prep Ahead: Vegetables can be chopped ahead of time. You can even use pre-cooked chicken (maybe roast extra on Monday?) Just coat it in the seasoning either before or after you roast it, then shred it and add it to the soup along with the broth. Reduce Instant Pot pressurizing time to 5 min.
Substitutions: Feel free to swap out vegetables for ones you prefer.
Friday
ALL THE GOOD VEGGIES DETOX SALAD — This salad with Lemon-Parsley Dressing is a clean and nutritious recipe that is vegan, paleo, whole30 and requires less than 30 minutes to prepare.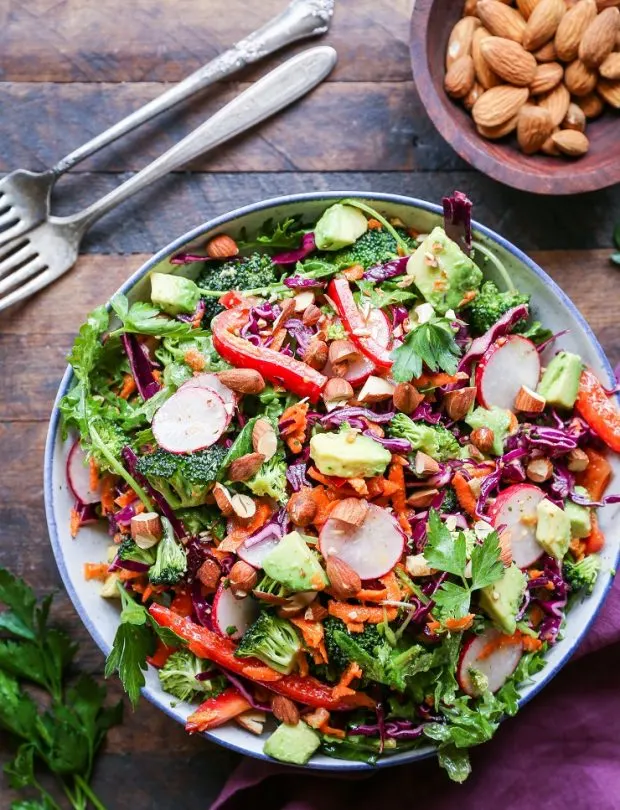 Special Diet Note: Recipe is paleo, vegan, whole30, and low-carb.
Prep Ahead: Make the salad dressing up to 5 days in advance.
Substitutions: Incorporate your favorite vegetables and/or add baked chicken or salmon for a heartier meal.
Dessert
THAI TOASTED COCONUT CASHEWS — You'll love these naturally sweetened coconut-cashew clusters with a hint of heat! Great as a grain-free replacement for granola or eaten alone as a healthy treat.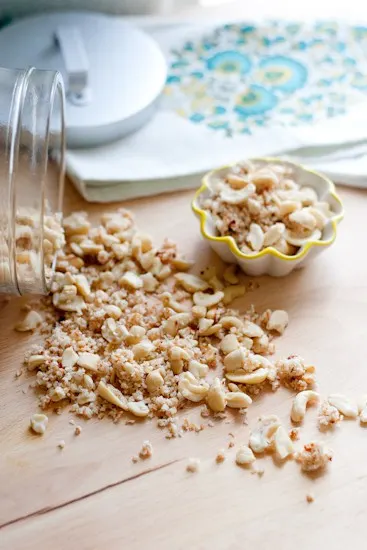 Special Diet Note: Recipe is paleo.
Prep Ahead: No need to prep ahead!
Substitutions: Swap out the honey for maple or use another type of nut you prefer.
Grocery List
Click HERE to download a handy printable grocery list!