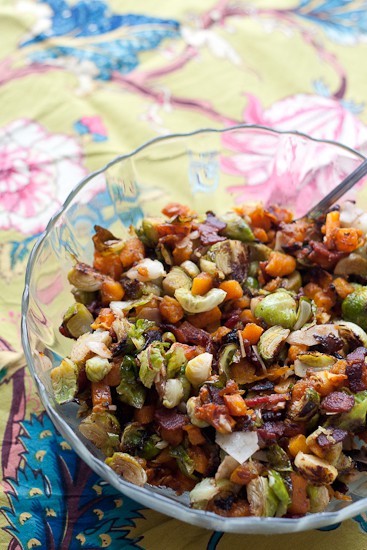 I'm pushing that other giveaway back a few days to give you an actual recipe — something you could use as a side dish at a holiday dinner!
I love how the slightly bitter sprouts play off the sweetness from the squash and balsamic. Also the salty bacon and cheese. Seriously… recipes that have all those components make me so happy.
This won't be on our table this year, though. We've (accidentally) started this tradition to eat battered fish tacos for Christmas dinner.
Do you have any special Christmas dinner traditions? If you go traditional, this recipe will rock your table.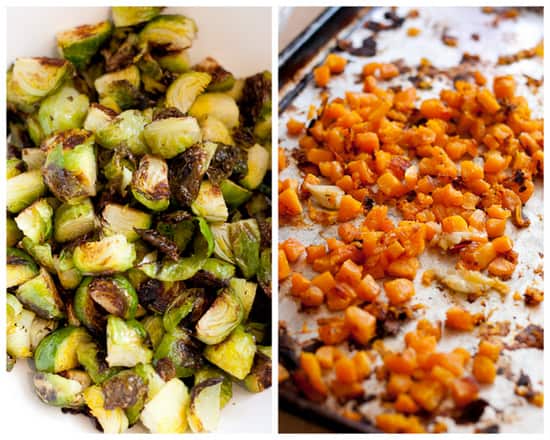 One more thing…
After I made it I realized I picked the two most tedious vegetables to prep and put them together.
Luckily I had leftover butternut squash cut up from a previous night so it wasn't too bad. You could prep both ahead of time and save yourself a lot of chopping!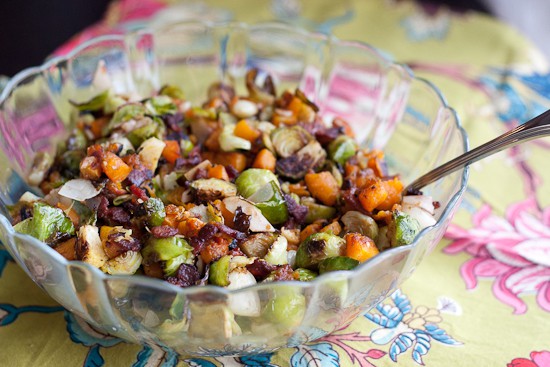 By the way, if you're a fan of Brussels sprouts, you MUST try my Crispy Roasted Shredded Brussels Sprouts. Seriously. They're the best Brussels sprout recipe you'll ever make.
For more DELICIOUS Brussels sprout recipes click here: Best Brussels Sprout Recipes.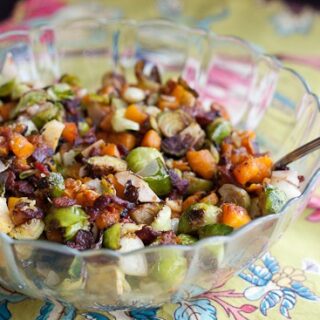 Roasted Brussels Sprouts and Butternut Squash with Bacon
Yield:
6-8 side dish servings
My favorite roasted vegetables are butternut squash and Brussels sprouts. I also love bacon (you know this right?) so it was only a matter of time before they all got together in a FAB side dish.
Ingredients
2 1/2 pounds Brussels sprouts, trimmed and quartered
1/2 of a butternut squash, peeled and cut into 1/2-inch cubes
6 cloves of garlic, peeled and smashed
4 Tablespoons heat-safe oil (like coconut or avocado)
generous pinches of sea salt and black pepper
4 slices thick-cut bacon
2 Tablespoons balsamic vinegar
1/3 cup fresh Parmesan or Romano shavings (optional)
Instructions
Preheat oven to 425 degrees F.
Place sprouts on one rimmed baking sheet. Place the squash on the other. Place three cloves of garlic on each pan and divide the oil between the two pans. Using your hands, toss the vegetables in the oil until combined and spread them evenly in the pan. Sprinkle with generous pinches of salt and pepper. Roast the pans in the oven, rotating and stirring the vegetables in the pans after 15 minutes or so. The sprouts will be done after 20-25 minutes and should have dark golden spots. The squash should be done shortly after. Transfer vegetables to a baking dish.
While the vegetables roast, cut the bacon into small bits and cook in a pan over medium heat until crisp. Remove with a slotted spoon. Add bacon, balsamic vinegar, and most of the cheese (if using) to the vegetables and toss to combine. Taste, and add salt/pepper if necessary. Sprinkle the rest of the cheese on top and serve.