Sheet pan meals are some of my favorite weeknight dinners! This baked chicken pesto sheet pan meal is super versatile, too — swap out the veggies, use your favorite kind of pesto, or just make a big batch of pesto chicken only for some meal prepped protein!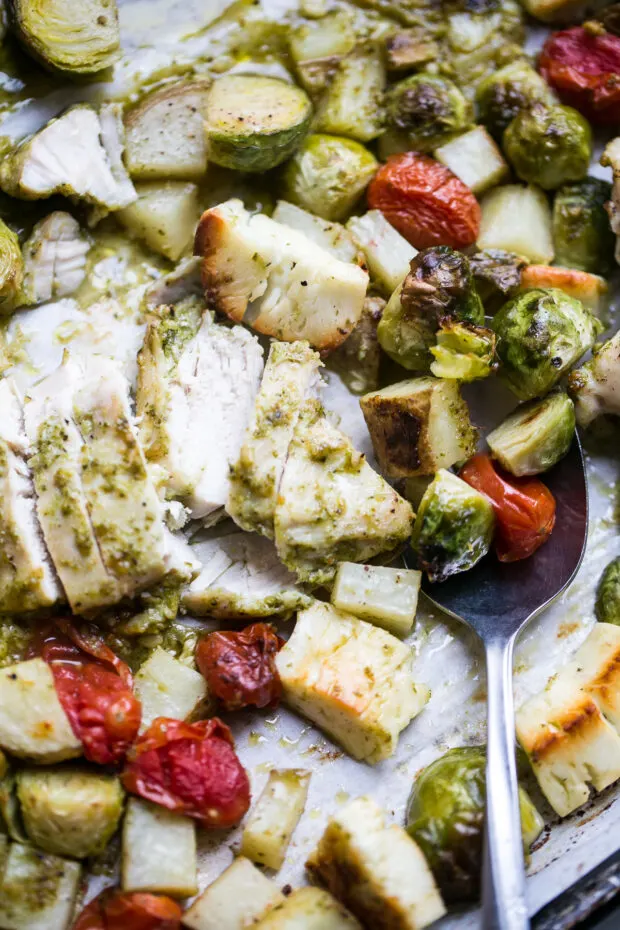 I know you love an easy recipe with simple ingredients. I feel you. They're my favorite, too!
What Vegetables to Add to the Baked Chicken Pesto?
For this easy pesto chicken recipe I wanted it to be an entire easy meal in a sheet pan. I added halved Brussels sprouts, whole cherry tomatoes, and a medium cubed Russet potato. These all roast at around the same rate as a large chicken breast cut in half.
If you swap them out, use vegetables that can handle being roasted for 25-30 minutes. Cauliflower florets, winter squash, large pieces of summer squash, or sweet potatoes would be good options.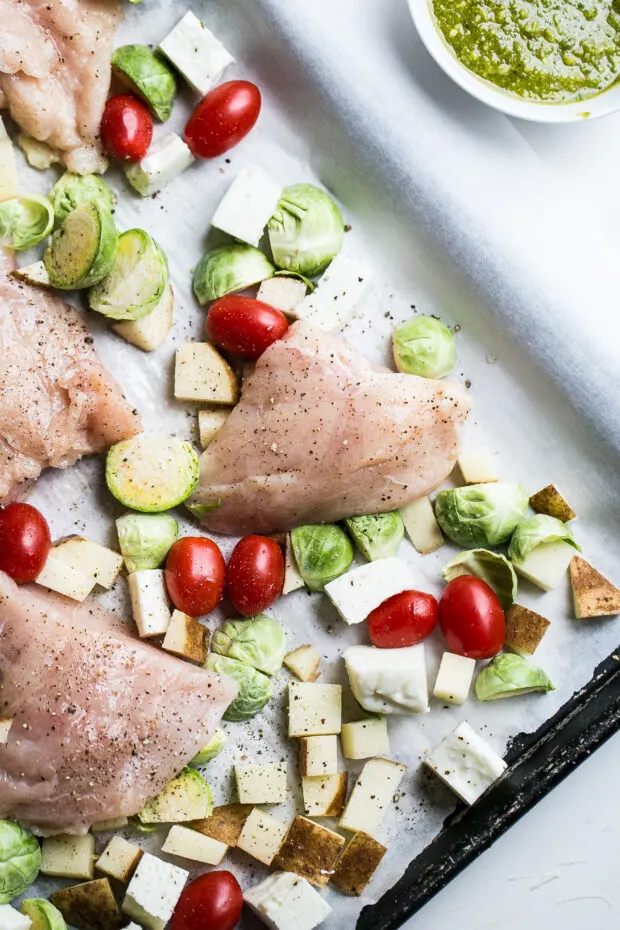 Tip: Use a large rimmed baking sheet instead of a regular baking dish to get more color on those vegetables. When they're all crowded together in a deeper dish, they tend to steam instead of caramelize. We want more of that caramelization!
Why so hot?
You might notice that this recipe bakes in a 450 degree F preheated oven. That's pretty hot. I do this because I want to get some color on the vegetables before they turn to mush. And because there are both meat and vegetables on the sheet pan, it's going to create a lot of steam. By cranking the heat up high, I can get some caramelization.
About Halloumi Cheese
Nat, what are those weird white cubes?
Oh, friend. It's halloumi cheese. Yep, cheese. This particular type of cheese can be grilled, sauteed, or roasted and it won't melt all over. It gets nice and browned and takes on a crispy cheesy sort of taste. Halloumi is mild and slightly salty. It's super delicious, but optional in this recipe.
I've seen halloumi cheese in the deli sections of the grocery store. Where the "fancy" cheese is.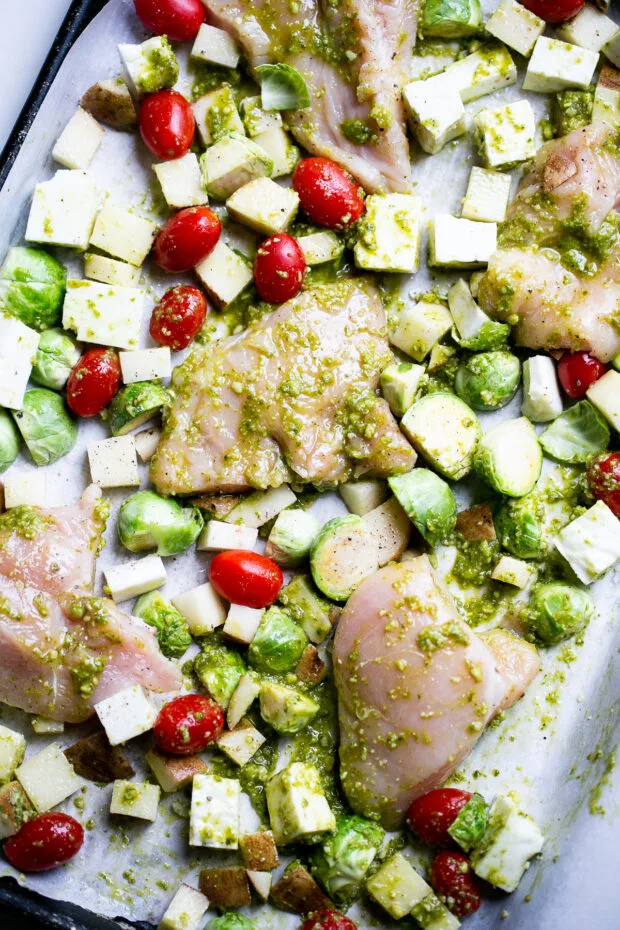 Ok, after we have all of the chicken and vegetables on the sheet pan, sprinkle on some sea salt and black pepper, add some pesto and toss everything around. Make sure the top of the chicken breasts are covered well.
Roast until the chicken is cooked through and the vegetables are tender.
The chicken might not get browned very much because of all of the moisture the vegetables are releasing, so don't use that as indicator for doneness. It should be fairly firm to the touch and no longer pink inside.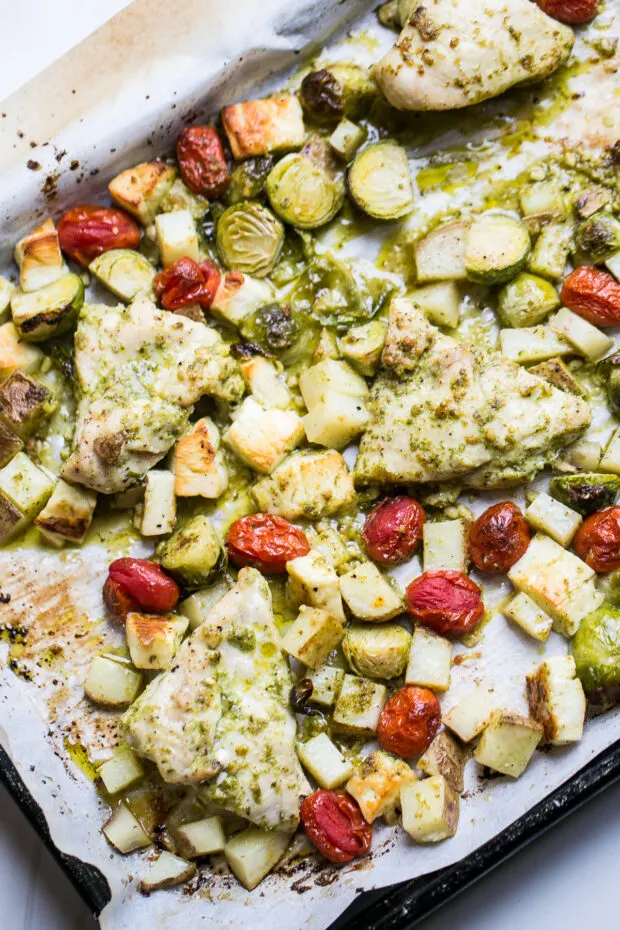 Can I use bone-in skin-on chicken?
I used skinless chicken breasts cut in half, but you can use thighs or bone-in/skin-on chicken here, too.
Just keep in mind that bone-in chicken takes longer to roast, so don't pair it with vegetables that will be overcooked easily. Or cut the vegetables into larger pieces.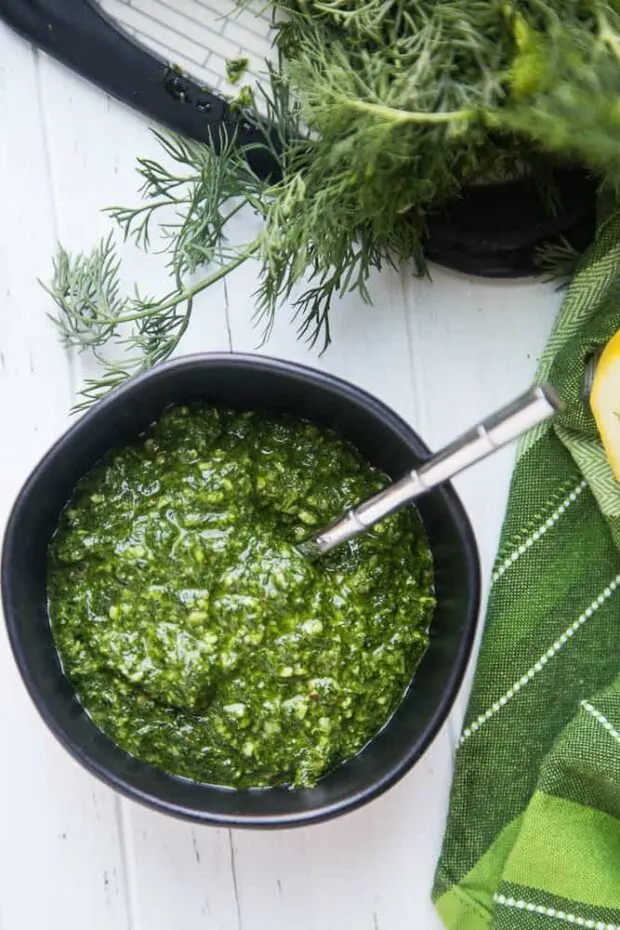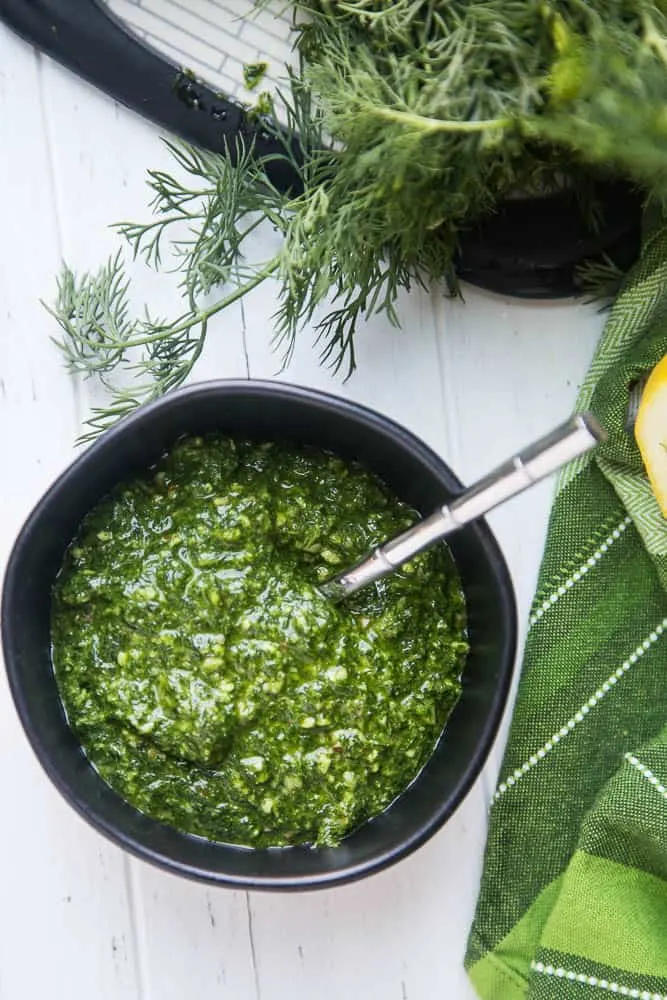 About Pesto
I LOVE pesto sauce. Unfortunately one of my kids is allergic to pine nuts, so if I want to feed the whole family something with pesto, I've got to make my own pesto from scratch.
Pesto is easy to make from scratch! Basil pesto is simply fresh basil, parmesan cheese, olive oil, fresh garlic, and pine nuts. This sheet recipe would be delicious with any of the homemade pesto recipes on my site. Here are a few dairy free pesto recipes that we use a lot:
What to serve with baked pesto chicken
This is a great recipe because it doesn't really need any side dishes! If you're still wanting something to go with it or are just baking a pan full of chicken, try serving it with an easy side like Roasted Cauliflower Rice (put it in the oven along with your other sheet pan!), a fresh salad, or a plate of crudites to keep it simple.
If you like this Baked Chicken Pesto Recipe, try one of these!
More Recipes to Use Pesto on Perry's Plate
Wild Rice Salad with Cucumber and Pesto is a simple, meatless salad that's hearty enough to eat as a meal! It's a good one for meal prep because it stays good for a few days in the fridge.
Pesto Zoodles with Broccoli & Bacon is a tasty weeknight meal that comes together super quickly!
Baked Cod with Pesto might be my favorite way to use pesto. It makes cod super buttery and flavorful!
Garlic-Almond Soup with Pesto is a creamy, meatless soup with a swirl of homemade pesto.
Pesto Eggplant Roll-Ups are great in the summer when fresh basil and eggplant are abundant!
---
If you make one of my recipes, be sure to post it on social media and tag me at @perrysplate or #perrysplate so I can send you some love!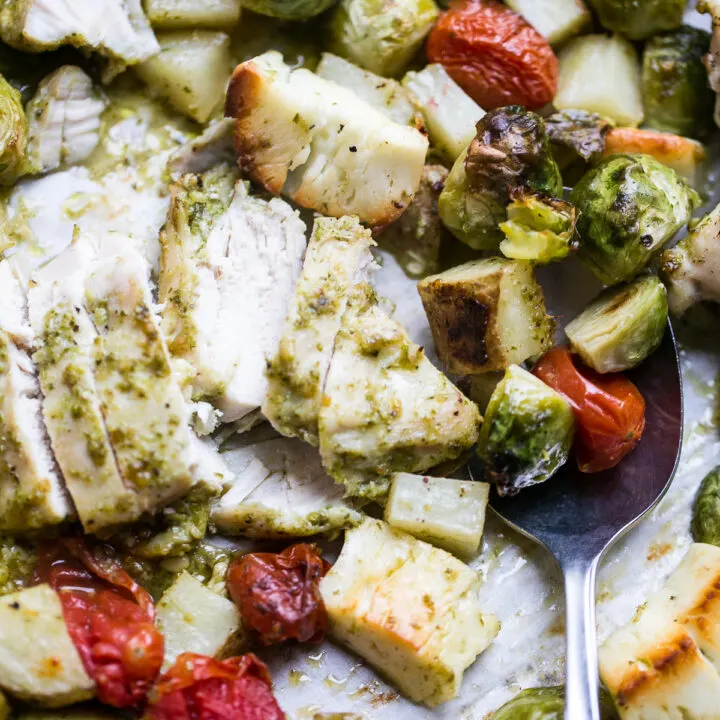 Baked Pesto Chicken & Vegetables
This baked chicken pesto sheet pan meal is super versatile -- swap out the veggies, use your favorite kind of pesto, or just make a big batch of pesto chicken only for some meal prepped protein!
Ingredients
2-3 large chicken breasts, cut in half
4-5 cups of chopped vegetables (see note)
8 oz Halloumi cheese, cut into 1-inch cubes (optional)
3/4 teaspoon sea salt
1/4 teaspoon black pepper
1/3 cup basil pesto
Instructions
Preheat oven to 450 degrees F.
Line a large rimmed baking sheet with parchment. Place the chicken, vegetables, and cheese cubes on the parchment in a single layer.
Sprinkle the salt and pepper over both sides of the chicken. Drizzle the pesto over all of the chicken and vegetables and toss them around a bit to coat them well.
Roast on a center oven rack for 25-30 minutes or until the chicken is cooked through and the vegetables are soft.
Let the chicken rest for 10 minutes before slicing and serving.
Notes
Choose vegetables that have a semi-long roasting time so they'll be finished when the chicken is done. I used halved Brussels sprouts, cubed white potatoes, and cherry tomatoes. You could also use large chunks of sweet potato, cauliflower, or summer squash or 1-inch chunks of winter squash.