Zucchini Cakes
Bear with me. I'm almost through. Then we can go back to our zucchini-less thoughts for another year.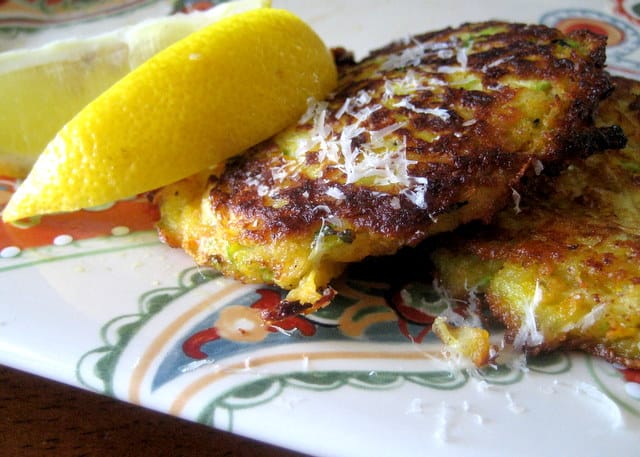 I found this recipe on the Pioneer Woman's site, and I think it's one of those recipes with which you don't have to be strict as far as measurements or ingredients. I used zucchini and some leftover butternut squash. I didn't have seasoned breadcrumbs, so I used some leftover Panko (coarser, Japanese-style) bread crumbs and some Creole seasoning to mimic the flavors of the salmon I was making to go along with it. (That one's coming soon, hopefully.) And because I was pairing it with seafood, a squirt of lemon was the perfect garnish.
I guess what I'm saying is that you can put pretty much any type of squash or shredded vegetables and any seasonings in these. Just make sure the mixture is the right consistency. One thing I wish I'd have done better was squeezing the water out of the zucchini. I think mine would have crisped up better had I squeezed for just a minute longer. Let that be a lesson.
Go nuts.
Zucchini Cakes

Ingredients:

3 cups shredded zucchini
1 c shredded butternut squash
1 T minced garlic
3/4 c Panko breadcrumbs
1/2 c shredded Parmesan or Italian cheese blend
2 eggs
1/2 tsp Creole seasoning (Tony Chachere's is awesome)
1/2 lemon pepper seasoning
a couple big pinches of salt and black pepper
olive oil
lemon wedges

Directions:

Squeeze as much water you can out of the shredded zucchini/squash. Putting it into the center of a kitchen towel, twisting it up, then squeezing it works well.

In a large mixing bowl, combine shredded squashes, garlic, breadcrumbs, cheese, eggs, and seasonings until everything is thoroughly mixed. If the mixture feels too wet and doesn't hold its shape when squeezed, add more breadcrumbs. If it's too dry and crumbles, add another egg.

Form mixture into patties about 3-4 inches wide and 1/2-inch thick. Heat olive oil, about 1/2-inch deep in skillet, to medium-high heat. Fry patties in batches, turning once halfway through, for about 3 minutes or so on each side. They should be a nicely browned.

Transfer to a platter, sprinkle with a little salt and garnish with lemon wedges. Serve with your favorite dipping sauce.

adapted from The Pioneer Woman