Rosemary Apple Chicken
I used to be scared of whole chickens. I've been a frozen boneless-skinless chicken breast girl for a very long time.
After roasting four in the last couple of months, I'd describe my feelings as tolerant. I don't mind handling or prepping one, but it doesn't give me warm fuzzies, either. Baby steps. I'm still a little squeamish and thought I'd save you (and myself) from pictures of the bag o' guts extraction. (Side note: the Costco near us recently started stocking whole organic chickens! Yippee!)
This recipe was easy and delicious — especially the gravy. My version calls for avocado oil and balsamic vinegar to be poured over the top of the chicken, which made an amazing, sweet-tangy gravy.
All you do is rinse off the chicken, put it in a glass 9×13 baking dish, and pour the oil and vinegar over top. Add the chopped apples around the side, stuff some rosemary underneath Ms. Bird, then pop her into the oven.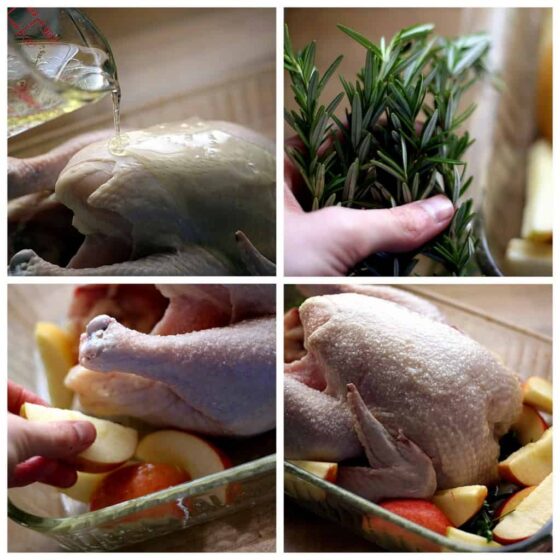 I made this chicken as the main dish of our "Emancipation Dinner". My husband's 8-year contract with the Army National Guard ended on the 9th — for sure a holiday more meaningful than Valentine's Day. Sorry to get sappy, but the joy and relief of knowing that he'll never get deployed again brought me to tears several times this past week. That and Enchanted. I always cry at the ball scene.
To go alongside this lovely bird . . .
I made Parmesan Roasted Broccoli that I found in a recent Food Network magazine — my most favorite roasted broccoli recipe EVER, Pioneeer Woman's Crash Hot Potatoes (which I need to redo. . . I think I botched them a little). Then we finished it off with some light Ginger Mousse — a new favorite recipe I found in Bon Appetit.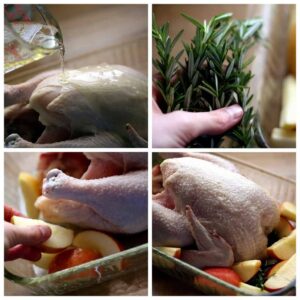 Ingredients:
1 chicken (2-4 pounds)
¼ cup avocado oil (see note)
¼ cup balsamic vinegar (see note)
2 teaspoons Kosher salt
3 apples, cored and sliced
4 sprigs rosemary
Directions:
Preheat oven to 350 degrees F. Rinse the chicken, pat dry with a paper towel and place in a 9×13 inch glass baking dish. Drizzle with oil and vinegar, then sprinkle with salt. Arrange the apple slices around the chicken in the baking dish. Place the sprigs of rosemary under the chicken and
bake at 350° for 90-120 minutes, until browned on the outside and the internal temperature reaches 165 degrees F.
Cut and remove meat from the chicken and serve with drippings, if desired. (It should be your desire.) To make gravy, remove the chicken, apples and rosemary from the pan and pour the drippings into a saucepan (if your roasting pan isn't stove-safe). Add about 2-3 T of flour and whisk over medium-high heat until gravy is bubbly and thick.
Serves 6.
There were comments on the original post about the balsamic vinegar turning the chicken black and burning slightly in the oven. I tried using white balsamic vinegar and didn't have a problem with that. As far as I can tell, they taste the same, and I couldn't tell regular balsamic apart from its white counterpart in a blind smelling test. (Yes, I did that. I'm nerdy.) It's great to use instead of the dark stuff if you don't want everything to turn purpley-brown.
The reason why I suggested only cooking the chicken until it reached 165 degrees is because the chicken will continue to cook an additional 5-10 degrees from the residual heat after you take it out of the oven. If you leave the chicken in the oven until it reaches 175 or 180 degrees, it will be dry.
adapted slightly from Elana's Pantry