Everyone, meet Purslane . . .
Ever heard of purslane? Until last week I hadn't. One of the fun things about getting a
CSA box
every week is discovering new vegetables (purple broccoli, purple carrots, orange beets, mystery greens . . .). Last week we received this little bunch of greens with a note and a recipe (!) inside the box.This, my friends, is purslane. A tender green with a slight peppery bite — perfect for salads. Coincidentally, my husband had just read an article that mentioned purslane as having the highest omega-3 content out off all the greens listed in the article. It even had four times more than the next green on the list. Way to go, purslane.
Sarah, a dear friend of mine, who lives down the street from me and also receives boxes from the same farm decided to try out the salad as well on a night she had company for dinner. This humble little salad received 6 thumbs up from all of us. (Oh, are we doing double thumbs? Then it's 12. That's a lot of thumbs.) Sarah will probably have this posted on her blog pretty soon so you'll be able to read her experiences as well.
I've never seen purslane in the grocery store (sorry for posting a hard-to-find ingredient), so I think baby spinach or arugula would be a good substitute. Or you can plan ahead for next year and grow some of your own!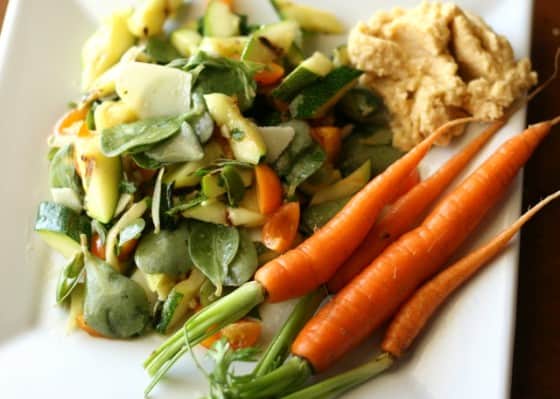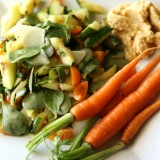 Grilled Zucchini Salad with Tomatoes and Purslane
Ingredients:
for the dressing:
1 tsp finely grated lemon zest
3 T freshly squeezed lemon juice
1 T finely chopped shallot or 1 garlic clove, minced
1/4 tsp Dijon mustard
1/2 tsp salt
1/4 tsp coarsely ground black pepper
3 T chopped fresh flat-leaf parsley
6 T olive oil (estimate)
for the salad:
4 medium-sized zucchini (about 2 lbs), sliced lengthwise into 1/4-inch strips
12 oz purslane, thick stems removed (1 large or 2 small bunches)
a handful of cherry or grape tomatoes, halved or quartered
1/4 cup fresh Parmesan shavings (with a vegetable peeler) or shredded Parmesan (not the stuff in the green can)
Directions:
Preheat grill or stove-top grill pan to medium-high heat.
Prepare vegetables while grill is heating up. Brush zucchini slices with oil and lay on the heated grill. Cook, uncovered, for 8-12 minutes total, turning once, until dark grill marks form on each side and zucchini is tender. Transfer to a cutting board, cool slightly, then cut into 1/2-inch or so chunks.
For the dressing, whisk together the lemon zest, lemon juice, shallot, Dijon, salt, and pepper in a small bowl. Add oil in a slow, steady stream while whisking until dressing thickens and becomes emulsified.
Toss zucchini with purslane, tomatoes, and dressing in a large salad bowl. Serve immediately.
Nat's Notes:
1. If you can't find purslane (highly likely...) then baby spinach or arugula would be a good substitute.
adapted from Rio de Parras Organics (our CSA)