Autumn-Spiced Buttered Popcorn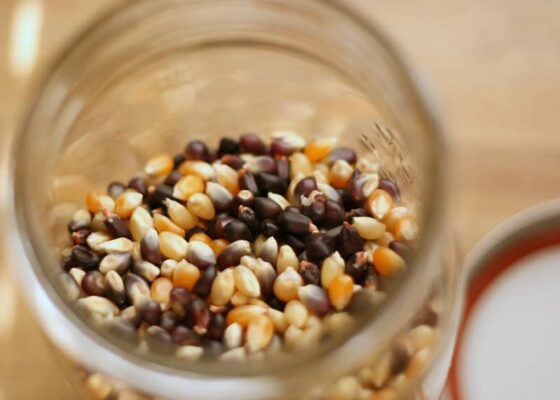 The first thing I'm going to do with this post is show you that fancy, multi-colored popcorn, when popped, is pretty much like any other popcorn. I spent a few cents more on it out of curiosity.
Now I know. Back to the regular stuff I go.
The second thing I wanted to do was to give you another use for pumpkin pie spice. And to convince you to make your own instead of buying it. If you do a lot of baking (especially this time of year), you probably have the ingredients right on your spice rack. There are recipes all over the 'nets for pumpkin pie spice, but if you want to see the one I use, it's at the end of this post.
This popcorn combines a gentle sweetness (think Kettle Corn) with the rich flavor of baking spices. It's a good thing to make if you want something sweet to much on, but aren't willing to commit to the copious amounts of sugar in regular caramel corn. (There is a place for that, though. Love that stuff.)
I grew up on air-popped corn. With real butter. Microwave popcorn doesn't hold a candle to the real deal. Air poppers
are inexpensive, yet a bit hard to find sometimes. They seem to make a better appearance during the holidays, so keep your eyes peeled.
The color of the multi-colored popped corn does vary a little. Some kernels look white. Some a bit yellow. And the ones that look burned on the inside are the blue kernels. Worth the extra money? Meh.
After you add the melted butter with the sugar and spice it looks a little speckled. That's definitely a good thing.
Autumn-Spiced Buttered Popcorn

Ingredients:

1/4 cup unpopped popcorn kernels (or however much your air popper holds)
4 T butter, melted
2 T brown sugar
1 tsp pumpkin pie spice
a generous pinch or two of salt

Directions:

Pop kernels according to manfacturer's directions. Combine butter, sugar, and pumpkin pie spice in a small bowl. The brown sugar won't dissolve completely, but once you mix it up with the popcorn it won't make a difference. Drizzle over freshly popped corn. Add a pinch or so of salt and toss to combine.

Eat up. It goes quickly.

Serves 4. (maybe)

adapted from a recipe in Whole Grains: Every Day Every Way by Lorna Sass