Meet Laurie! + Chocolate Popcorn
GUYS. I'm really excited today. Not only did we close on our house this week (yippee!) I have another special guest with an amazing treat for you! Meet Laurie from Simply Scratch! I met Laurie through Tasty Kitchen, and I've always admired her crisp, vibrant photos, her dedication to cooking from scratch, and her stamina to post step-by-step recipes on her blog. Laurie is also a mom of two girls and works full-time at a hospital. AND she blogs. I think she has superpowers. Thanks so much, Laurie! — Natalie
Hey there! I'm Laurie and I blog over at Simply Scratch! Simply Scratch is my step-by-step cooking blog where I get to unleash my obsession for cooking from scratch! You'll find all kinds of recipes there, from how to make your very own funfetti cupcakes (minus the box, naturally) to our fun family favorites like Lunch Lady Sloppy Joe's.  Please feel free to stop by my little niche in the food blogosphere if you're ever in the neighborhood… my kitchen is always open (unless of course I'm grocery shopping). :)
First off, let me say that I'm absolutely thrilled that Natalie has invited me here today! One thing that I know Natalie and I have in common is we take a good look at what we put in our food that we feed our family. I appreciate her food philosophy and her recipes reflect her passion for healthy and delicious food.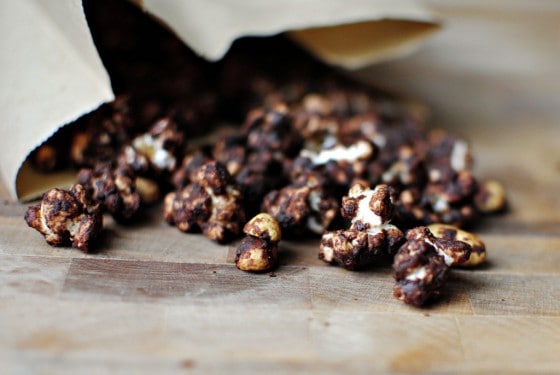 On that note, I brought for you today… chocolate popcorn. I know you're all like, "Didn't she just get done talking about healthy food?" What if I told you this popcorn treat is healthy? I know, right… such exciting stuff! This is totally guilt-free snacking corn right here. No refined sugar… zilch unhealthy fats… and zip on the gluten too! This popcorn is sweetened with honey and maple syrup, and every kernel gets coated with this delicious chocolate, tossed with peanuts and off to be baked so that the chocolate becomes one with the popcorn! You won't believe your taste buds! Go ahead pack it in your kids lunches… they'll be thinking they hit the jackpot and you will be thinking about where you can stash the rest so no one else will find it! Now what are you waiting for… go pop some corn!
Again, thank you so much Natalie for having me here today and letting me share one of my favorite recipes!
Chocolate Popcorn

Ingredients:

2/3 cup Popcorn Kernels
3 tablespoons Coconut Oil, divided
1-1/2 cups Chocolate Chips {milk, semi-sweet or dark chocolate}
1 cup Unsalted Peanuts
1/3 cup Honey
1/3 cup Real Maple Syrup
1/4 teaspoon Real Vanilla Extract
Kosher Salt, to taste

Directions:

Preheat oven to 300 degrees and grease a large rimmed baking sheet.

Heat one tablespoon of coconut oil in a large pot over medium-high/high heat. Once oil is hot, add a single kernel. Place lid on pot and wait for it to pop. Once the kernel has popped, sprinkle in the remaining popcorn to form a single layer on the bottom of the pan. Shaking often as the kernels pop over the burner until the popping subsides and you no longer here kernels rattling when you shake it. Be careful not to burn the popcorn! Place the popcorn onto the rimmed baking sheet and stir in the peanuts, set aside.

In a heavy-bottom saucepan; add in the chocolate, honey, maple syrup and coconut oil. Over medium heat, stir often until melted and smooth. Add in the vanilla, stir and pour over popcorn/peanut mixture. Toss well to coat.

Place in your preheated oven and bake for 10 minutes. Remove, toss and bake for an additional 10 minutes. Remove and toss one last time before baking for a final 10 minutes. Remove and let cool on pan. Stir to keep from sticking, season with kosher salt and serve slightly warm.

Store in an airtight container for 1-2 weeks. Makes 10 cups of popcorn.

NOTE: To keep this gluten free and dairy free, use dairy-free dark chocolate and coconut oil.

from Laurie at Simply Scratch