Snow Peas with Toasted Almonds
Part Two: the snow peas. I'm not a gigantic fan of snow peas, but I liked them sauteed with the butter, almonds, and shallots. Anything sauteed in butter is better, remember?
By the way, it was my first time using a shallot. For a long time I thought shallots were just a pricier, snottier version of an onion, but they're actually a cross between an onion and a bulb of garlic. They really added some flavor and texture to the snow peas. They're cool — for lack of a better word. I felt really trendy chopping one up.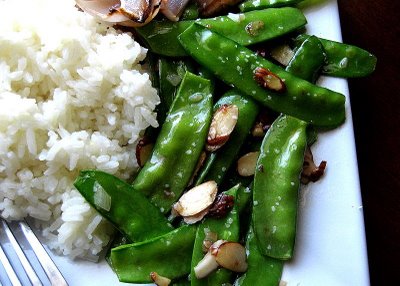 Snow peas shown above with Ginger-scented Rice and (almost) Five-Spice Roast Chicken.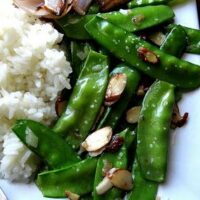 Snow Peas with Toasted Almonds
Yield: Serves 4

Prep Time: 5 minutes

Cook Time: 8 minutes

Total Time: 13 minutes

This is such a fast and easy side dish and goes well with just about anything!
Ingredients
1 T ghee or grass-fed butter
1/4 c sliced almonds
1/2 lb snow peas, trimmed
2 tsp minced shallot
1 tsp freshly squeezed lemon juice
Instructions
Heat a medium skillet over medium heat. Add butter. When butter melts, add almonds, stirring until butter begins to brown and almonds become fragrant, about 2 minutes. Add snow peas and shallot; saute until snow peas are crisp tender, about 3-5 minutes. Remove from heat and stir in lemon juice. Season to taste with salt and serve. Serves 4.

SaveSave