Hey there! You may be wondering what a quesadilla recipe is is doing on a paleo-ish food blog. Well…. it dates back to when I wasn't a paleo-ish blogger, and it's one of our favorites. It'll stay and have a home here on my blog as totally-worth-it recipe we'd indulge in.
Do these look familiar to anyone? It's a fairly old Perry's Plate recipe (circa 2009).
I made them for the first time in a L-O-N-G time and thought the old post could use some brushing up. I was using turkey bacon back then. (I know… I know…) It wasn't pretty.
Know what else isn't pretty?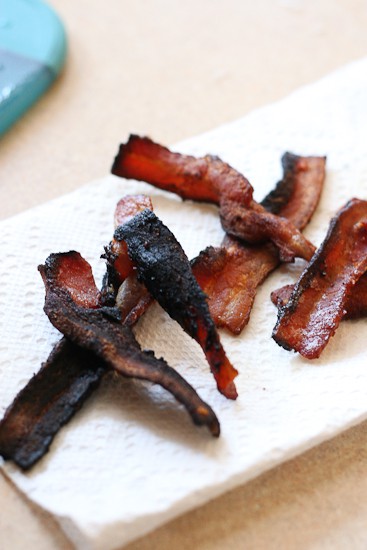 That up there.
That's what happens when you're frying bacon and then mosey over to your computer and get sucked into Craigslist. A tragedy, I tell you.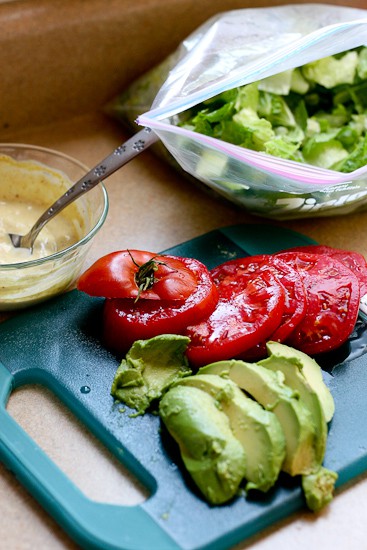 Have the fixings ready when the bacon gets done. I used tomatoes (one of the reddest ones I've ever seen), avocado, chopped Romaine lettuce, and a mixture of spicy brown mustard and Green yogurt.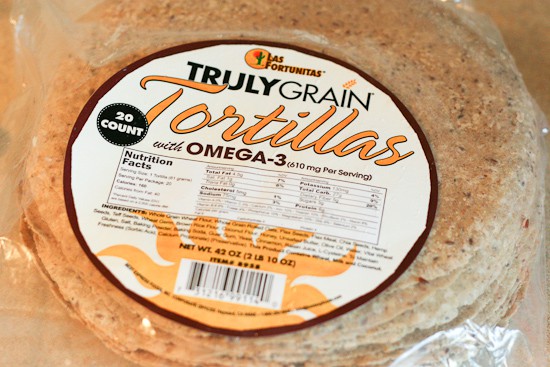 Oh, tortillas. As much as I would love to go completely grain-free, I would have a really hard time giving up tortillas. As it is I can't find any that don't have vegetable/canola oil or 30 ingredients. I saw these at Costco recently and they weren't bad, actually. They're whole grain and have a slew of different grains in them (flax, oats, teff, hemp, etc.) plus they have olive oil. Not canola. That was the biggest shocker.
No, the biggest shocker was that they contain cinnamon. Cinnamon. They have a nutty flavor and this other flavor I couldn't put my finger one. That's the cinnamon. Oddly enough it works.
And yes, I could make my own tortillas. I've been making corn tortillas for a long time, but haven't tried wheat.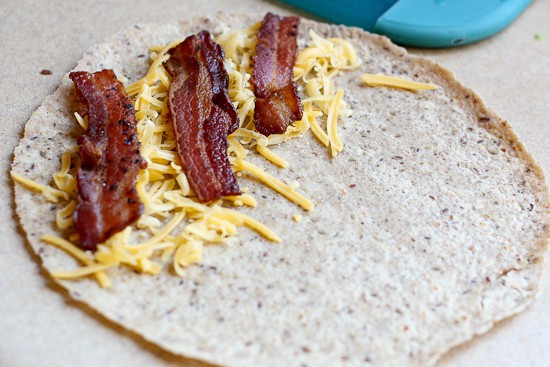 Start off by making a quesadilla with the bacon and some shredded cheese.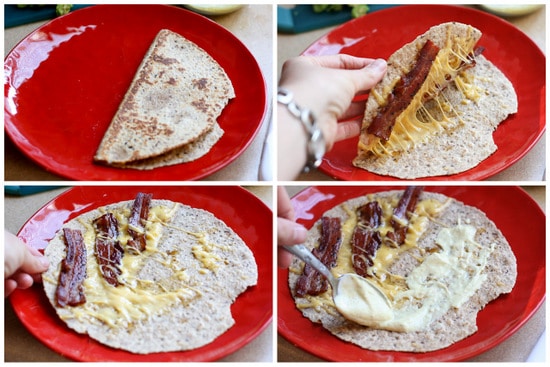 Normally I like my quesadillas crispy, but in this case, don't take them that far. Just cook them long enough to melt the cheese and form a few brown spots. Put it on a plate and immediately open it. If you wait too long, the cheese will cool off and act like glue.
Smear some dressing in there. Like I said, I used a mixture of spicy brown mustard and Greek yogurt, but you can use Ranch or mayo or whatever else you like.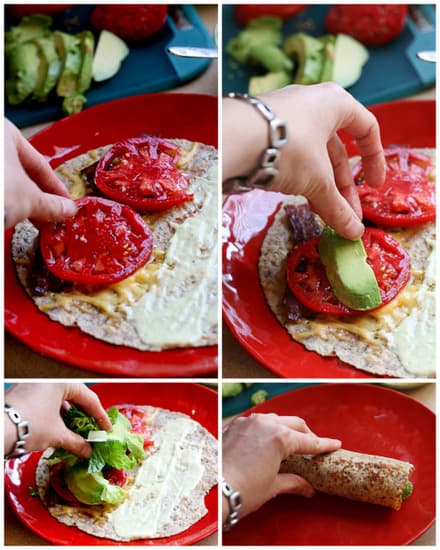 Add the rest of the fixings right over the bacon, then starting on the full side of the tortilla, roll it up.
Do you see how this wouldn't work with a crispy tortilla?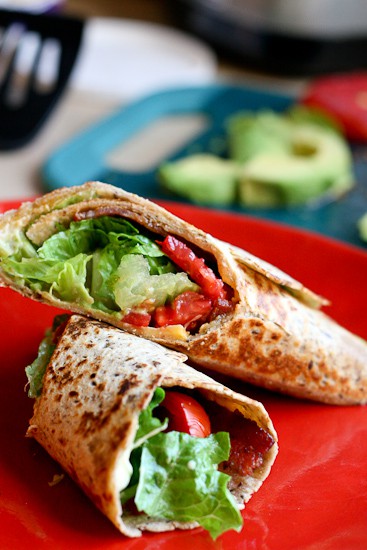 Don't want bacon? (Don't tell me.) Use shredded meat or beans.
Just make sure you leave all of the stuff out while you eat this because chances are you'll wander back into the kitchen and make yourself another one.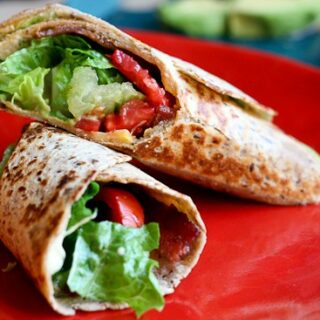 BLT Quesadilla Wrap
After eating one of these wraps, I had a hard time eating a regular quesadilla. It's just so, so much better a la BLT.
Ingredients
1 tsp butter or nonstick spray
1 flour tortilla (gluten-free is fine)
1/4 cup shredded cheddar cheese
3 slices of cooked bacon, cut in half
2-3 tomato slices
a little lettuce or spinach
avocado, if you like
some kind of dressing (I used a mixture of spicy brown mustard and Greek yogurt. You could also use Ranch dressing. If you don't like Ranch, you can use mayo. Or leave it out entirely.)
Instructions
Heat a large skillet to medium heat. Add butter to skillet and allow to melt.
Lay the tortilla in the skillet and add cheese and bacon to one side of the tortilla. Fold in half. Cook for about 5-6 minutes, flipping halfway through, until both sides have brown spots and the tortilla is slightly browned, but not yet crisp.
Transfer quesadilla to a plate and open it very carefully (If you're smart, you'll use tongs. I'm not.)
Smear some dressing on one side. Lay the tomato slices, lettuce, and avocado on top of the bacon (see photo). Beginning at one side, roll the tortilla up.
Eat immediately. Before someone sees you and wants a bite.
Save
Save
SaveSave