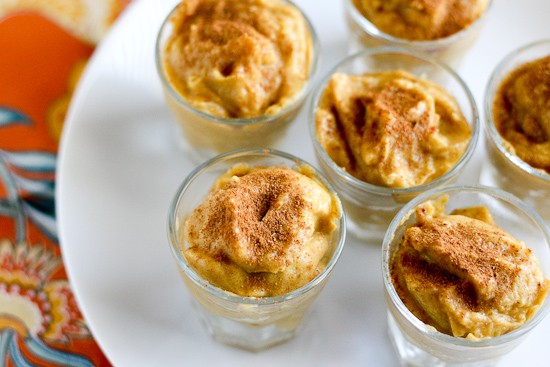 Remember that frozen pumpkin stuff in a blender I've been teasing you with on Facebook and Instagram?
It's time, friends. I'm really excited about this one.
Especially since it starts off looking like this: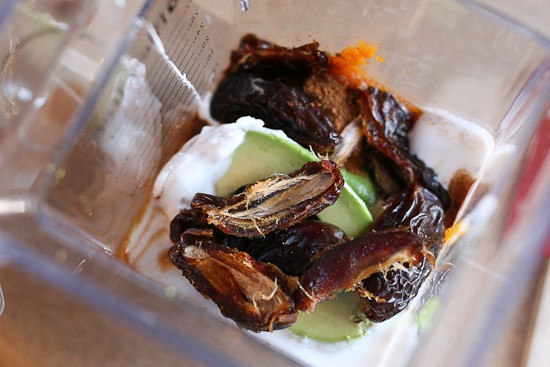 I know, right? Good grief.
And they're actually not too bad for you. Maybe even… *gasp* healthy. They're also vegan, grain-free, and nut-free. I think just about everyone will be happy with this one.
Oh, and they taste like frozen pumpkin pie.
Have a delicious and grateful Thanksgiving!!
Psst… if you want to make homemade pumpkin puree, check out this post — How to Cook Pumpkin in an Instant Pot.
If you like this, then you'll love my Paleo Chocolate Blender Ice Cream or my 5-Minute Strawberry Paleo Ice Cream!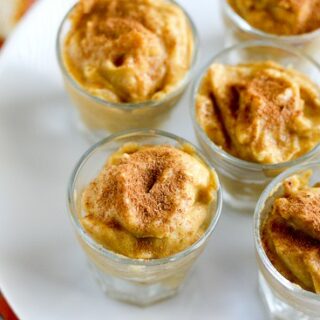 Frosty Pumpkin Pie Shots
Pumpkin pie in the form of a dairy-free and paleo-friendly frozen treat! I'll take 8, please.
Ingredients
1/3 cup coconut milk
1/2 cup pumpkin puree
1/2 of an avocado
3 dates, pitted and halved
2-3 Tablespoons pure maple syrup
1 1/2 teaspoons pumpkin pie spice
1 teaspoon vanilla extract
About 3 cups of ice cubes
Instructions
Combine all ingredients (except the ice) in your power blender (i.e. Vitamix, Blendtec) and blend until smooth, scraping the sides if necessary. (If you use a Blendtec, run the "sauces" program twice, scraping the sides between runs.)
Add the ice, about 3 cups, or until the contents of the blender measures around 4 or 4 1/2 cups.
Blend again (use the "ice cream" program on your Blendtec twice), pushing the ice down if necessary.
Divide into glasses and serve immediately.



SaveSave