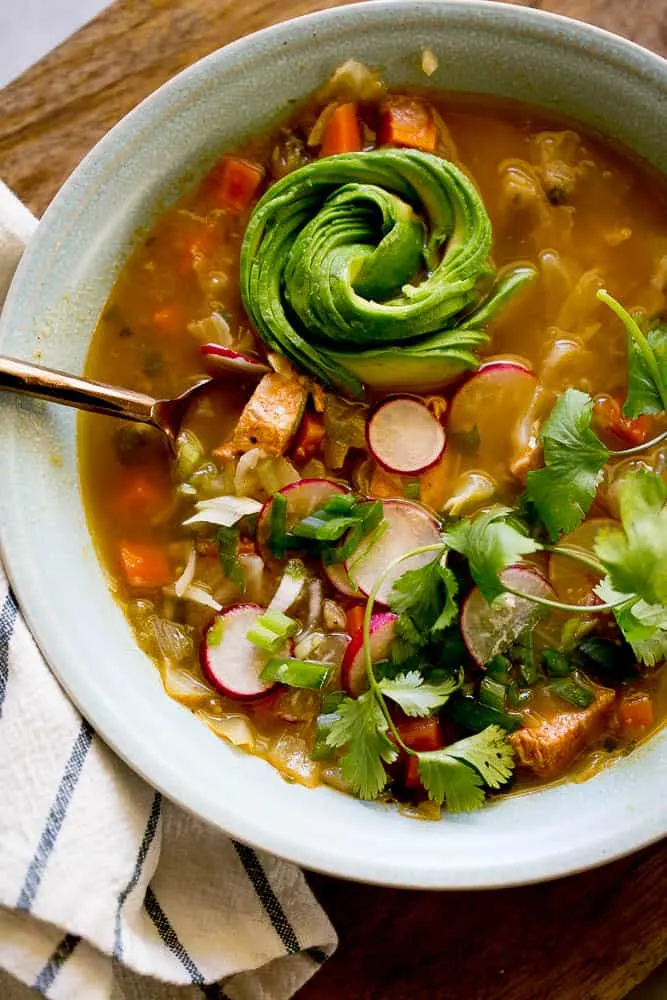 I realize that it's late May and soup probably isn't on your mind.
Unless you're a year round soup kind of person like me. I don't pull out the heavy chilis and chowders in the summer, though. I prefer the lighter, fresher soups for coolish spring and summer days.
It's also good to have a few Instant Pot soup recipes on hand you like for summer. No one wants to babysit a pot on the stove when it's hot outside.
This chicken tomatillo soup recipe came about from a "cooking from the hip" Instagram video I did a few weeks ago. I literally decided to wing it and show everyone step by step and how it turned out. (I know, it was pretty gutsy of me, but I felt good vibes from this one. So I went with it.)
Luckily it turned out amazing, and a lot of you wanted the recipe! I realize there are a lot of chicken soup recipes out there, but honestly, there can't be too many. I included links to the chicken soup recipes on my site down below!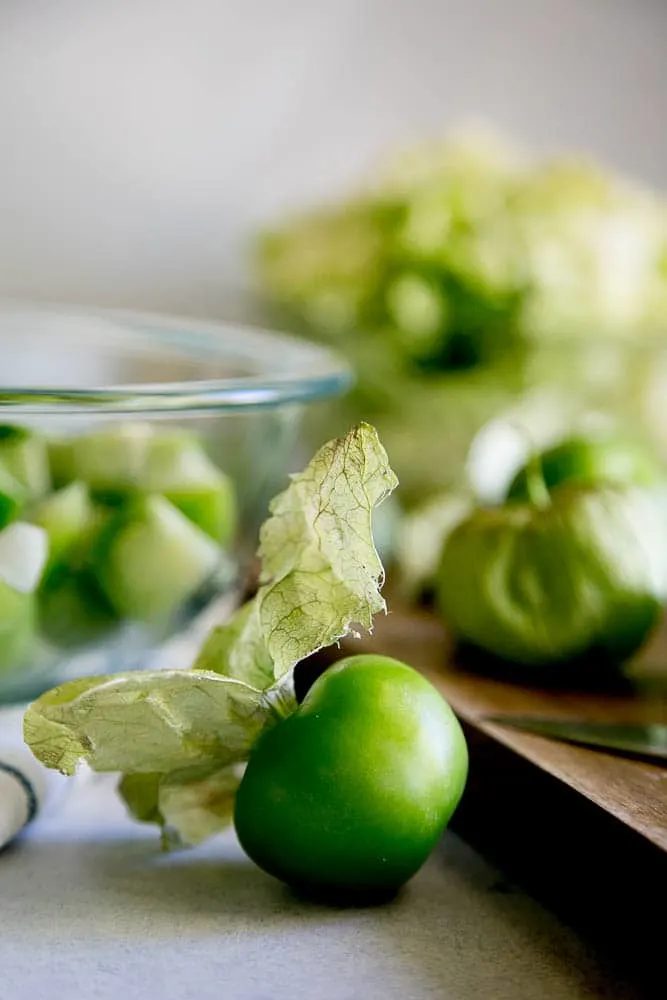 About tomatillos
Let's talk about tomatillos first. If you aren't familiar with them, they look kind of like a husk-wrapped green tomato. They're also called "Mexican husk tomatoes" but they're not really tomatoes. They're in the nightshade family and have a bright, acidic taste. More acidic than tomatoes, but less sweet.
They're kind of a funny looking vegetable. Do you have them in grocery stores where you live? They're usually easy to find in areas with large latin populations along with other latin produce.
You'll want to find tomatillos that are firm with a clean looking husk on the outside.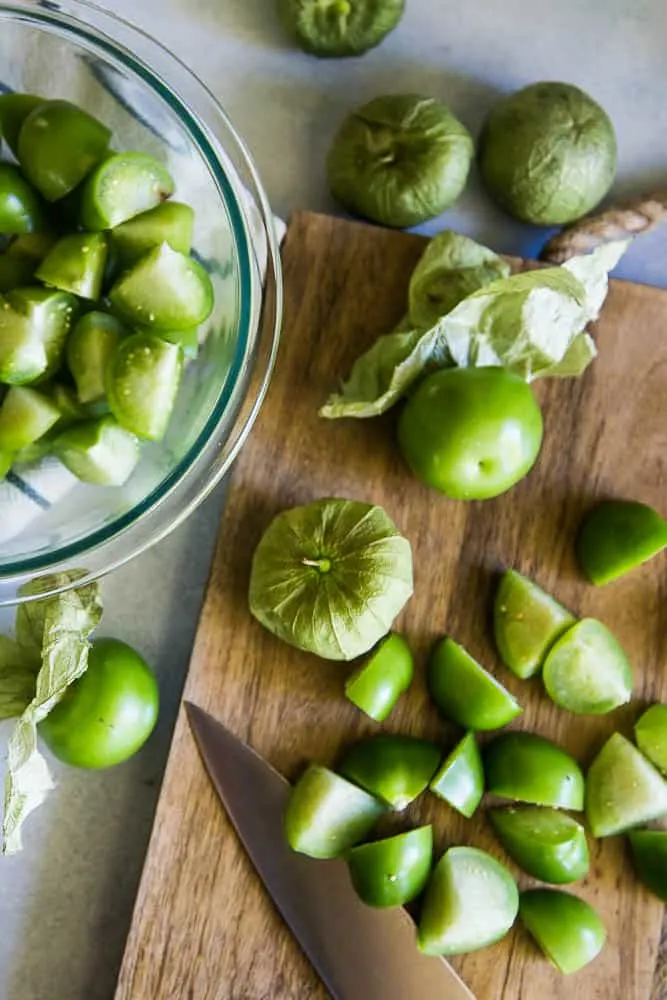 How to prepare tomatillos for cooking
Prepping tomatillos is super easy. You just remove the husk and rinse off that sticky coating that covers the fruit. (Yep, it's a fruit.) The insides are more dense than a tomato and less watery.
For this soup, I just roughly chopped them because they'll get cooked into the soup pretty well.
Tomatillos are REALLY good for making salsa. Salsa verde is one of my favorite kinds of salsa — I've got a recipe right here: Simple Homemade Salsa Verde. This Roasted Tomatillo Chipotle Salsa is also fantastic.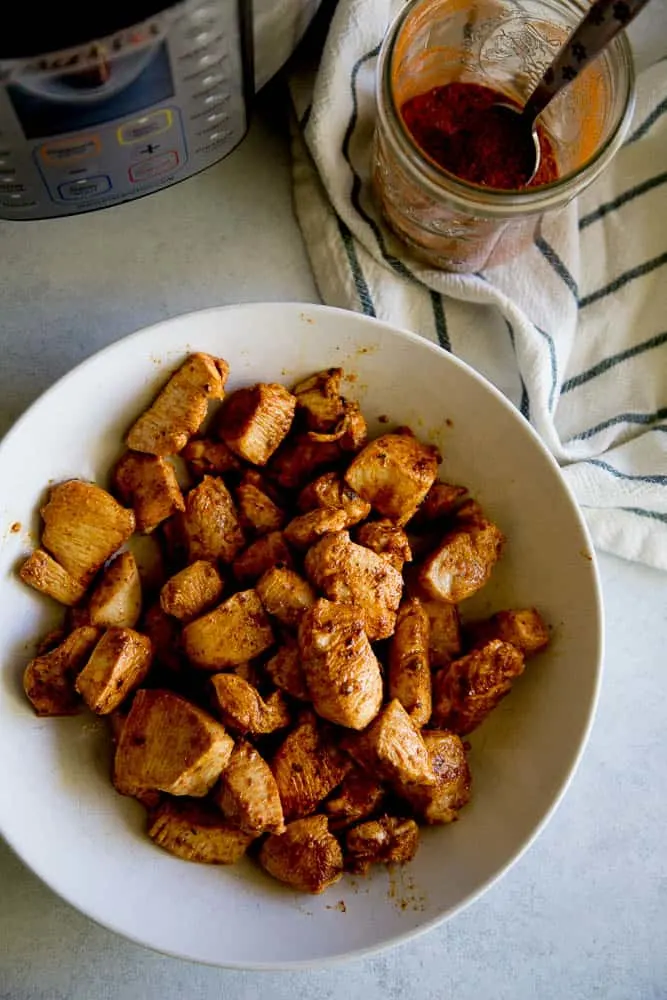 The other key component in this soup is my chorizo seasoning. I tossed the chicken in the chorizo seasoning and lime juice and seared the chicken using the Saute mode in my Instant Pot.
(If you REALLY hate searing meat before you pressurize in your Instant Pot, you can probably get away without doing this. But, I highly recommend it anyway because it adds another layer of flavor. Extra flavor is always good.)
That seasoning is one I hacked for my Copycat Chipotle Chorizo recipe. I love it so much I keep a jar of it in the cupboard all the time. It's a fun alternative to taco seasoning or to add a little southwest flavor to dishes.
It's a blend of different kinds of paprika, chili powder, and a few other spices you probably already have on hand.
I might be biased, but I REALLY think you should keep some of that on hand, too. You'll love it. And you can also use it in The Best Chicken Fajitas. It makes THE best fajita marinade.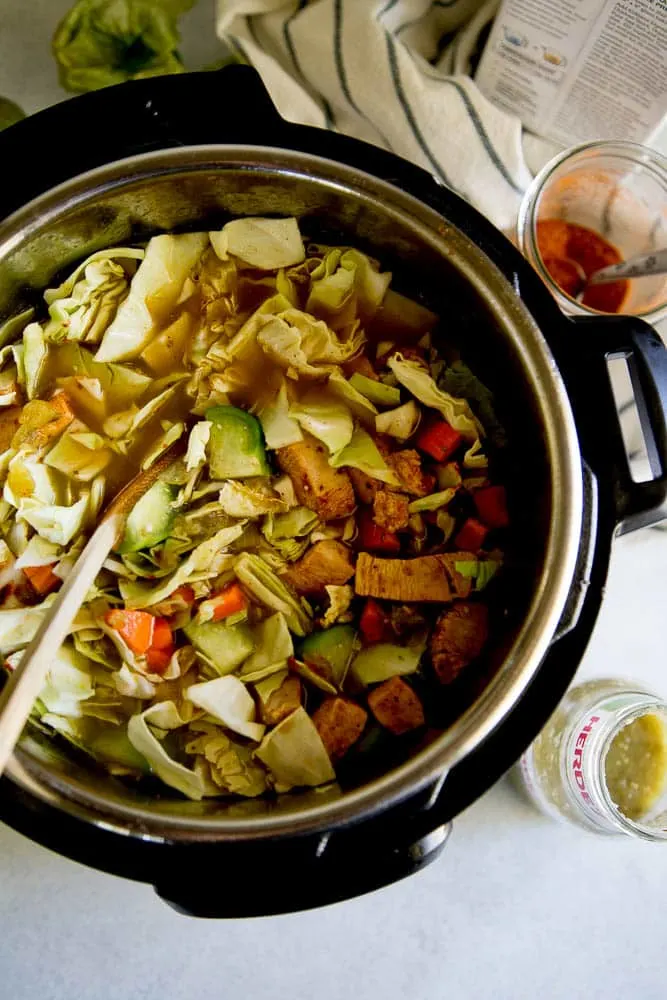 I wanted to add a little bulk to this recipe but didn't want something heavy or starchy, so I added cabbage. It totally did the trick. I also added some jarred salsa verde to boost the salsa verde-ness. I like Herdez brand because it doesn't have any added sugar or preservatives. (It's also Whole30 compliant!)
It might be overkill to put diced green chiles AND salsa verde, but I love green chiles. Especially the fire roasted kind. If you don't want to add both, either add another can of chiles or another 1/2 cup of salsa verde.
If cabbage isn't your thing you could leave it out for a more brothy soup. Or replace it with 1/3 cup of rice (if you do rice). I added some other vegetable suggestions in the recipe notes! This soup is really versatile, so you could probably customize it however you like. Using rotisserie chicken (instead of chopped chicken breasts — just add the chicken at the end) or a can of diced tomatoes.
You could even omit the chicken and stir in some uncooked shrimp after you finish pressurizing it. I actually thought of that as I wrote it, and now I really want to try it. I love shrimp.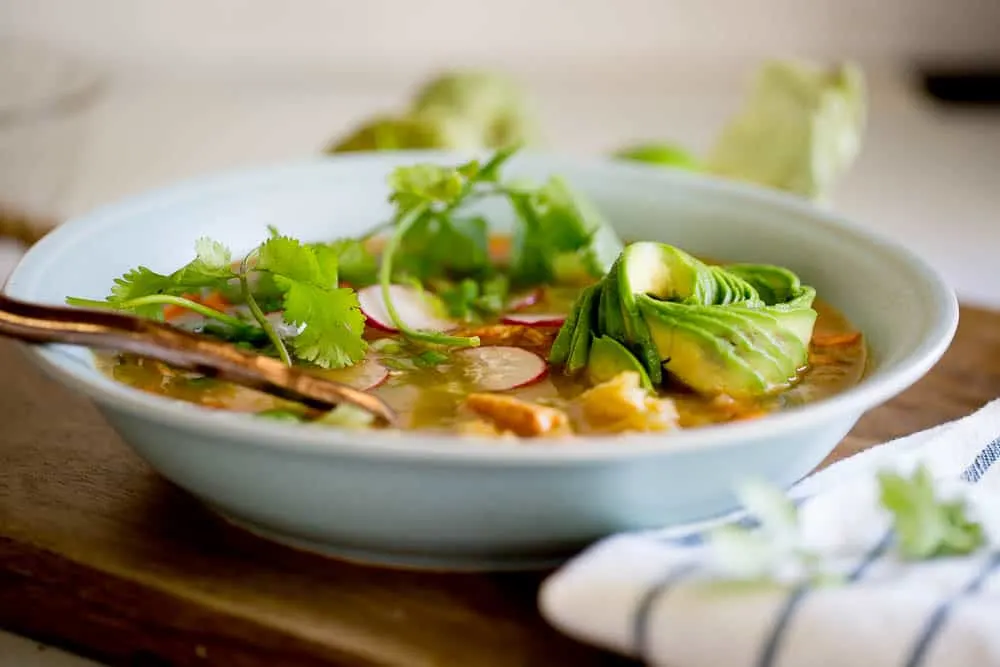 Guys, this is such a great recipes. It's so customizable. Those are my favorite recipes, too — the ones where you aren't tied to specific ingredients and measurements.
I've said this before, but garnishes TOTALLY make a meal into something special. I don't always pull out every possible garnish, but I usually add a couple — especially if we're eating soup.
This soup is similar to a chicken tortilla soup recipe, so add any garnishes you'd like for that. We loved sliced avocado, radishes, green onions, and fresh cilantro.
If you're not strictly paleo, you could throw in some black beans. Or pile on the crushed tortilla chips, pepper jack cheese, and sour cream. (I won't even judge. Heck, we pull all of that out sometimes, too! #reallife) I especially like adding some crushed Siete chips because they're grain free!
At the very least, throw in some avocado. Creamy avocados are totally dreamy with this bright, acidic soup.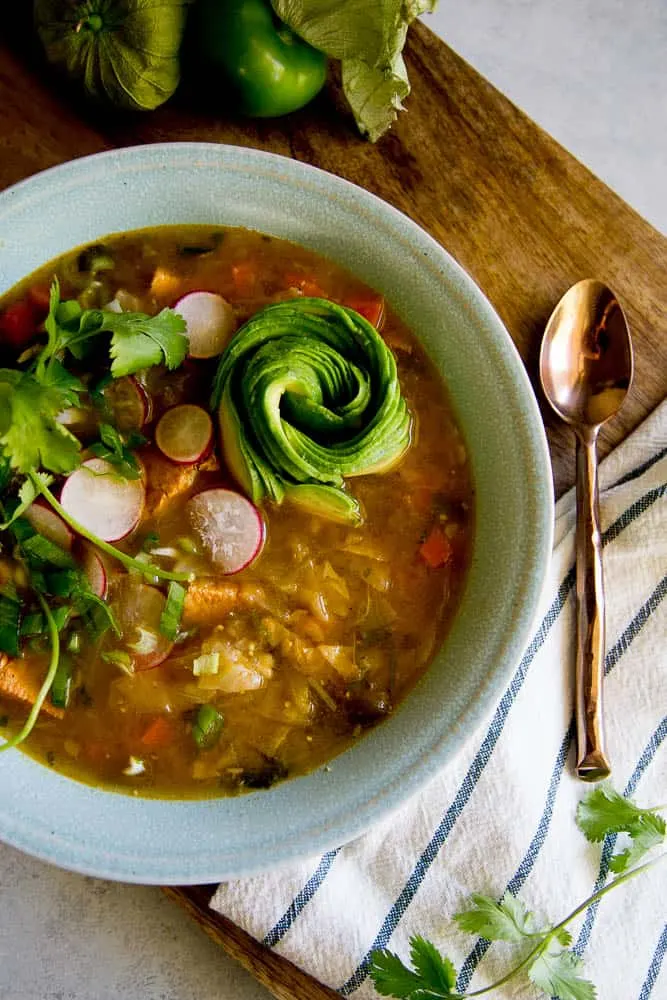 Making this soup in an Instant Pot doesn't take that long as far as pressurizing time — just 5 minutes. Because there's so much liquid in the pot that it has to bring to boil, it'll take some extra time to pressurize. You should be able to get this done in a little over 30 minutes, though — from start to finish.
I'd love to hear if you try this soup! Hop on social media and tag #perrysplate or @perrysplate and let me know what you think.
In the mean time, here are a few more chicken soup recipes on my site!
Our Favorite Chicken Soup Recipes
Cold Remedy Chicken Soup — Our kids love this all year round, whether they're sick or not!
Creamy Southwest Chicken Soup — Another tex-mexy chicken soup for Instant Pot! (I really can't get enough of these)
Leftover Chicken Fajita Soup — Remember those fajitas I mentioned up there? Make a double batch and save the leftovers to make this soup!
Thai Coconut Curry Soup (Chicken Khao Soi) — An exotic take on chicken soup!
PSST… did you know I have 11 different chicken soup recipes in my cookbooks? We take them very seriously around here. Grab copies of The Big Book of Paleo Slow Cooking and The Big Book of Paleo Pressure Cooking and get busy! Most of them are freezer-friendly, too!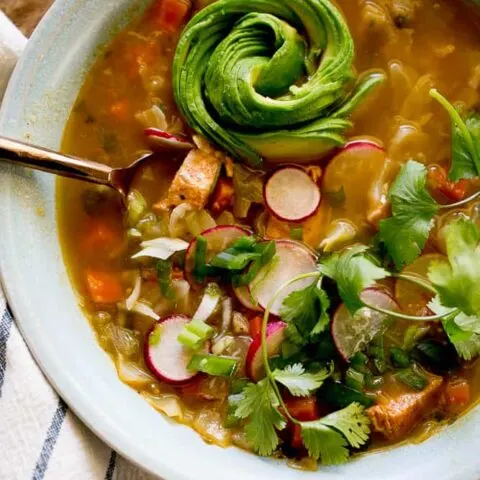 Instant Pot Chicken Tomatillo Soup
This a chicken soup meets chile verde kind of situation. The tomatillos in this give it a bright, tart flavor that lightens up the soup so much. It's absolutely divine with some sliced avocado thrown in!
Ingredients
1 1/2 pounds boneless, skinless chicken breasts or thighs, cut into 1-inch chunks
Juice from 1 lime
1/2 teaspoon sea salt
2 Tablespoons avocado oil
1 medium onion, peeled and diced
2 large carrots, peeled and diced
1 pound tomatillos, husked, rinsed, and chopped
3 whole cloves garlic, minced or grated
1 4-ounce can diced green chiles
1 cup jarred salsa verde
1 small head of green cabbage, chopped
1 1/2 quarts chicken broth
1 cup coarsely chopped cilantro, plus more for garnish
Diced avocado and sliced radishes, for serving
Instructions
Put the chicken pieces in a shallow dish. Squirt the lime juice all over the chicken and sprinkle it with 2 teaspoons of the Chorizo Seasoning and the salt. Toss it around to coat it evenly in the seasonings and let it sit for about 5 minutes while your Instant Pot preheats.
Preheat your Instant Pot using the Saute setting. When it says "HOT" on the display add 1 Tablespoon of the avocado oil to the pot.
Sear the chicken in 2-3 batches (it doesn't have to be cooked through), adding more oil if necessary. Transfer the seared chicken back the plate (it's OK, it'll go back in the pot anyway). Press "CANCEL" on the Instant Pot.
Add the onion, carrots, tomatillos, garlic, diced green chiles, salsa verde, and chopped cabbage to the pot.
Sprinkle in the remaining 2 teaspoons of Chorizo Seasoning, return the chicken to the pot, and pour in the chicken broth. Give it a quick stir.
Place the lid on the pot and seal. Place the steam release valve to "sealing". Set it to "MANUAL" or "PRESSURE COOK" for 8 minutes.
When the pressure time has ended let the Instant Pot sit for 5-10 minutes to release the steam naturally, and then switch the steam release valve to "venting" to release the rest of the steam quickly.
Taste, and add additional salt if you feel it needs it. Stir in the cilantro.
Serve with diced avocado and radishes and more cilantro, if desired.
Notes
Nat's Notes:
I used a 6-quart Instant Pot pressure cooker, but an 8 quart would work as well. Do not use one that is smaller than 6 quarts unless you scale the recipe by half.
Recommended Products
As an Amazon Associate and member of other affiliate programs, I earn from qualifying purchases.
Disclosure: This post may contain Amazon affiliate links. Purchases made by using these links don't cost you any extra and helps to keep my content free.