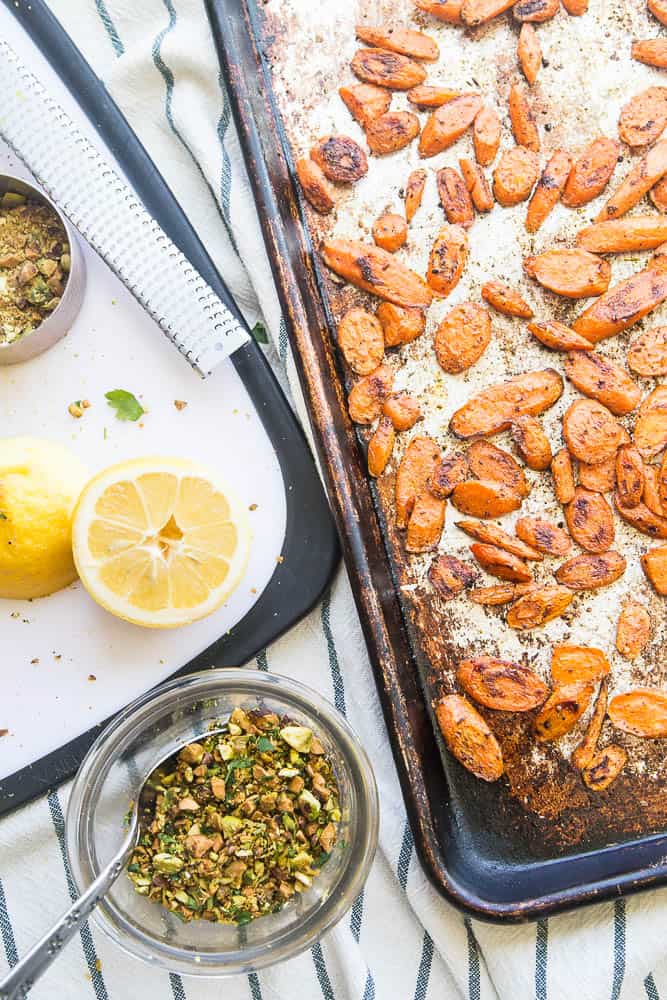 This recipe was originally an idea I had for my last book, but no matter how much flavor you add to them, steamed carrots are just…. meh. Roasted carrots? Way, way better.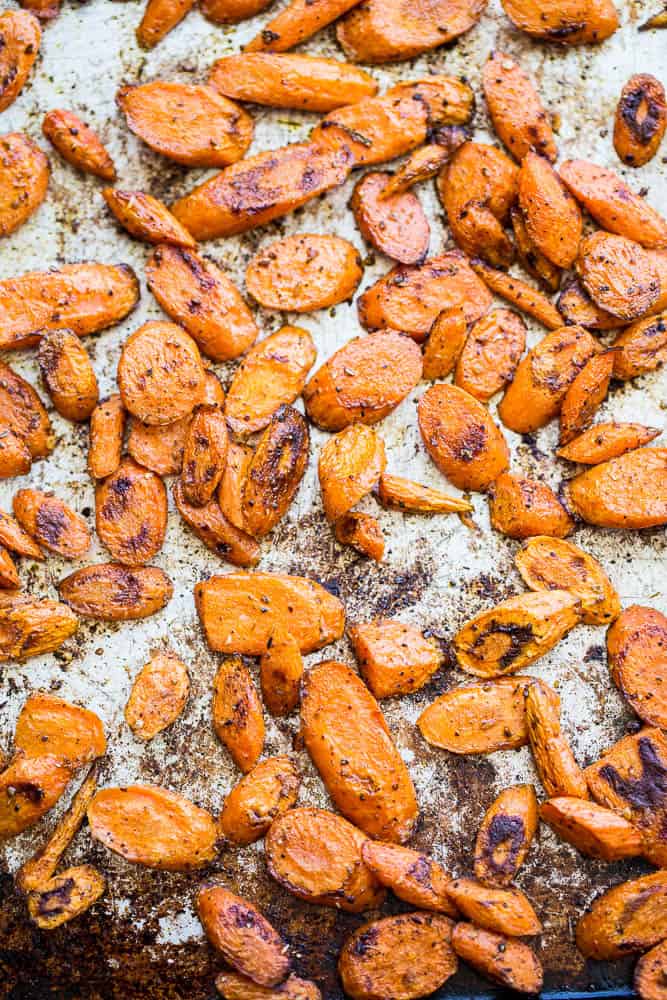 Especially with some Moroccan seasoning. Have you heard of Ras El Hanout seasoning? The first time I tried it was on steak. I had bought a gift pack of spice blends from Trader Joe's during the holidays and Ras El Hanout was one of them. I've actually been meaning to post that steak recipe for YEARS, but…. today you get roasted carrots.
Don't be underwhelmed though. They're REALLY good roasted carrots.
Ok, back to this seasoning. In the past year I've noticed the spice sections of our grocery stores including more exotic blends, like Ras El Hanout. World Market also has it. Or you could grab a jar on Amazon. Or do a quick Google search and make a homemade blend.
There's really no excuse for not making these. And you'll love this Moroccan blend for other things, too. Like steak. (I'll get that figured out this summer. Pinky Promise.)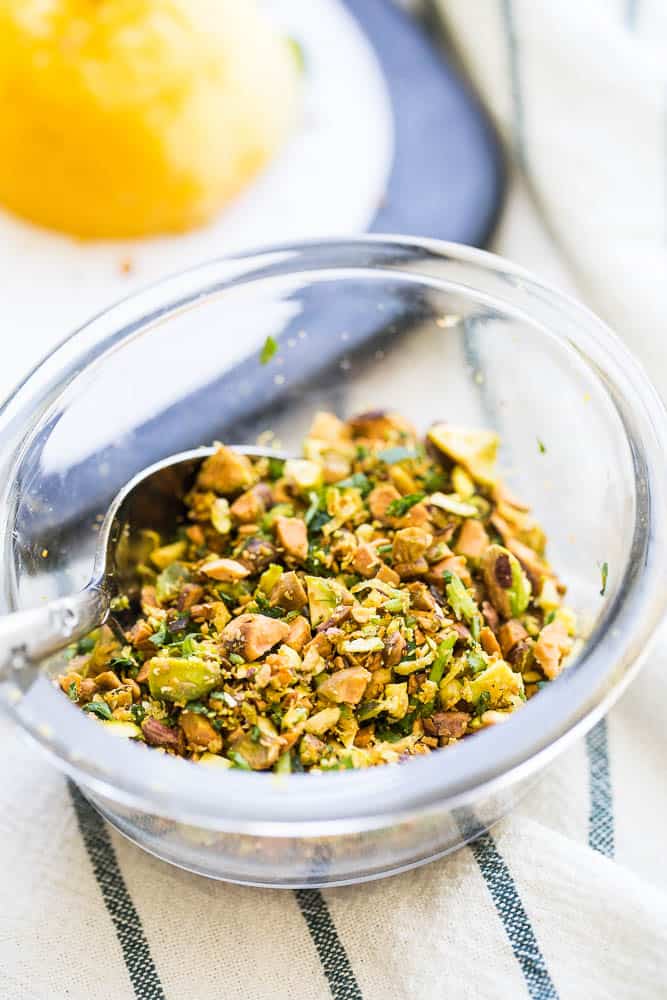 Now that we have all of that out of the way, let's talk about gremolata. Gremolata, if you aren't familiar, is an Italian condiment usually made with parsley, lemon, garlic, and anchovy. I put a little twist on it and used pistachios, which are common in Moroccan dishes.
Did I tell you that my 3-year-old calls pistachios "mustachios"? It's the cutest thing ever.
Basically you chop the stuff up and mix it together while the carrots are roasting and sprinkle it on when they come out of the oven.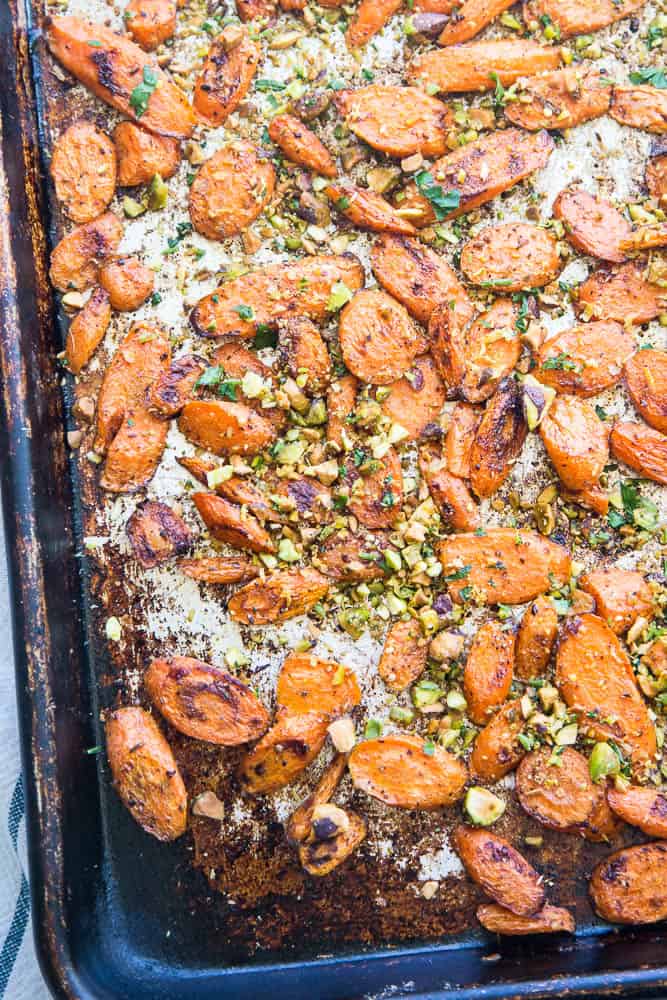 Here are some ideas on what to pair with these carrots!
Perfect Grilled Lemon Chicken — just serve alongside or put both into a salad with a lemon vinaigrette. Or something tahini-based. Mmm.
Grilled Moroccan Chicken & Garlic Sauce – Yes. Do this.
Middle Eastern Chicken & Eggplant Kebabs – A perfect side with these kebabs and tahini yogurt dip! You could even use the Ras El Hanout in the marinade instead of my Middle Eastern Spice Blend to streamline things a bit.
Moroccan Eggs + Syrian Salad – Or do a light, meatless meal with these!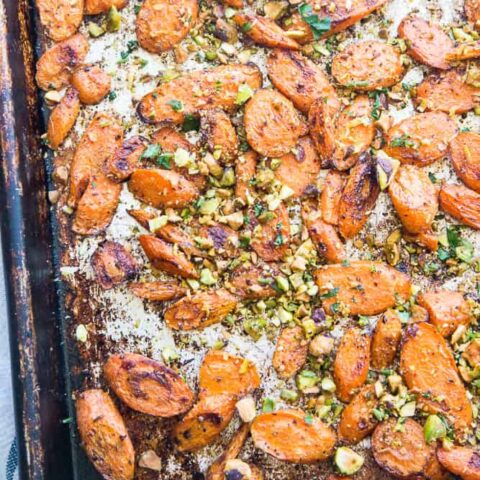 Moroccan Roasted Carrots with Pistachio Gremolata
Yield:
Serves 6 as a side
These aren't any ordinary roasted carrots. Just five ingredients and you've got a quick, exotic side dish to go with any Moroccan dish!
Ingredients
1 1/2 - 2 pounds carrots, peeled and cut into 1/4-inch pieces
2 Tablespoons avocado or coconut oil
1 1/2 teaspoons Moroccan seasoning (Ras El Hanout)
1/4 teaspoon sea salt
6 Tablespoons finely chopped pistachios
1/2 Tablespoon minced flat-leaf parsley
1 lemon
Instructions
Preheat your oven to 425 degrees F.
Put the carrots on a rimmed baking sheet and drizzle with oil. Sprinkle with the Moroccan seasoning and salt and use your hands to toss everything together. Spread the carrots out evenly on the pan.
Roast the carrots for 20 minutes, flipping them around once or twice, until they are tender and have formed golden brown spots.
While the carrots are roasting, put the minced pistachios in a small bowl. Use a microplane zester to remove about 1/2 teaspoon of zest from the lemon. Put the lemon zest in the bowl with the pistachios and add the parsley. Mix it well with your fingers and set it aside with half of the lemon.
When the carrots are finished, sprinkle them with the pistachio gremolata and a squeeze of lemon juice.
Disclosure: This post contains Amazon affiliate links. Purchases made by using these links doesn't cost you any extra and helps to keep my content free.