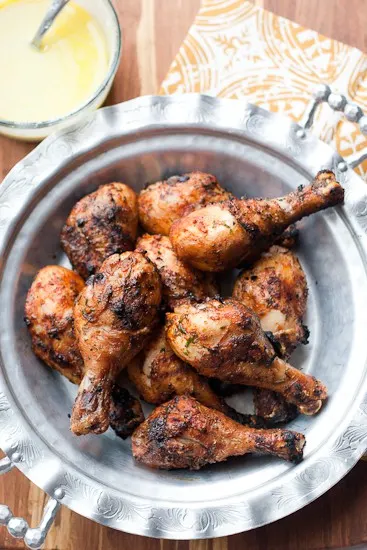 As someone who dislikes eating the same thing over and over it surprised me that I wanted to make this twice. In two weeks.
Sure, I'll eat leftovers a couple of times, but having a rotation of 10 or so meals would be torture for me. Even if something tastes fantastic, I'm always antsy to try new things.
Sloppy Joe's might be an exception to that. And layered tex-mex salads. I could eat those every other day.
It was more than just the chicken, though. It was the entire meal as a whole that I wanted to repeat. I made some ginger rice and Marinated Cucumbers to go with the chicken and garlic sauce.
Holy smokes. It was one of the most perfect meal combos I've ever put together. Go me.
You could even make some of that Basic Roasted Cauliflower Rice I just posted and add some ginger or garlic to it.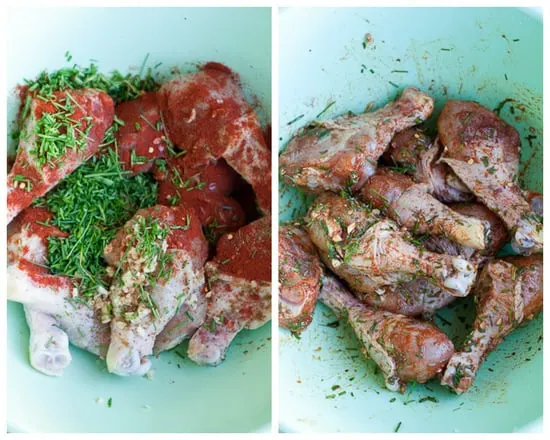 First, this chicken. Super easy. You don't have to use drumsticks. You can use thighs or even breasts if you like. The marinade is really easy to throw together. I tend to shy away from "Moroccan" spiced things because it usually contains a lot of cinnamon. I don't like cinnamon on my meat. This doesn't have any!
The garlic sauce is little tricky, but just because I couldn't keep the emulsion from breaking. If this happens to you, no worries. Just give it a good stir or shake right before serving.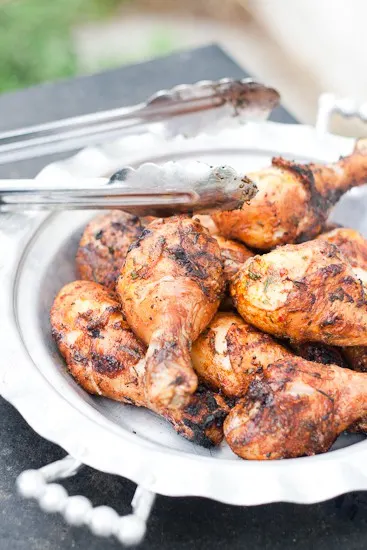 I try not to get too bossy around here, but seriously. Go make this. (Please!)
Here are some of the other grilled chicken recipe I've got on my site!
More Grilled Chicken Recipes
Paleo Thai Grilled Chicken and "Peanut" Sauce
Puerto Rican Marinated Chicken
Grilled Herb Chicken with Caramelized Onions
Perfect, Versatile Lemon Chicken
Check out all of my best grilled chicken recipes on this post: My Best Grilled Chicken Recipes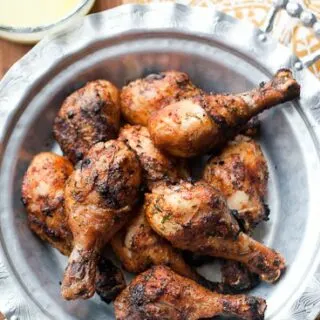 Grilled Moroccan Chicken with Garlic Sauce
This grilled Moroccan chicken has the best and EASIEST marinade! Don't forget to make the garlic sauce. It totally makes this meal spectacular! | grilled chicken recipes | perrysplate.com
Ingredients
For the garlic sauce:
4 garlic cloves, finely chopped
salt
1/3 cup olive oil
3 Tablespoons plain yogurt or paleo-friendly mayonnaise
For the chicken:
2 - 2 1/2 pounds bone-in chicken pieces (drumsticks, thighs, breasts)
2 garlic cloves, chopped
1/2 cup finely chopped chives or flat-leaf parsley
2 teaspoons ground cumin
2 teaspoons paprika
1/4 teaspoon crushed red pepper flakes
2 Tablespoons heat-safe oil (like coconut or avocado)
1 teaspoon salt
Instructions
To prepare the garlic sauce, crush the garlic and a pinch or two of salt with a mortar and pestle. If you don't have one, place the garlic on a cutting board, sprinkle with salt, and mash it with the side of a wide chef's knife. You'll want to form a paste-like consistency. Transfer garlic to a small bowl and gradually whisk in the oil.
Whisk in the yogurt gradually (very gradually) until mixture is emulsified. If you add it too fast the sauce will separate. If that happens just mix it well immediately before serving.
To prepare the chicken, place chicken pieces in a large bowl and add garlic, chives, cumin, paprika, pepper flakes, oil, and 1 teaspoon of salt. Toss it around until mixture is combined. Allow it to marinate, chilled, for at least 2 hours.
Preheat BBQ grill or grill pan to medium-high heat. Grill chicken until cooked through, turning every few minutes. Cooking time varies depending on the cut of chicken. Our drumsticks took about 20 minutes to cook. Juices should run clear and flesh should be firm to the touch.
Serve chicken with garlic sauce.
Notes
Nat's Note:

You can make the garlic sauce several hours in advance. The leftovers are great in omelets, salads, and rice bowl type things.

SaveSave