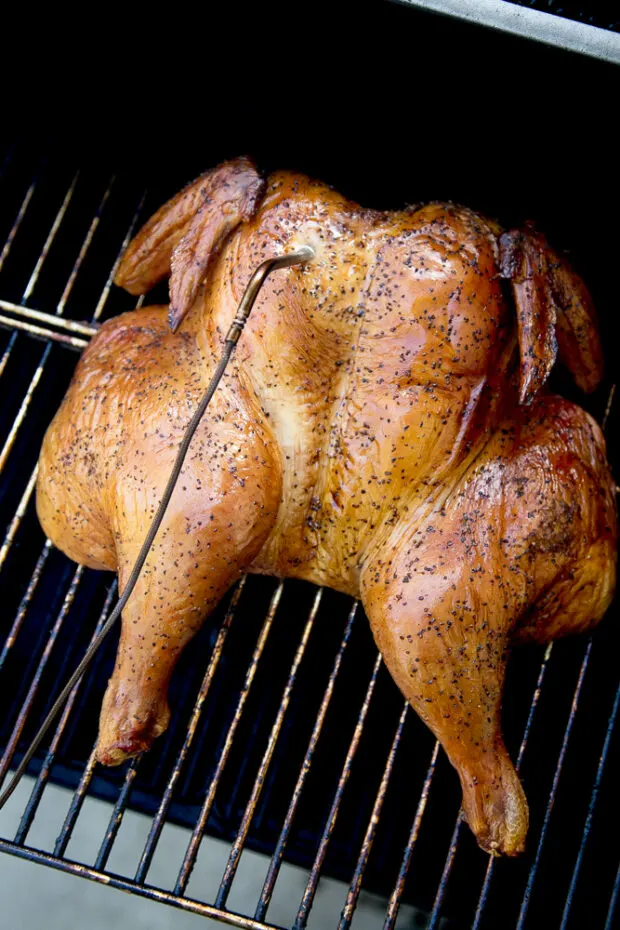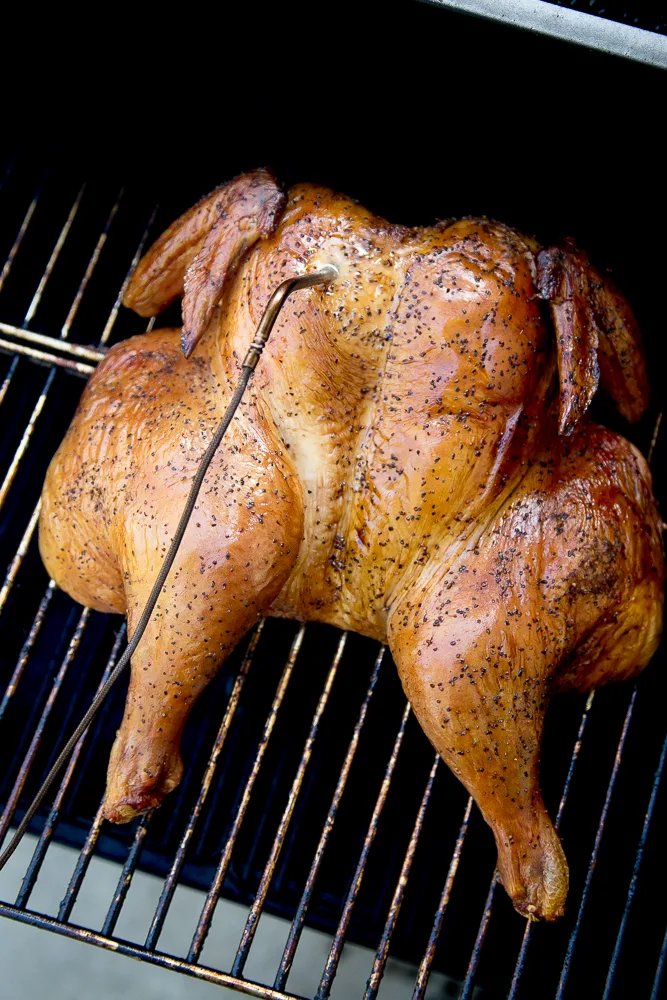 If you don't know how to spatchcock a chicken (or turkey) it's your lucky day.
It's easy to do and spatchcocking has SO many benefits!
But I'm going to be honest. It isn't for those who get the heebie jeebies while handling raw meat.
And you may need earplugs. Just sayin'.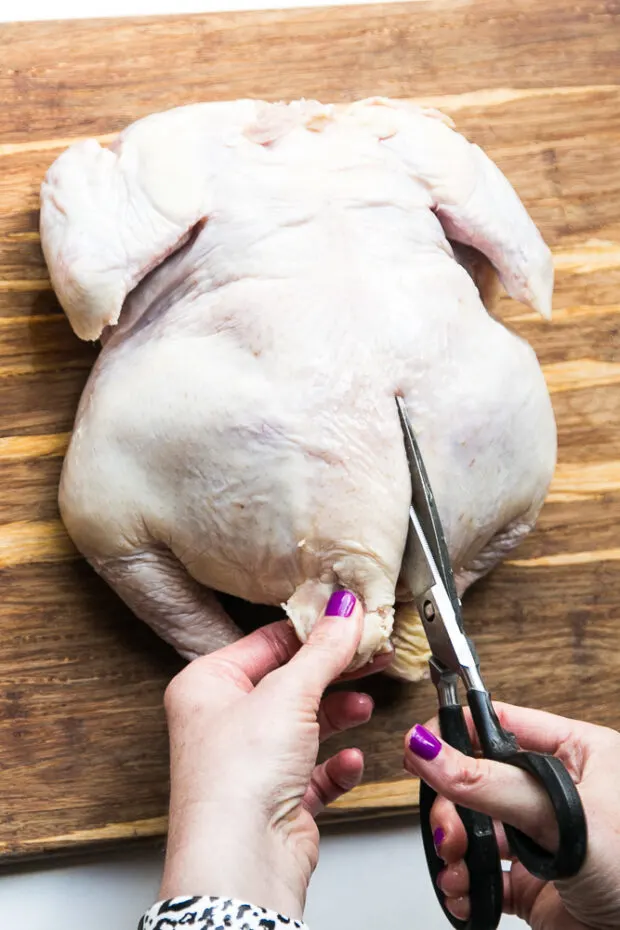 What is spatchcocking?
Spatchcock is such a weird word. Basically it's cutting the backbone out of a chicken (or turkey or any other bird you'd eat).
Why would you spatchcock a chicken?
If you cut the backbone out it allows the bird to lay flat. Flat birds cook quicker and more evenly.
Ever grilled a whole chicken? If so, then spatchcocking is your best friend.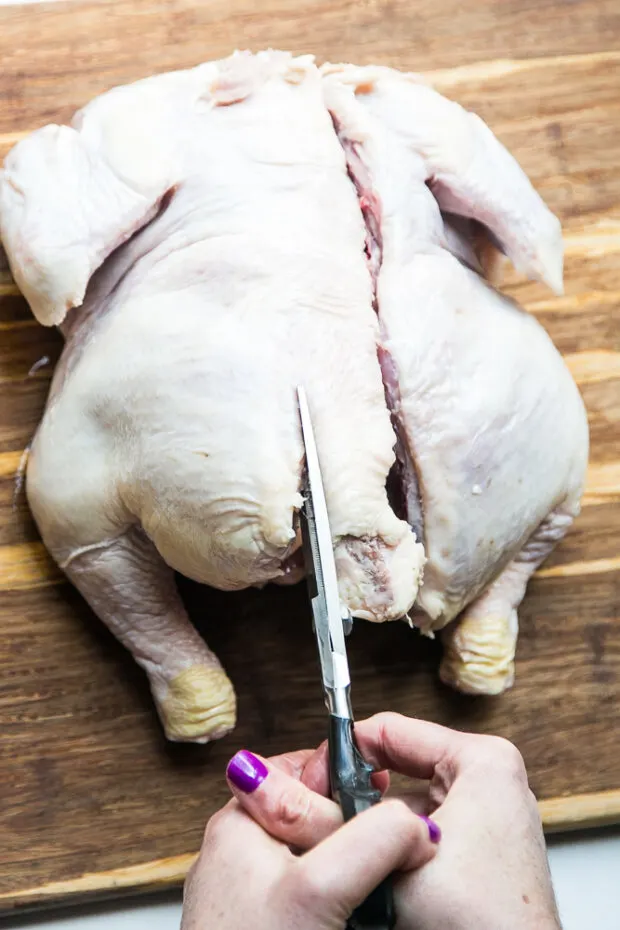 How do you spatchcock a chicken?
First, you need a REALLY good pair of kitchen shears. Or a really sharp kitchen knife.
I have a pair of Cutco shears. You know, the ones that cut through pennies. And I still have to use both hands to break through the bones.
You find the base of the backbone and cut up each side — through ribs.
Here's a helpful video that shows you how quick and (relatively) easy it is!
Maybe get some earplugs, too? Like i mentioned earlier, this isn't a pleasant task for those who don't like raw meat.
I'm really selling this, aren't I?
How do you spatchcock a turkey?
The exact same way. Think of turkeys as really big roaster chickens.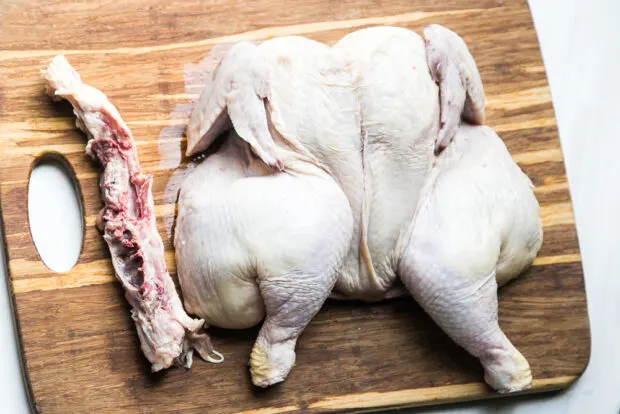 See how the chicken lays flat? This is what I'm talking about. It's so much easier to cook this way.
Also, don't throw away that backbone! Save it and make some Instant Pot Chicken Bone Broth when you're finished with the chicken. (That recipe works for turkeys, too! Just divide the bones into two batches depending on the size of your Instant Pot.)
Now that you've got your bird ready, use my recipe — How to Roast a Chicken or Smoked Whole Chicken for the easiest way to get the best flavor out of your bird with the least amount of effort.
If you have a turkey, try Dry Brined Turkey this Thanksgiving! You can even spatchcock it and smoke it — just keep an eye on that internal temperature!
---
If you make one of my recipes, be sure to post it on social media and tag me at @perrysplate or #perrysplate so I can send you some love!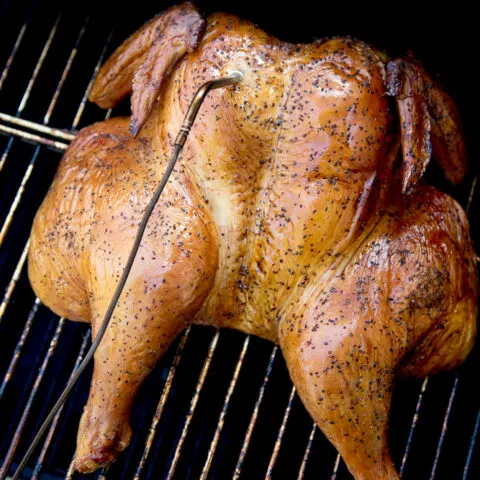 How to Spatchcock a Chicken or Turkey
Spatchcocking is a fancy word for cutting the backbone out of a chicken or a turkey. Why bother? Cutting out the backbone allows the bird to lay flat for quicker and more even cooking. This is especially helpful if you're grilling.
Ingredients
1 whole chicken or turkey, organ sack removed
A pair of super sharp kitchen shears or a sharp, sturdy knife
Instructions
Place the bird on a flat, sturdy surface. Like a cutting board that won't slide around.
Flip the bird over so it is laying breast-side down. Locate the base of the backbone at the cavity opening.
Use your kitchen shears (or a really sharp knife) to cut slightly to the right of the backbone. You might need both hands to close your kitchen shears. Cutting through ribs is no joke.
Do this for the left side of the backbone. Cut any skin or fat so the backbone comes out completely.
Your chicken or turkey is ready to prep for roasting! Or grilling. Or smoking.