These grilled chicken tacos with pineapple knocked our socks off. SERIOUSLY. Smoky grilled pineapple and some smoked gouda cheese take these tacos up to a whole other level. Hands down the best chicken tacos we've ever eaten!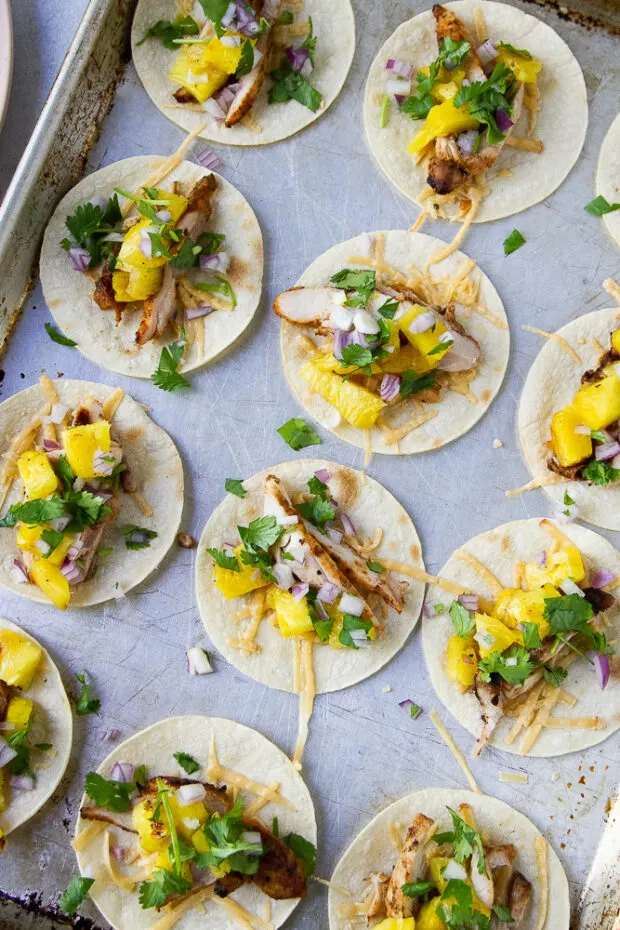 I'm not exaggerating when I say these are the best chicken tacos we've ever had. I'm not sure why it took me this long to make chicken tacos with pineapple. But grilled pineapple is AMAZING on tacos.
The combination of the smoky marinated grilled chicken + grilled pineapple + smoked gouda is *chef's kiss*.
The marinade is super easy, too. Once you have the chicken and pineapple ready to grill, you can have these pineapple chicken tacos ready to eat in 30 minutes.
Let's start with that chicken marinade!
Marinade for grilled chicken tacos
I usually keep my marinades simple and follow a formula of oil + acid + seasoning + salt.
Ingredients for marinade
Smoky Chipotle Taco Seasoning
Lime juice
Avocado oil
Salt
For this marinade, I wanted someting smoky to compliment the smoked gouda and the sweetness from the pineapple.
You can use any taco seasoning or Mexican-inspired seasoning blend, but I HIGHLY recommend using my Smoky Chipotle Taco Seasoning for this.
It has a base of different types of paprika (instead of chili powder) and a little chipotle powder. And a surprise addition of nutritional yeast which adds some umami and depth. (Optional, though, if you'd rather not use it.)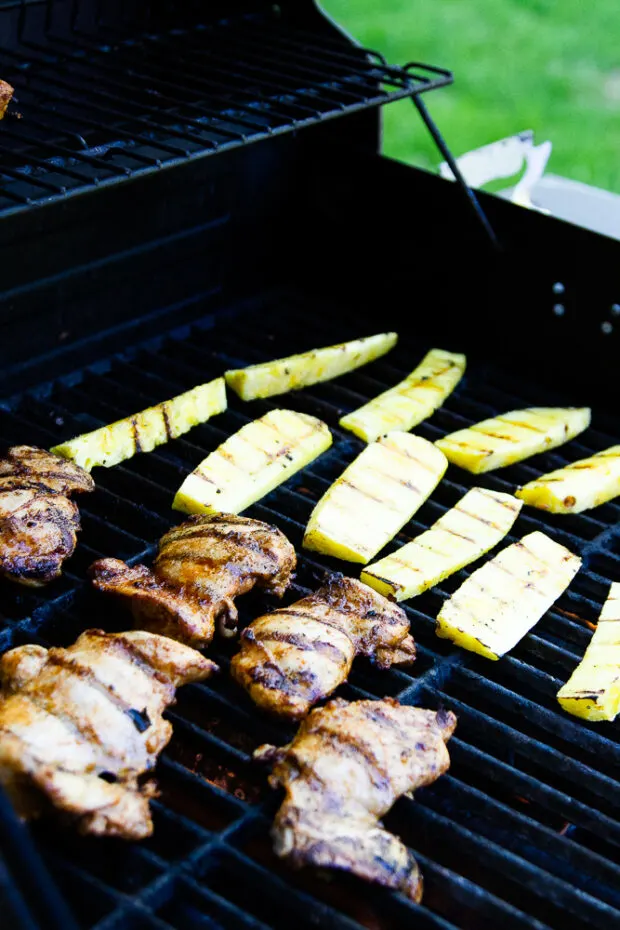 What kind chicken is best for chicken tacos?
For this recipe I used boneless skinless chicken thighs. They're more forgiving and don't dry out as easily as chicken breasts.
You could use either, though. If you decide to use bone-in chicken, factor in some extra grilling time since those tend to take longer to cook thoroughly.
Grilling chicken and pineapple for tacos
You'll want to grill the chicken and pineapple at high heat to get a good sear on them.
Flip them once or twice during cooking, making sure the chicken and the pineapple both have nice grill marks.
Internal temperature for the chicken should be about 140F.
Don't have a grill?
You can cook them in batches in a large skillet in a little oil over medium-high heat or on a sheet pan under an oven broiler on high.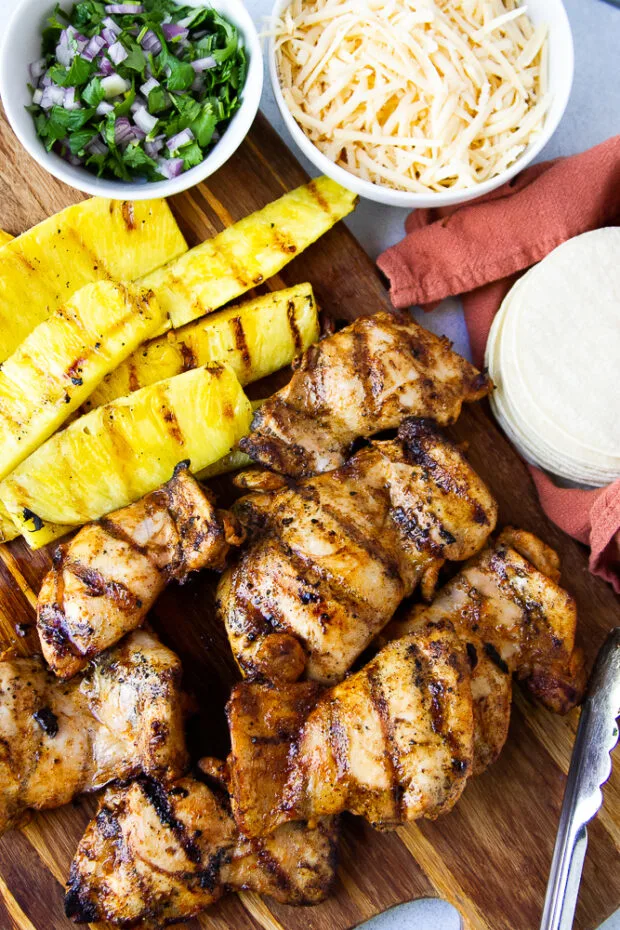 Assembling chicken tacos with pineapple
Once you've got everything prepped it's time to put the tacos together!
Chop the chicken and pineapple into small slices or chunks and assemble your tacos!
I like to do this extra step to get the cheese melted onto the tortillas…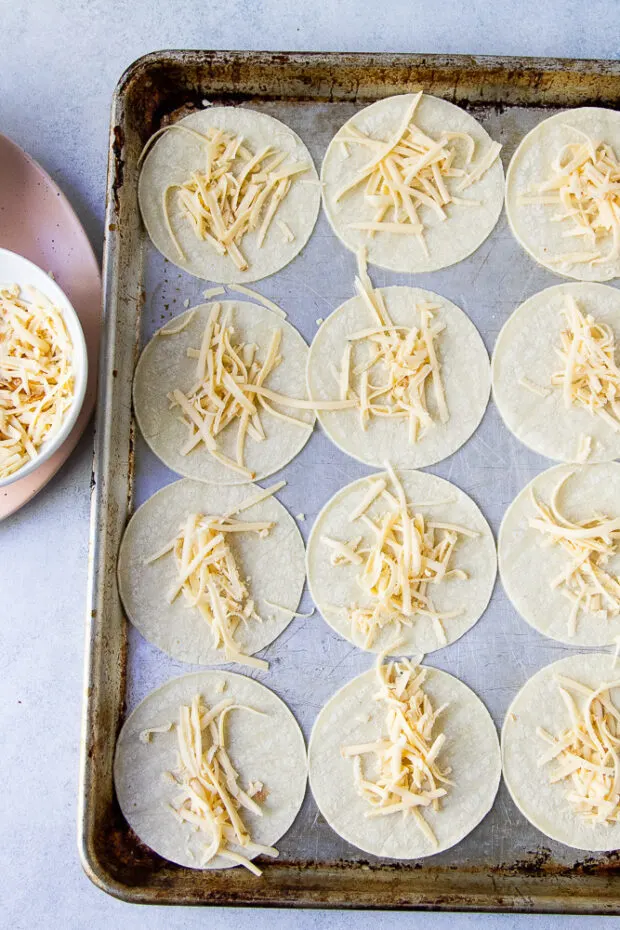 Prepping tortillas with cheese
I like using those little street corn tortillas. You can fit a dozen on a baking sheet.
Sprinkle a little cheese in each tortilla and pop it under the oven broiler for a few minutes.
You should have enough taco filling to make 24 tortillas. You can use larger tortillas if you like.
Topping for grilled chicken and pineapple tacos
I top these with a simple cilantro and red onion mixture like a traditional street taco. (Just 1 cup fresh cilantro and some red onion.) And maybe a little hot sauce.
Honestly, I don't think they need any more than that! Avocado wouldn't be a bad idea, but avocado is never a bad idea. ;)
Use Smoked Chicken for tacos
TIP: Try smoking your chicken breasts for these chicken tacos for even more smoky flavor! Smoked Chicken Breasts or a Whole Smoked Chicken would work beautifully. You could still use the marinade, too, or just make those smoked chicken recipes according to their specific recipes.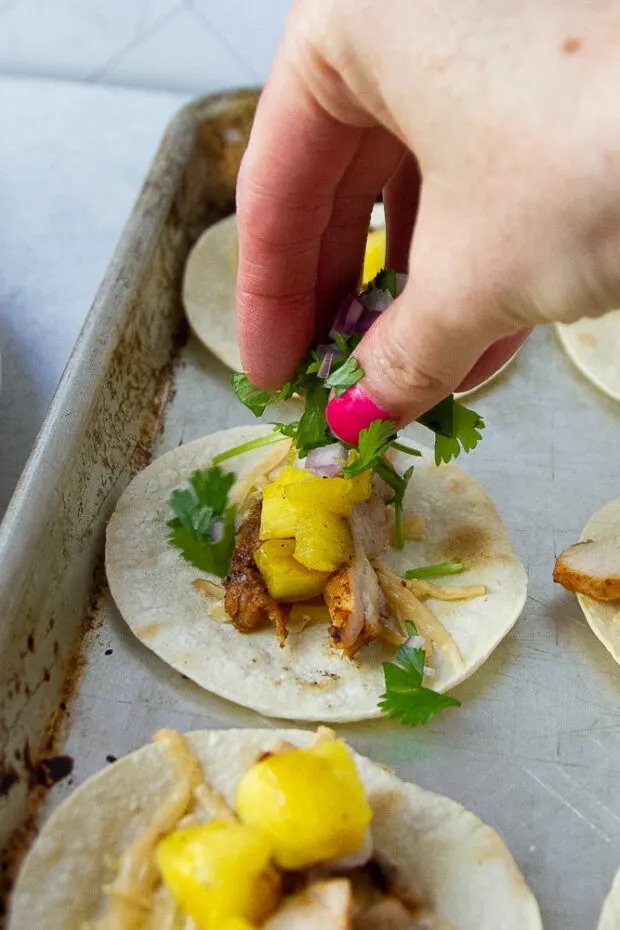 If you like this chicken taco recipe, try another one of these easy taco recipes on my site!
More Easy Taco Recipes on Perry's Plate
Crispy Black Bean Tacos with Corn & Zucchini
Grilled Shrimp Tacos with Pineapple Avocado Salsa
Keto Tortillas & breakfast Tacos
Tropical Fish Tacos with Pineapple Salsa
The best shredded chicken for tacos (honest)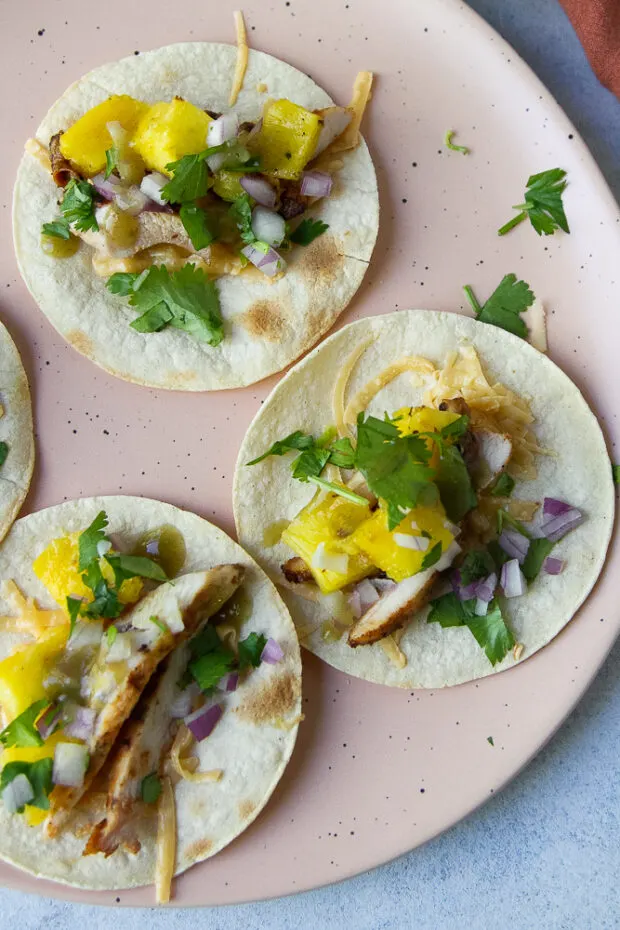 ---
If you make one of my recipes, be sure to post it on social media and tag me at @perrysplate or #perrysplate so I can send you some love!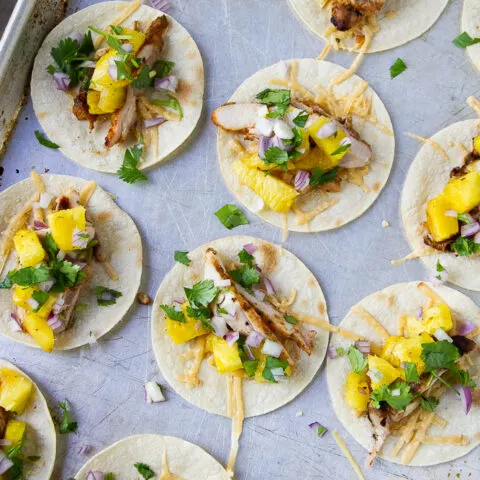 Smoky Grilled Chicken Tacos with Pineapple
Total Time:
2 hours
35 minutes
These grilled chicken tacos with pineapple knocked our socks off. SERIOUSLY. Smoky grilled pineapple and some smoked gouda cheese take these tacos up to a whole other level. Hands down the best chicken tacos we've ever eaten!
Ingredients
1.5 pounds boneless/skinless chicken thighs or breasts
1 teaspoon sea salt
3 Tablespoons lime juice
2 Tablespoons avocado or coconut oil
1/2 small fresh pineapple
1/3 cup diced red onion
1/3 cup fresh cilantro
6 ounces grated smoked gouda
24 street taco tortillas
Instructions
Place the chicken in a medium bowl or a large shallow dish. Sprinkle the taco seasoning over it and add the salt, lime juice, and avocado oil. Toss the chicken around with your hands or a pair of tongs so it's coated well. Marinate at room temperature for 30 minutes or in the fridge for 2-24 hours.
When you're ready to grill the chicken, preheat your grill to high heat. Cut the pineapple into long spears (about ½ inch thick).
Grill the chicken and pineapple spears until the chicken is cooked through and the pineapple is tender and they both have nice grill marks.
In a small bowl, combine the red onion and cilantro.
When the chicken and pineapple is finished grilling, let the chicken rest for 10 minutes before slicing thinly. Slice the pineapple into bite sized pieces, too.
Assemble the tacos how you like, using the grated smoked gouda. I liked to lay the tortillas out on a couple of sheet pans, sprinkle a little cheese on each one, and broil them for a couple of minutes to melt the cheese and toast the tortillas. Add the chicken and pineapple and a sprinkle of the onion & cilantro. And hot sauce, if you like.
Nutrition Information
Yield

8
Serving Size

3 tacos
Amount Per Serving
Calories

904
Total Fat

45g
Saturated Fat

20g
Trans Fat

1g
Unsaturated Fat

22g
Cholesterol

205mg
Sodium

2386mg
Carbohydrates

70g
Fiber

10g
Sugar

8g
Protein

55g
The information shown is an estimate provided by an online nutrition calculator. It should not be considered a substitute for a professional nutritionist's advice.