Paula Deen's House Seasoning
I should have posted this gem a long time ago. I use Paula Deen's House Seasoning about 95% of the time I need to add a pinch of salt and pepper to anything. The recipe is simple, just salt, pepper, and garlic powder. I don't know if it's the proportions or what, but this seasoning blend makes more of a difference than you'd think. It adds a nice dimension of flavor and is truly an example of a whole being greater than its parts.
When I make a batch, I stick some in an airtight jar in an easy-to-grab place above my sink and the rest goes in a small mason jar in the cupboard.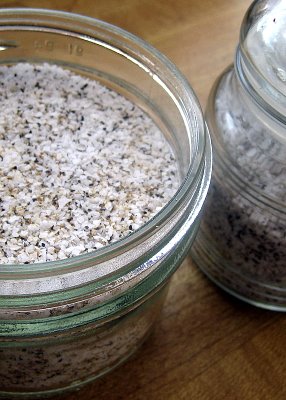 Paula Deen's House Seasoning

Ingredients:

1 c salt (I like using coarse Kosher)
1/4 c coarsely ground pepper
1/4 c garlic powder

Directions:

Combine thoroughly and store in an air-tight container. Makes 1 1/2 cups.

1. I used to keep this in an open ramekin when we lived in Utah, but after moving to California, it started to get clumpy and all stuck together. Must be the humidity. So if you live anywhere that has the slightest lick of humidity, keep it in an airtight container.

from Paula Deen Celebrates! by. . . Paula Deen