Lemon-Pepper Fettucine Alfredo
One day I saw some lemon-pepper pappardelle pasta in Trader Joe's, bought it, and within a short time prepared it for dinner. Wasn't impressed. The lemon flavor tasted artificial and almost had a sweetness to it. Ugh. I was, however, still in love with the idea of it.
Thinking I could improve on it and remembering a lemon-pepper fettucine recipe I saw in a recent Food Network Magazine, I dug out my pasta rollers and favorite alfredo recipe and got to work.
This was fantastic. I really, really love fresh pasta. It's rare that I have time to make pasta from scratch, so I save it for special occasions. Like our seventh wedding anniversary last month.
Once the pasta is ready to go (I usually do it a day or so before), the dish can be prepared in the amount of time it takes to boil and cook the pasta itself. Really. The only thing that may have improved it would be topping it with Ina's grilled lemon chicken — marinated, then grilled chicken breasts that are so juicy and flavorful. I may get around to posting it in the future, but until then, the link is up there.
My other favorite way to use fresh fettucine is in Fettucine Carbonara.  The carbonara post has a bit more commentary on making fresh pasta. If you're a purist and only make pasta by hand, I salute you, and welcome any suggestions you may have for doing it that way!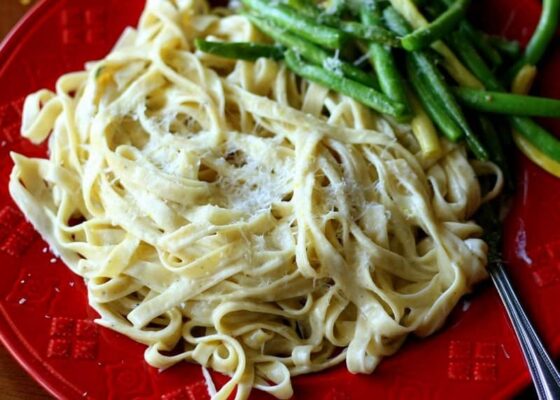 Lemon-Pepper Fettucine Alfredo

Ingredients:

1 lb dried store-bought pasta or fresh lemon-pepper fettucine (recipe below)
4 T butter
1 1/2 cup heavy cream
pinch of freshly ground nutmeg
zest from 1 lemon (about 2 tsp)
1/3 cup freshly ground Parmesan or Pecorino-Romano cheese
1 tsp freshly ground black pepper
salt, to taste

Directions:

Bring a large pot of water to boil. When the water is boiling, add 1 T of salt along with the pasta to the pot. Stir well. Cook according to package directions or for about 6-7 minutes for fresh pasta (until al dente).

Put the butter and cream in a large skillet over medium-high heat. Bring to a boil, stirring frequently, until the cream has reduced almost by half. Add the nutmeg, lemon zest, black pepper, and salt, to taste. Stir to combine and set aside.

When past is finished cooking, drain and add to the sauce in the skillet. Add cheese and toss to coat pasta in sauce and cheese. Check seasonings and add more salt and pepper as needed. Serve immediately.

Serves 4.

adapted from The Classic Pasta Cookbook by Guillano Hazan
Fresh Lemon-Pepper Fettucine
adapted from the recipe booklet that came with my Kitchen-Aid pasta rollers
.
4 large eggs
juice and zest from one lemon
3 1/2 cups all-purpose flour
1/2 tsp salt
1 tsp coarsely ground black pepper
Place eggs, lemon juice/zest, flour, salt, and pepper in a mixer bowl. Beat together using a hand-held mixer or a stand mixer with the paddle attachment for about 30 seconds. Swap out the paddle attachment for the dough hook (or the dough hook on a hand-held mixer, or dump it out on the counter and begin kneading by hand).  Knead for 2 minutes on low (longer if by hand). If the dough feels dry and isn't coming together in a ball add more water a couple teaspoonfuls at a time. Remove dough from bowl and continue to knead by hand for another minute or two. Cover the dough with a clean towel and let it rest for 20 minutes. Divide dough into 8 pieces. Roll out pasta according to pasta roller
instructions.
Lay the pasta out to dry on a floured surface (or cookie sheets) or use a pasta drying rack
.
(If doing this by hand, roll out each section of dough as thin as you can on a heavily floured surface, then cut into desired shape.)
Makes about 1 lb of fresh pasta. (Weighed after drying overnight.)
Nat's Notes:
1. If you wish to make traditional alfredo, just omit the lemon juice, zest, and pepper.
2. When I said "serve immediately", I was being completely serious. If the fettucine and sauce sit for too long the sauce begins to separate and within an hour you'll have a greasy mess.