Cinnamon Spelt Snack Crackers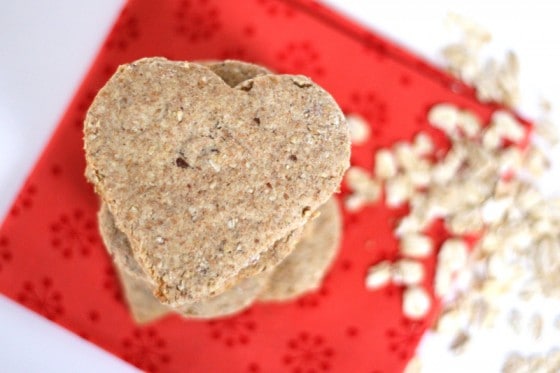 It's nice to have a non-sticky portable snack that I can stash in my purse when we go places. And not have to worry about a sticky mess (i.e. fruit in the purse is NOT a good thing). A while back I made Homemade Graham Crackers, which were pretty dang good. They were more of a treat than a snack, though, so when I saw this recipe on Fix Me a Snack, I thought I'd give them a whirl and a few of my own tweaks.
These airy, crisp crackers have a light sweetness and a hint of cinnamon. They're easy, but yes, they do require more effort than opening a plastic bag.
If you get your kids involved, they'll love it. Helping me in the kitchen is my girls' most favorite thing to do. They'll stop whatever they're doing to help me — even a movie. (Depending on the movie.)
Any time we roll out dough and use cookie cutters, we end up with heart-shaped things. No matter what time of the year it is.
Wearing a black shirt is a must when working with large amounts of flour.
Getting every last bit out of the bowl is important as well. I wish I could say I prompted them to stick their heads in the bowl, but I didn't. Some days I wonder where in the world they came from.
Another note about the recipe is the use of spelt flour. Spelt flour is an ancient form of wheat. It's not gluten-free, but it has a lower gluten content than regular wheat flour. As far as taste, I couldn't tell the difference between these and crackers made entirely of wheat flour. I found spelt flour in the bulk section of my grocery store, but feel free to use more whole wheat flour if you can't find it.
Cinnamon Spelt Snack Crackers
Yield: About 40 1x2 inch cookies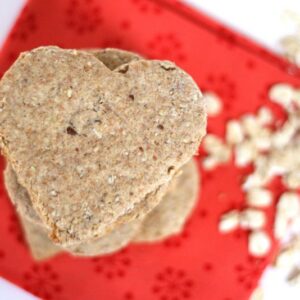 Ingredients:
1 cup spelt flour (or whole wheat if you can't find spelt)
1/2 cup quick or old-fashioned oats
1/2 cup almond meal, ground almonds, or almond flour (or more whole wheat flour)
1 Tablespoon ground flaxseed (optional)
2 teaspoons cinnamon
1/2 teaspoon salt
1 teaspoon baking powder
2 Tablespoons raw sugar
5 Tablespoons cold butter, cut into 8-10 cubes
scant 1/3 cup milk
more spelt flour, for rolling out the dough
Directions:
Preheat oven to 400 degrees F.
Crush the oats with the paddle attachment of a stand mixer by running the mixer at medium speed for 3-5 minutes.
Add the remaining ingredients to the bowl (except for the butter and milk). Blend well. Stop the mixer and add the butter cubes to the top. Mix at low speed until butter is mostly incorporated with small chunks here and there. While the mixer is on low, drizzle in the milk. Let the mixer run for about 20 seconds until large chunks begin to form. If it isn't clumping up well, add a tablespoon or two of milk. If it sticks to the sides, add more spelt flour.
Remove dough from the mixer and squeeze into a ball. Divide dough in half. Working with each half, flatten into rectangles and roll them out individually on a lightly floured surface to a 1/4-inch thickness. Flour the top of the dough if it sticks to the rolling pin.
Cut the dough into squares using a pizza cutter or a sharp knife. (Or use small cookie cutters.) Transfer them to a greased or parchment-lined baking sheet. If they stick to the counter, try using a metal spatula to pick them up. They can be placed close to each other as they don't expand much while baking.
Bake for 10-12 minutes or until bottoms are golden brown.
Adapted from the Fix Me A Snack blog