Spicy Corn Fritters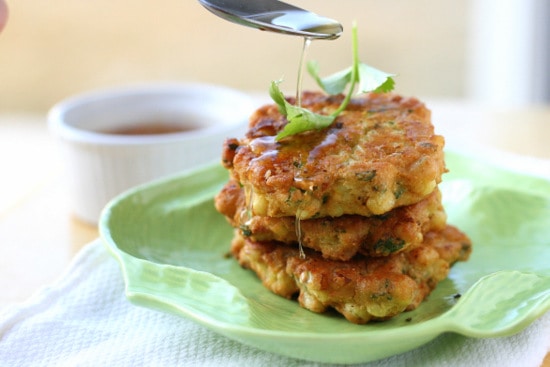 Once in a while I just gotta have something fried.
Lately "once in a while" means several times a week. My sweet tooth is also out of control. I blame hormones.
These little corn fritters are lightly fried and are the perfect nibble to go with Indian-type dishes. Like the Baked Fish Fillets I just posted. They're a perfect match.
There's a spicy-sweet sauce that comes together while the fritters are prepping that you really shouldn't leave off. I found this recipe a long, long time ago on Simply Recipes. I've made a few tweaks to fit our tastes, and they're always a hit. I've never had them with farm-fresh corn, but I imagine it would take them to a whole new level of awesomeness. And by the way, they're not really "spicy" by themselves, but with that dipping sauce.
Welcome back to the blog, dear fritters!
Spicy Corn Fritters

Ingredients:

Dipping Sauce:
1/2 cup rice vinegar
1/4 cup honey
1/4 - 1/2 teaspoon crushed red chili flakes
3/4 teaspoons salt
1 large clove garlic, minced

Fritters:
1 cup flour (see note)
1/4 teaspoon baking powder
1/2 teaspoon salt
1 teaspoon ground coriander
1/2 teaspoon ground cumin
1 egg, lightly beaten
1 teaspoon lemon juice
1/2 cup water
2 cups of corn kernels (about 3 cobs if using fresh corn)
4 large scallions or green onions, finely sliced (about half a cup)
1/4 cup chopped cilantro
Heat-safe oil for frying (I used coconut oil.)

Directions:

To make the dipping sauce, combine all of the sauce ingredients into a small saucepan. Cook on medium heat, stirring with a wooden spoon, until sugar dissolves. Increase the heat to medium high, let boil for 10 minutes or so, until the mixture becomes somewhat syrupy. Remove from heat and let cool.

Combine flour, baking powder, salt, ground coriander, and ground cumin in a medium bowl. Add egg, lemon juice and water. Stir vigorously with a wooden spoon until smooth. Add the corn, onions, and cilantro. Stir until just combined.

Heat a large frying pan on medium heat. Add enough oil to generously coat the bottom of the pan. When oil is hot (shimmering not smoking), spoon about 2 heaping tablespoons worth of fritter batter into the pan to form one fritter, patting it down with the back of the spoon as soon as it is in the pan. Work in batches. Leave about 1/2 inch between the fritters in the pan. Let cook about 2-3 minutes on each side, flipping the fritters when they are nicely browned on one side. When browned on the other side, remove the fritters to a plate lined with paper towels to absorb the excess fat.

Add oil as needed to keep the bottom of the pan well coated. Note that the fritters will likely splatter a bit as you are cooking. So, either use a screen splatter guard, or wear long sleeved clothes while you cook.

Makes approximately 12-16 fritters, depending on how large you make them. Serve immediately with the sweet chili dipping sauce.

Nat's Notes:
1. The dipping sauce is really spicy. I would maybe start off with 1/4 tsp of red pepper flakes and move up if you'd like it spicier.
2. The original recipe claimed that the dipping sauce would get thick and syrupy. Mine never has, even after boiling for 10-15 minutes. I've used both white sugar and honey and found both to work well.
3. You can play around with the flour in this. I've used regular, whole wheat pastry, and even chickpea flour with great results.
4. I use frozen corn when I make this. No, I don't thaw it first.

adapted lightly from Simply Recipes