Rustic Mushroom Tart + Carla Hall Cookbook Giveaway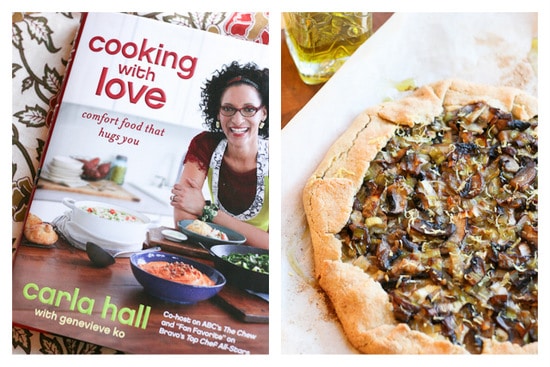 Have you ever heard of Carla Hall? I hadn't until I devoured her cookbook this week. She was on Top Chef and she's a co-host on The Chew. I've seen neither show, but I feel like we're tight.
Sharing awesome food tends to do that.
Her cookbook, Cooking with Love: Comfort Food that Hugs You is officially my latest favorite cookbook, which is a total surprise to me because I still roll my eyes at the term "comfort food."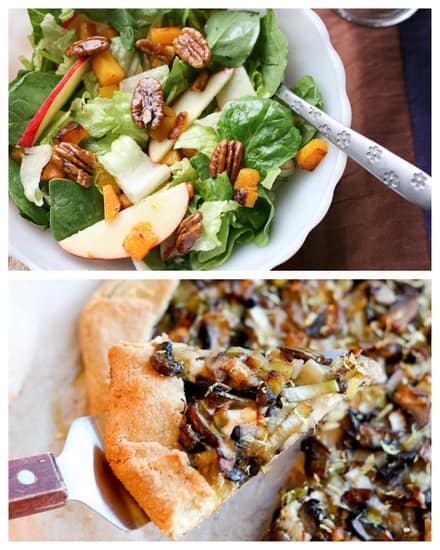 Comforting? Yes, but in a way that won't make you regret it later. Her recipes have a fresh twist and a sprinkle of Southern charm.
We tried her Rustic Mushroom Tart (recipe below!) and her Mixed Greens and Pan-Roasted Butternut Squash Salad with Apple Cider Vinaigrette for dinner one night. Hello, fall menu!
Wow. Both fantastic. My 5-year-old, the self-proclaimed mushroom-hater, ate all of her tart. Mushrooms included. My kids aren't fans of butternut squash in cube form, but they eagerly ate the rest of the salad.
I'm sure the apple cider vinaigrette helped a lot. I think they might eat lawn clippings covered in that dressing.
We also tried her Buffalo Wing Burgers (wing sauce-flavored turkey burgers) with Spicy Mayo and Celery and Blue Cheese Slaw (with goat cheese because we do NOT heart blue cheese). We had them bunless with a side of sweet potato fries. Loved it!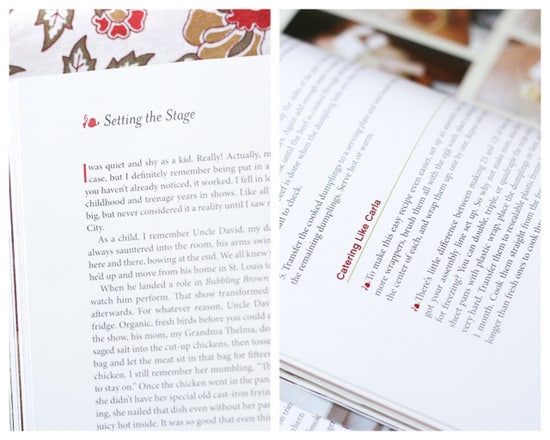 Another thing I love about her book are the personal stories she shares and the catering tips. Carla Hall also runs (ran?) a catering company, and I think it was a brilliant idea to share her catering wisdom in her book.
Want a copy? Of course you do. Go on down and see the details of the giveaway (easy and painless, as always) and grab that tart recipe while I dive back into this book and make my menu plans for the next few weeks!
P.S. To read a more detailed review of this book, check out my review over at Reading For Sanity!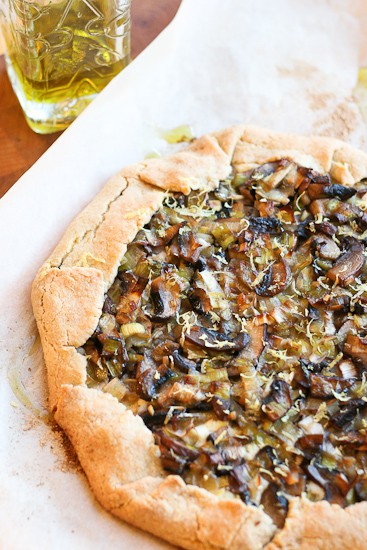 To Enter the giveaway:
Just leave a comment on this post and answer this question for me:
What kind of food "hugs" you?
A few little details…
1. Comments will close on Monday, November 19, 2012 at 8PM PST. I'll use a random number generator to choose one winners that I will contact and announce here shortly after. If I don't get a response from the winner after three days I'll pick a new one.
2. One entry per person. As much as I love having new Facebook, Twitter, and Pinterest pals, I want you to follow me because you genuinely like my blog. Not for extra entries in a contest.
3. Contest open to US and Canadian residents only.
4. Leave a valid email address for me to contact you.
Review and giveaway copies provided by Free Press.
Rustic Mushroom Tart
Yield: Serves 4-5
Prep Time: 20 minutes
Cook Time: 25 minutes
Total Time: About 45 minutes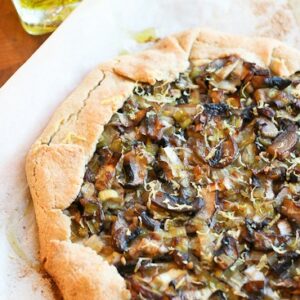 Ingredients:
3/4 cup whole milk ricotta

1/2 cup crumbled goat cheese

1/4 cup finely grated Parmesan-Reggiano cheese

2 teaspoons chopped fresh rosemary

Freshly ground black pepper

1 tablespoon unsalted butter

1 tablespoon heat-safe oil

3/4 pound mixed mushrooms, about 4 cups (I just used regular brown mushrooms)

1 medium leek (white and pale green parts only), trimmed, cut in half lengthwise, then into thin half-moos, and thoroughly rinsed)

3 garlic cloves, finely chopped

Kosher salt

1/4 cup dry white wine (or chicken broth)

Dough for one pie crust (single-layer)

1/2 lemon

Extra-virgin olive oil, for drizzling
Directions:
Preheat oven to 400 degrees F.
In a large bowl, stir together the ricotta, goat cheese, Parmesan, rosemary, and 1/4 teaspoon pepper until well mixed.
In a large skillet, heat the butter and oil over medium-high heat until the butter melts. Add the mushrooms, leek, garlic, and 1/2 teaspoon salt. Cook, stirring occasionally, until the mushroom juices release and evaporate and the mushrooms start to brown, about 5 minutes. Add the wine (or stock), bring to a boil, and simmer until it evaporates. Season to taste with salt and pepper.
On a large sheet of parchment paper, roll the dough into a 12-inch round. Slide the parchment paper with the dough on it onto a half sheet pan.
Spread the ricotta mixture evenly over the dough, leaving a 2-inch border. Spoon the mushrooms in an even layer over the cheese. Fold the border of the dough over the mushrooms, pleating the dough every 2 inches. Immediately transfer to the oven.
Bake until the crust is golden brown, about 25 minutes. Grate the lemon zest directly over the mushroom filling and rizzle with a little olive oil. Cut tart into wedges and serve immediately.
From Cooking with Love by Carla Hall