This creamy hazelnut soup is a favorite of my little girls! They love eating Rapunzel's favorite meal for dinner.
Did you know that Hazelnut Soup is Rapunzel's favorite?
According to Disney it is. And according to my girls, who practically have that movie memorized. I don't mind the repetition, though. I quite like the sound of Zachary Levi's voice in my living room. (Chuck fiend here.)
Girls also happen to be very fickle, and unfortunately the Rapunzel-watching phase is over (for now). Right now they're obsessed with Pocahontas, which I'm totally cool with. (Mel Gibson's nice, too.)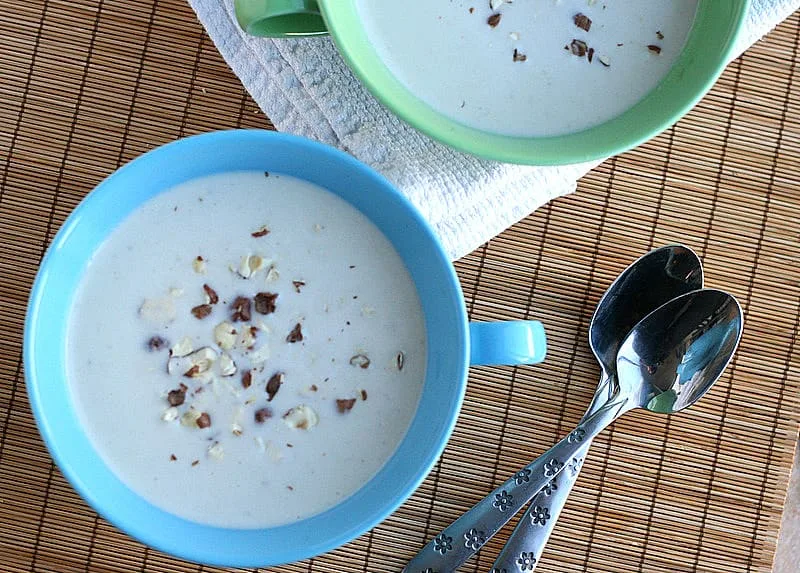 After a quick Google search and discovering that hazenut soup soup does exist (and I didn't have to make it up my self… whew), I informed the girls that Mom was going to make Rapunzel Soup. my oldest asked, "Mom, what's a . . . pawsoup?" (Parsnip)
Making this soup was a good produce lesson for my kids, as I purchase a few things I don't use on a regular basis. Like parsnips. And leeks, which are obnoxiously difficult to stash in a plastic produce bag.
It wasn't until a year or two ago that I knew what parsnips, turnips, and rutabagas looked like. Out of curiosity I bought one of each at the grocery store.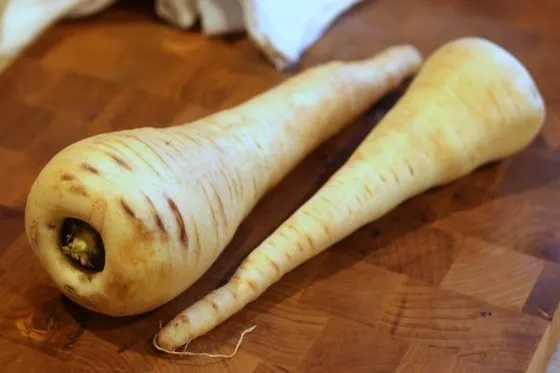 That poor cashier — she was unfamiliar with them, too. By the time I got to the front I was hazy on which was which, and because they don't have produce stickers on them, we made our best guesses.
That instance, I can understand. The time the cashier asked me which were lemons and which were limes — now, really. That's inexcusable.
Out of the three root vegetables, I liked parsnips the best. They're sweet like carrots, but starchy like potatoes and gave this hazelnut soup a really nice texture.
So what does this soup taste like? It's hard to explain.
Parsnips, leeks, and shallots are milder, more sophisticated versions of carrots/potatoes, onions, and garlic (respectively) so you could compare this to a lighter, fancier potato soup. The hazelnuts (which are strained out after the soup is pureed), add a unique flavor. I think this would be a really nice soup course at a dinner party.
Or dinner for a family with pre-school aged, Rapunzel-obsessed girls. (Versatility!)
If you have a high-powered blender, like a Blendtec, you don't have to strain it at the end, which makes it much easier to make.
I think Rapunzel has really great taste in soup. My girls (3 and 4) thought so, too. They ate two bowls each for dinner and two more for lunch the next day. Score for mom.
More creamy blended soup recipes!
If you like this soup, you'll love these other creamy, blended soups!
If you're a fan of butternut squash try my Indian-style Butternut Squash Soup or my Easy Chipotle-Lime Squash Soup recipes.
Similar to this hazelnut soup, this Garlic-Almond Soup with Basil Pesto has blended almonds to make it thicker and richer! The pesto is a PERFECT garnish and would be great in my hazelnut soup as well!
Up until recently, my kids totally thought this Creamy Paleo Mushroom Soup was actually "Creamy Bacon Soup". A little sprinkle of bacon and cheese crisps do make this soup even more incredible.
Keto Roasted Tomato Jalapeno Cheddar Soup is another keto-friendly soup with a spicy twist!
This oldie recipe — Azteca Squash Soup with Chorizo — is one of my favorites to use up squash in the winter!
Ok, hands-down, my favorite soup to make in the fall — Apple-Squash Soup with Bacon. It's like eating cheese fondue. It's so delicious!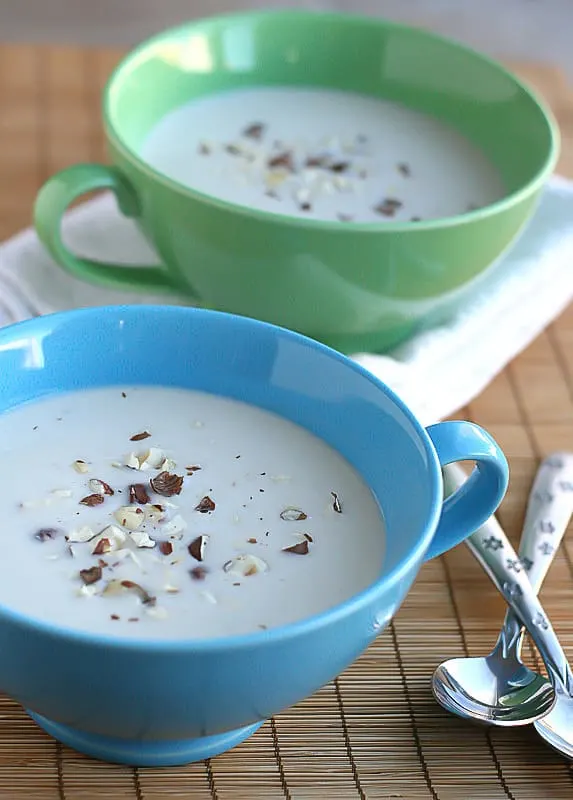 If you make one of my recipes, be sure to post it on social media and tag me at @perrysplate or #perrysplate so I can send you some love!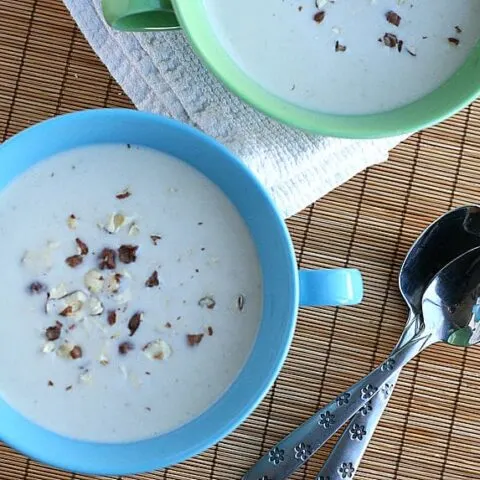 Hazelnut Soup with Parsnips
This creamy, light hazelnut soup is based on a soup from Tangled -- Rapunzel's favorite! My little girls loved the association and licked their bowls clean.
Ingredients
1 1/2 cups whole hazelnuts
4 shallots, peeled and chopped
2 medium leeks (whites only), chopped
2 parsnips, peeled and chopped
1 tsp salt
1/2 tsp pepper
5 Tbsp butter
1 T cornstarch (or 2 T all-purpose flour)
6 cups vegetable or chicken broth
2 cups water
2 cups half-and-half or heavy cream
Instructions
Preheat the oven to 350 degrees F.
Roast hazelnuts on a cookie sheet for 10-15 minutes or until toasted and fragrant. Once they're finished, dump them into a clean kitchen towel and "rough them up" to remove most of the skins. If they don't all come off, it's fine.
In a large, heavy pot, melt the butter and saute the chopped vegetables for 10-15 minutes, until softened. Stir in the cornstarch (or flour, if using), salt and pepper and stir to combine. Cook for a minute or so, then add water, chicken broth, and 1 cup of the roasted hazelnuts.
Bring to a boil, then reduce heat to medium-loaw and simmer for 30 minutes.
Use a high power blender to blend the soup in batches until smooth. If you don't have a powerful blender, use an immersion blender to blend the soup into a smooth soup, then strain the soup through a sieve.
Return the strained soup to the stove in a clean pot (or simply rinse out the other pot if the leftover bits bother you). Add the half-and-half (or cream, if using) and heat through.
Taste and adjust the flavor with additional salt and pepper, if desired. Chop the remaining 1/2 cup of roasted hazelnuts and use as garnish.
This post may contain affiliate links. Any purchases made by using these links won't cost you any extra and helps keep my content free. These links may be Amazon links as I am part of the Amazon Associate Program.
SaveSave