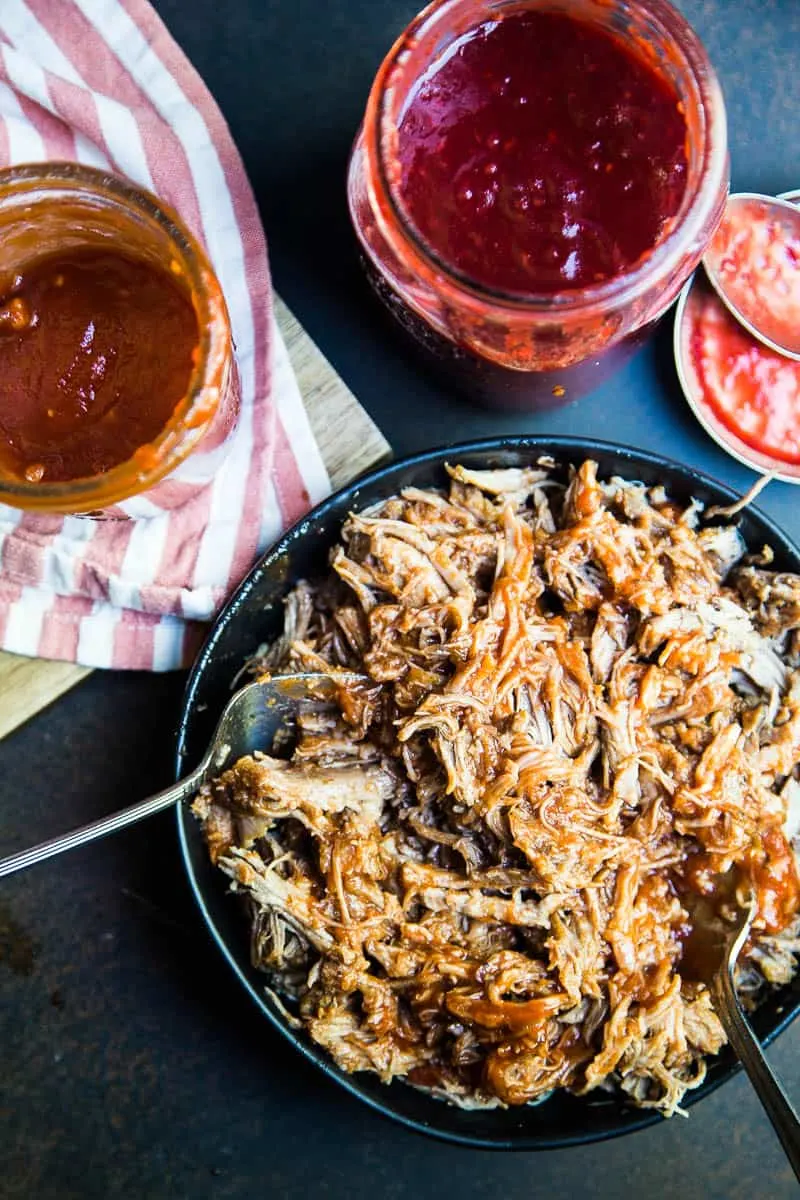 After writing two cookbooks with a total of 27 (!!) recipes for pulled meat (and five BBQ sauces) in both books, I thought it was rather sad that I didn't have an Instant Pot Pulled Pork recipe on my site.
A total shame, right? It's a classic recipe that everyone should have in their collection.
To be honest, I think it took me so long to do this because…
I've never been a huge fan of pulled pork. Or pork in general. (Except for bacon. Bacon is life.)
Writing and developing pork sections for my cookbooks converted me. Or at the very least made me moderately excited to have pork for dinner.
(Especially the Easy Pork Carnitas from my Instant Pot book. Maybe I'll throw that recipe on my site, too. SHHH don't tell my publisher.)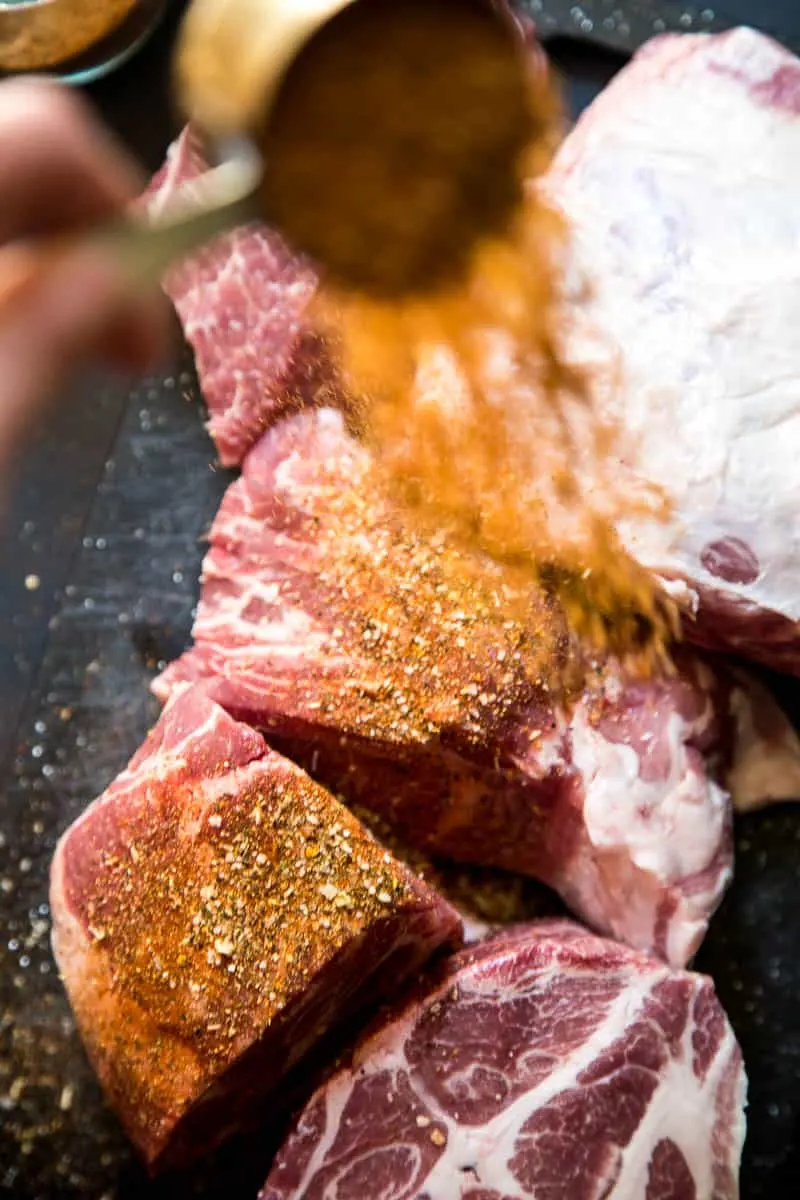 Tips for making great BBQ Pulled Pork in an Instant Pot
Put the BBQ sauce on AFTER you cook the pork
After making dozens (literally) of batches of pulled meat, I can tell you that it's MUCH better to put the sauce on after you shred the meat.
You know how when you're making a salad and you don't get the lettuce dry enough and then the water pulls all of the dressing off the salad and ends up in a puddle in the bottom of the bowl?
That's how it is with BBQ pulled pork. (Or pulled chicken or beef.) All of the BBQ sauce ends up in the cooking juices, which aren't potent enough to give the meat a strong, tangy BBQ taste after it's shredded. More on that later.
Use a spice rub
I still add a lot of flavor to the pork while it's cooking, so I rub the meat with a bunch of steak seasoning. I make my own Homemade Montreal-Style Steak Seasoning, but you can use whatever steak seasoning you like.
You can choose to let it marinate overnight for even more flavor, but it'll taste great if you pop it in the Instant Pot right away.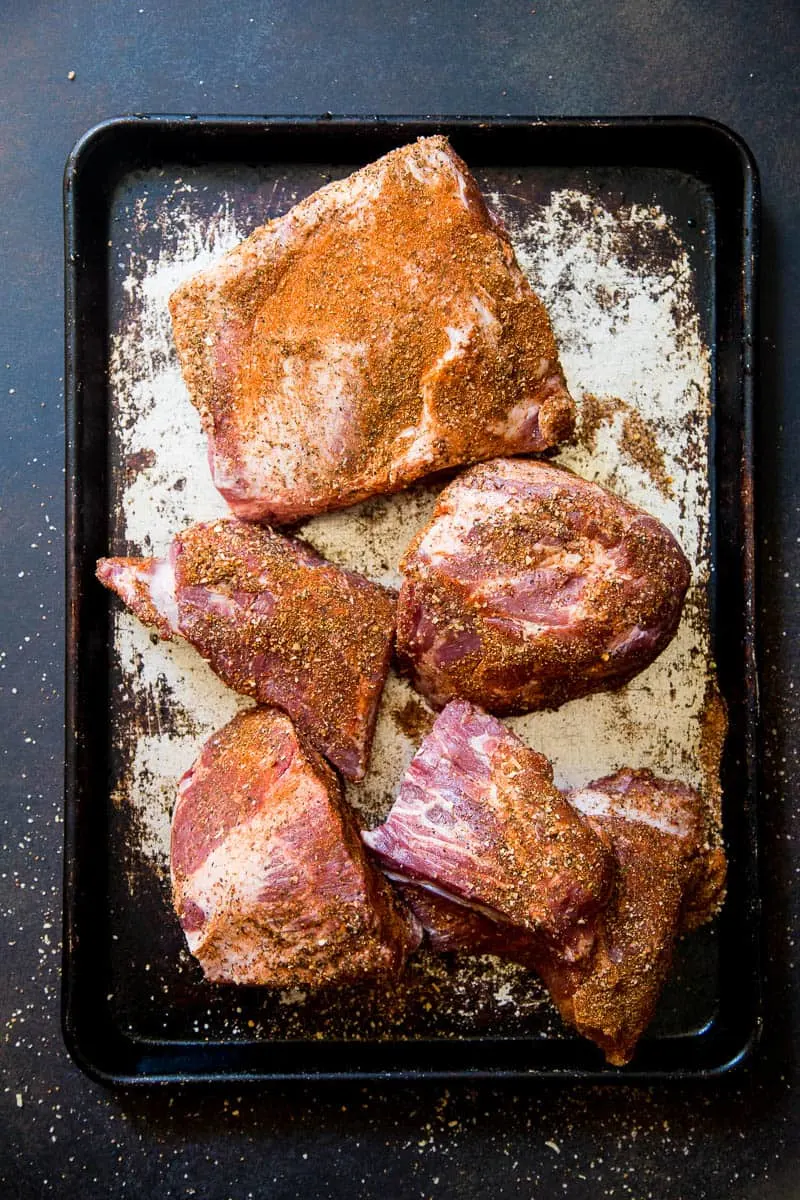 Cut large roasts into pieces
Another tip for making pulled meat in a pressure cooker: Cut large pork or beef roasts into chunks. Not cubes, but handful-sized pieces — roughly 1 pound each.
Why? It cooks MUCH faster this way AND there's more surface area for the seasoning. And faster, tastier pulled pork is better, yes? (Don't get me wrong — slow cooker pulled pork is pretty amazing, too, but we don't always have 8-10 hours or plan ahead like we should.)
Use roasts that have a lot of fat
That up there is an 8-pound bone-in pork shoulder roast. Or butt roast. (I've never understood why it's called that. It's not really the pig's butt.) I don't like using pork loin roasts because they usually turn out really dry. There's more fat on the shoulder roast which keeps it tender and moist.
I cut that big roast it into 6 pieces. Because of the bone, I couldn't make them all the same size, but it's good if they're similar in size. Shoulder roasts are pretty forgiving, so don't worry about the smaller pieces getting overcooked.
You can use a bone-in or boneless pork roast. One thing though . . .
AN 8-POUND BONE-IN SHOULDER ROAST WILL NOT FIT IN A 6-QUART INSTANT POT.
I found this out as I was prepping mine. I had always bought smaller roasts, but I only saw 8-pounders at the store that day.
Luckily I have 2 6-quart Instant Pots (I use both of them simultaneously more than you'd think!) so I put half of the meat in each.
I don't have an 8-quart Instant Pot, but I'm fairly certain it would fit.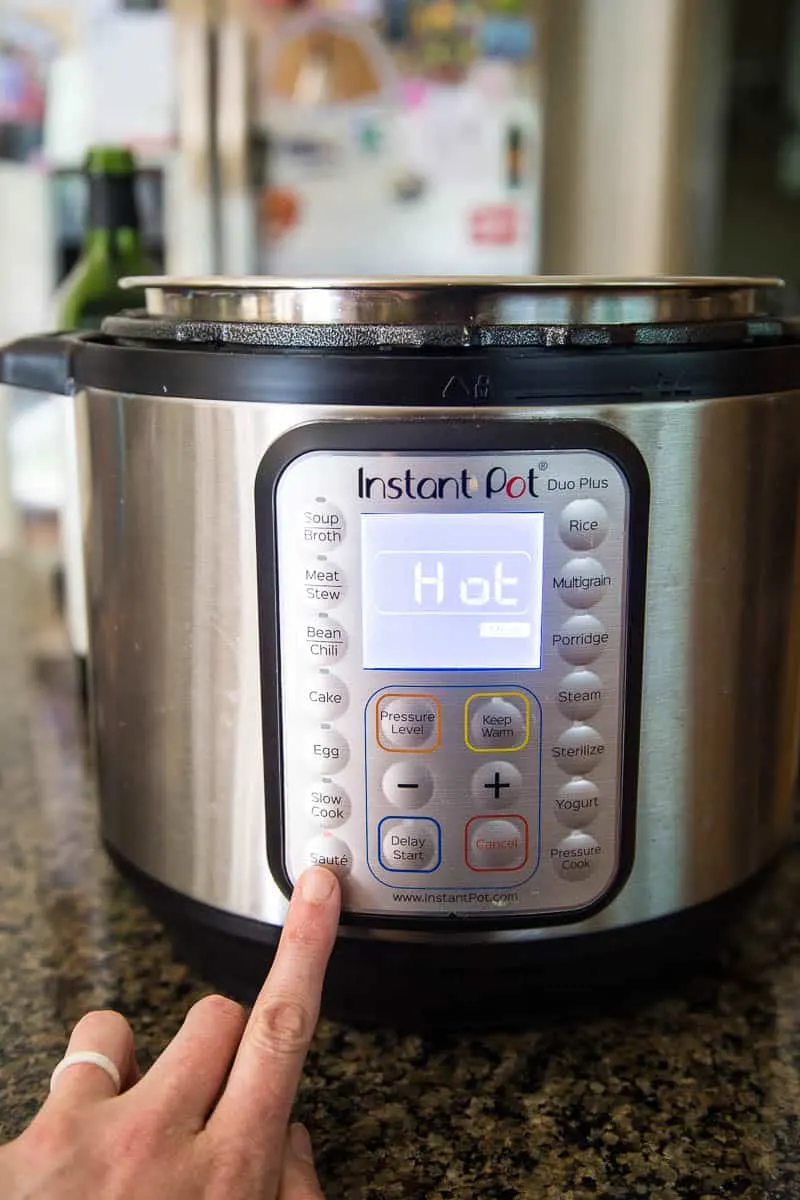 Sear the meat before you pressurize it (if you can)
Another way to boost flavor in pulled pork is to sear the meat before you cook it. This used to be a really fussy step, but because you can sear AND cook meat in an Instant Pot it doesn't feel like such a hassle anymore.
Make sure your Instant Pot is FULLY PREHEATED (it says "Hot" on the display) before you put the meat in. Otherwise you'll end up steaming the sides and that doesn't produce crispy edges or caramelization.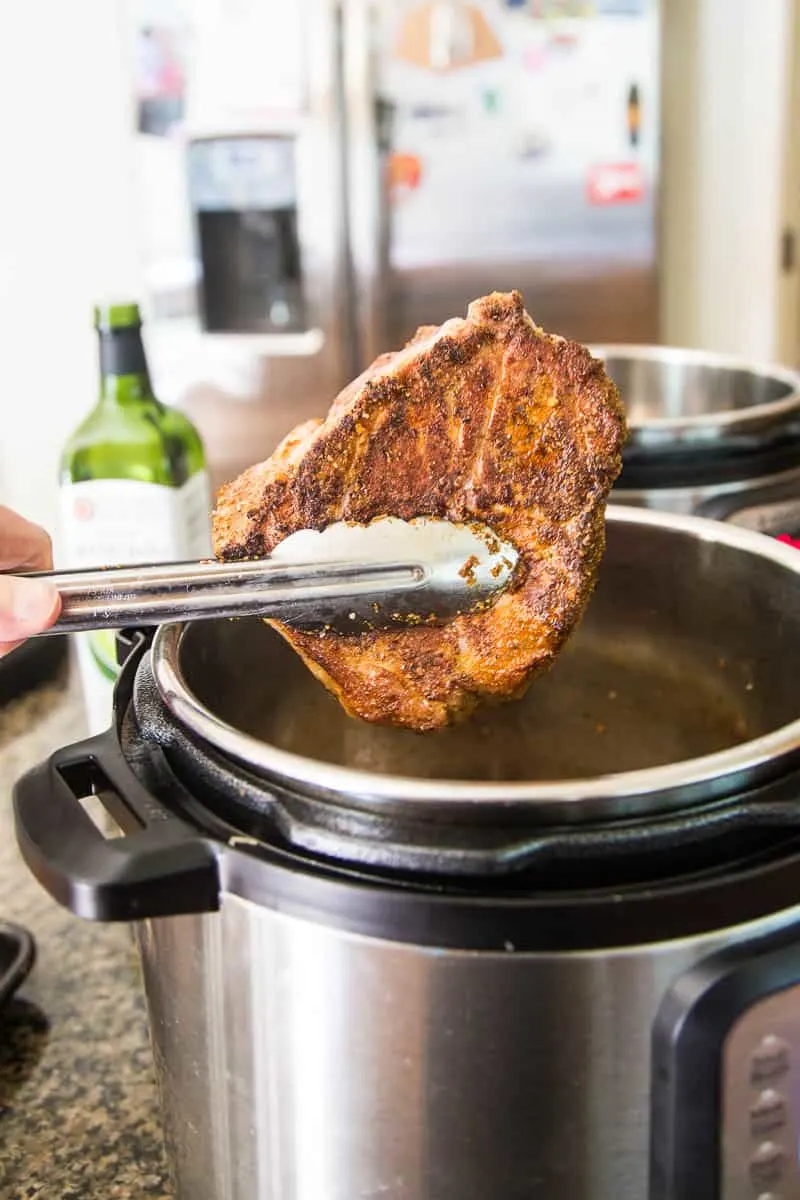 I put two pieces of pork roast in there at a time and formed good sears on both.
After that I put some chicken broth in there to deglaze the pot (it loosens the crispy bits stuck to the bottom) and give the pot enough liquid to produce steam in order to pressurize the pot.
Then I returned all the meat to the pot(s) and cooked them for about an hour each. I put some notes on cooking time for different weights of meat. Just check the recipes notes.
Let the cooker release the steam naturally
There are two kinds of steam releases — natural release and quick release.
For large cuts of meat like this, I highly recommend that you let the pressure cooker release steam naturally.
This takes about 15 minutes depending on what you've got in the pot. This also allows the meat to rest for a bit before you shred it, and it will also help the meat to shred more easily and be more tender.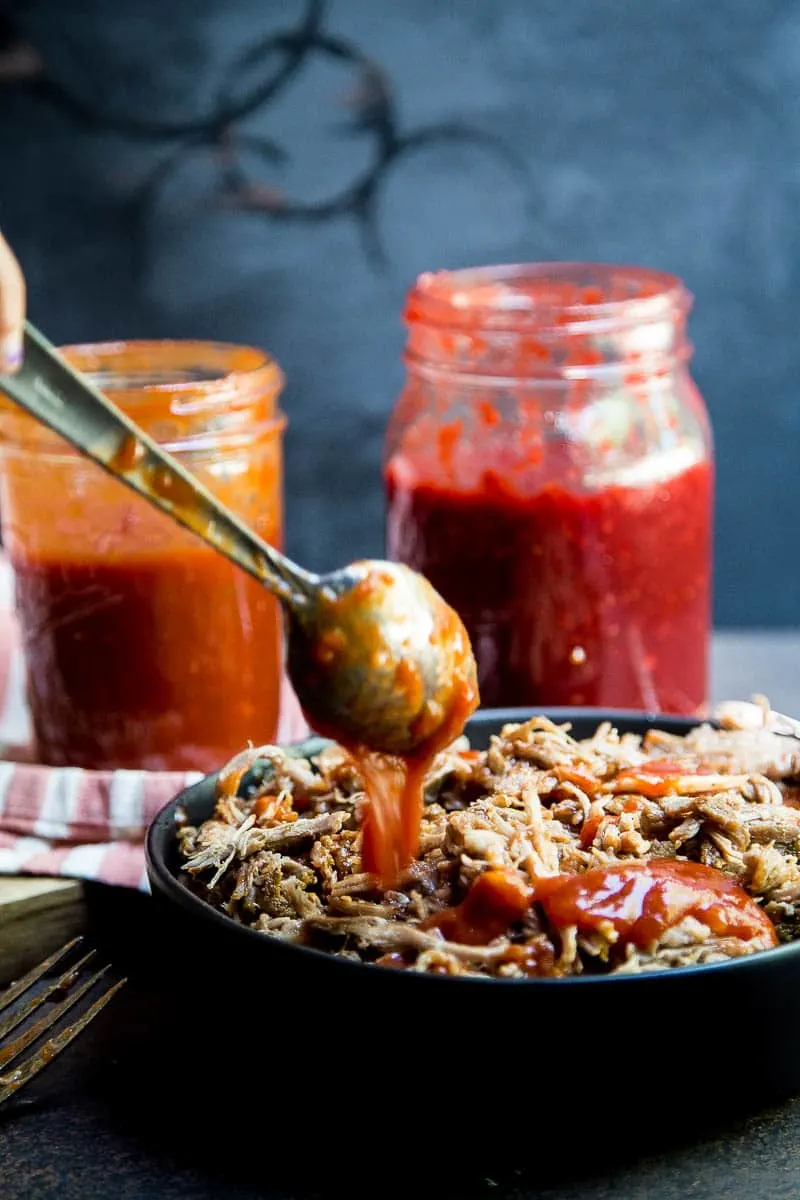 After I shred the pork, I put it in a large bowl (and leave the cooking liquid in the pot). Then I add some BBQ sauce. If I want it saucier, I add some of the cooking liquid.
If I put all of the meat back in the pot with the liquid and THEN put the BBQ sauce in there, it would be really soupy. And I'd be bummed that the BBQ sauce would be watered down and not as tangy and delicious.
Trust me on this one.
Homemade BBQ Sauces
Now for the good part — the BBQ SAUCE. Or sauces.
My all-time favorite BBQ sauce is this Balsamic BBQ Sauce I use on a grilled chicken recipe, but it's also good for pulled pork.
I made a couple more sauces to use for pulled pork that I posted last week — Honey Lime Ginger BBQ Sauce and Low-Carb Raspberry Chipotle BBQ Sauce. You could use low-carb sweetener in the first sauce, too, if you like. Both sauces are super delicious on pulled pork and can be made several days ahead of time.
How do you like to eat BBQ pulled pork? We don't typically use buns. Sometimes we'll use toasted sourdough bread (if I happen to get adventurous and make some that week), but I really love the meat and sauce on baked potatoes — particularly baked sweet potatoes.
It's also good to make into a BBQ pulled pork salad. Pro tip: save some of that BBQ sauce and mix it with paleo ranch to make some fabulous BBQ ranch dressing for your salad.
Sides for BBQ Pulled Pork
Our favorite sides to serve along BBQ pulled pork are salads like Southwest Cabbage Slaw, Avocado Bacon Parmesan Salad, or my Costco Copycat Sweet Kale Salad.
Simple roasted or sauteed vegetables are great with it, too! Like Magical Sauteed Green Beans, Sweet Potato Fries, or Parmesan Roasted Broccoli.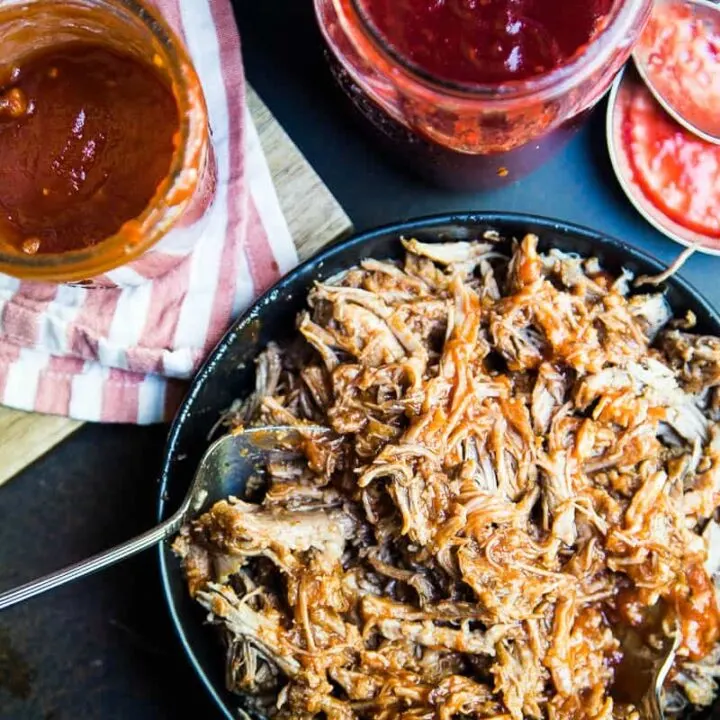 Easy Instant Pot Pulled Pork
Cook Time:
1 hour
30 minutes
Total Time:
1 hour
50 minutes
Everyone needs a great BBQ Pulled Pork recipe. This one is super easy using an Instant Pot Pressure cooker! Add your favorite BBQ sauce to make this your own or use one of my homemade sauces linked below.
Ingredients
1 pork shoulder (butt) roast, 6-7 pounds
2 teaspoons sea salt
1/4 cup avocado oil
1 cup chicken broth or water
2-3 cups BBQ sauce of your choice
Instructions
Cut the roast into 4-5 large pieces, roughly the same size.
Rub the pieces of meat with steak seasoning and salt.
Preheat your Instant Por or other electric pressure cooker to high on the Saute setting.
When the cooker has completely preheated (the display should read "Hot"), add 2 Tablespoons of oil into the cooker insert.
Add two pieces of meat and sear for 2-3 minutes on 2 sides. Remove the meat from the pot, add the other 2 Tablespoons of avocado oil and sear the other pieces of meat.
Add the chicken broth to the pot and return the seared meat to the pot as well.
Cover and seal the Instant Pot, moving the steam release valve to "sealing". Push Cancel on your cooker.
Using the "Manual" or "Pressure Cook" button, set the cooker for 60 minutes. When the pressurizing time has finished, let the cooker release steam naturally until the float valve has dropped and the lid has unlocked.
Transfer the meat to a large bowl and shred it. (Reserve cooking liquid in case you need it.) Mix in 2 cups of BBQ sauce. If you'd like it saucier, add the remaining BBQ sauce and maybe 1/2 cup of the cooking liquid to reach the desired consistency.
Serve!
Notes
1. You can use whatever BBQ sauce you like! I have a few homemade BBQ sauce recipes on my site -- Balsamic BBQ Sauce, Honey Lime Ginger BBQ Sauce, and Low-Carb Raspberry Chipotle BBQ Sauce.
2. If your roast is 8 pounds, you'll need to use an 8-quart pressure cooker and cook it for 90 minutes. If your roast is smaller -- around 3-4 pounds, cook it for 45 minutes.
Recommended Products
As an Amazon Associate and member of other affiliate programs, I earn from qualifying purchases.