July Stitch Fix Review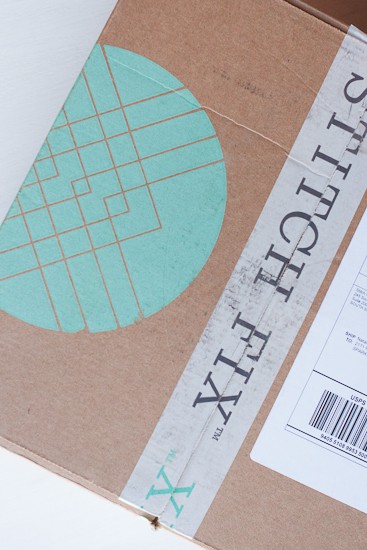 I'm doing something a little different today. Do you mind if I step out of the kitchen and talk about one of my most favorite things ever?
It may come as a surprise to you, but I do have other interests besides cooking. Not many, but I do.
You may have heard me mention Stitch Fix on Instagram or Facebook and I'll explain in a minute how it works. I love seeing what others get in their boxes, and if you use Stitch Fix yourself, I thought you might want to see what I get in mine! If you see something you like, you can put in a request when you order your next box.
What is Stitch Fix?
Stitch Fix is like having a personal stylist choose clothes that compliment your style and body type. After filling out an extensive online profile they choose things that they think you'll like, and sometimes they throw things in that may be out of your comfort zone. I like being pushed like that. Many items I've gotten are some that I'd never pick out for myself, but I end up loving.
This isn't one of those subscription services that's hard to get out of. Stitch Fix is super easy. You pay a $20 stylist fee and they send you a box of five items. You decide what you'd like to keep and send back the rest. The $20 fee can go toward anything in the box and shipping is free both ways. If you decide to keep all of it you get 25% off the whole box. If you keep none of it, you don't get your $20 stylist fee back. You can also decide how often the boxes come — every couple of weeks, every month, or just when you request them.
Is it expensive?
I get asked a lot if it's expensive. Well, it can be. If you're expecting to snag some cheap clothes, this may not be what you're looking for. You can select price ranges for items (when you fill out your profile), but expect to spend between $40-60 on tops and $60-100 on skirts/pants/dresses at the very least. It's not Old Navy. However, I like being able to add nicer pieces to my wardrobe after years and years of my cotton t-shirt and jeans "mommy uniform". The clothes are very high quality. You can even get referral credits and earn money toward future boxes. (Details in the disclosure at the bottom of the post.)
I would like to add that you're also paying for an experienced stylist to choose things for you and you don't even have to leave your house. Or wrangle small children in a dressing room. That right there makes it worth it for me.
What if I hate what they send me?
Then you don't have to keep any of it. But I would give them 2-3 chances to really get to know your style before you throw in the towel. Stitch Fix is kind of like Pandora. As they receive feedback from you and learn what you like and don't like, they get better at choosing things you like. This was my seventh box. They're getting pretty good. Want to see?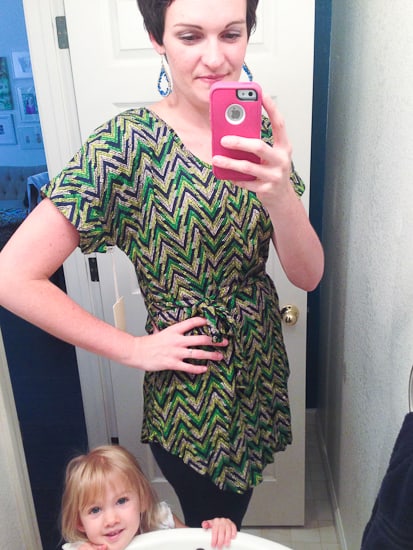 Item: Polly Dotted Chevron Tie Waist Tunic by Pomelo
Price: $54
Verdict: KEEP. I loved this tunic, and I'm all about things I can wear with leggings. I typically have a hard time with tie-waist tops because the tie usually falls in a weird place on me, but this one was perfect. (I have a long torso.) Steve liked it although he thought it was a little Peter Pan-ish. (Hi Mimi!)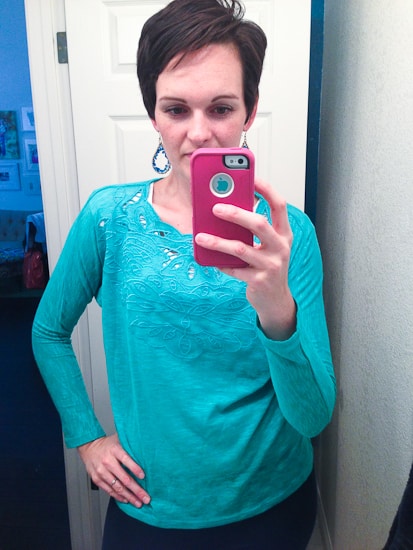 Item: Kierra Embroidered Dolman Sleeve Linen Top by Market and Spruce 
Price: $68
Verdict: SEND BACK. I loved the color of this and wanted to love the shirt itself, but it was really tight around my forearms. I've never had a shirt fit like that. The embroidery was so-so, and I thought it was pretty expensive for what it was.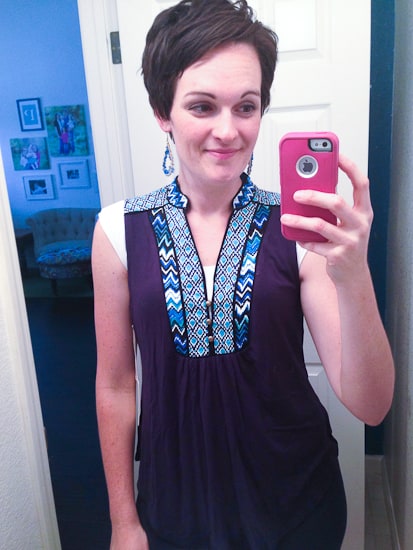 Item: Nolen Printed Detail Henley Tank by Pomelo
Price: $54
Verdict: KEEP. This was my favorite item in the box. I'm not usually a tank girl, but I love the colors and detail on this. It's also nice and flowy on the bottom. Love, love, love this.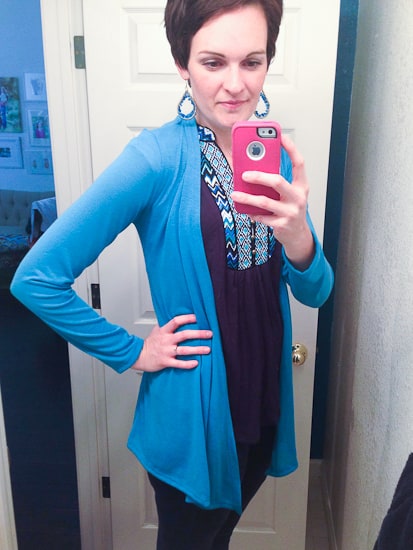 Item: Abrianna Long-sleeve Knit Cardigan by 41Hawthorn
Price: $48
Verdict: KEEP. When I put the cardigan over the tank I knew this had to be a packaged deal. This fit perfectly. And you can't have too many cardigans.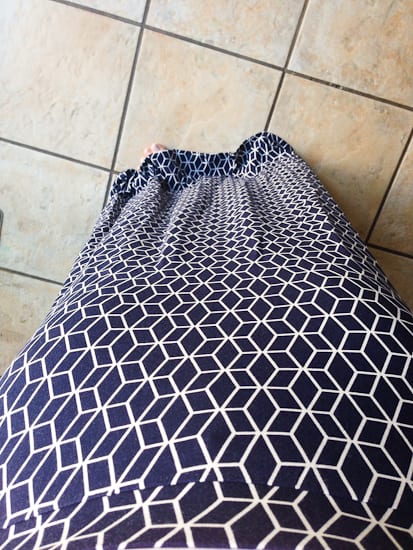 Item: Caroline Geo Print Maxi Skirt by Tart
Price: $128
Verdict: SEND BACK. I loved the look of this skirt, but it was super long. (I'm 5'9″ so I was surprised that it touched the floor.) It was also very spandex-y and "bouncy" if that makes sense. I would have to wear Spanx every time I wore this, if you get my drift. Plus it was super pricey. There's usually a higher-priced item in every box and this was it. The price made it easy to send back.
Three out of five was pretty good this time around! I thought it was interesting that the whole box was basically in the same color family.
I'd love to hear about your experience with Stitch Fix. If you've never tried it, check it out  and let me know what you think!
Disclaimer: This is not a sponsored post. I signed up for Stitch Fix and purchased the clothing myself. This post does contain referral links and Stitch Fix will give me a small credit for new-sign ups who use my link. This isn't a special privilege for bloggers. Anyone can get referral credits. If you try out Stitch Fix, shout it from the roof tops and you may end up with a free box in a few months!