The Perrys in June (via Instagram)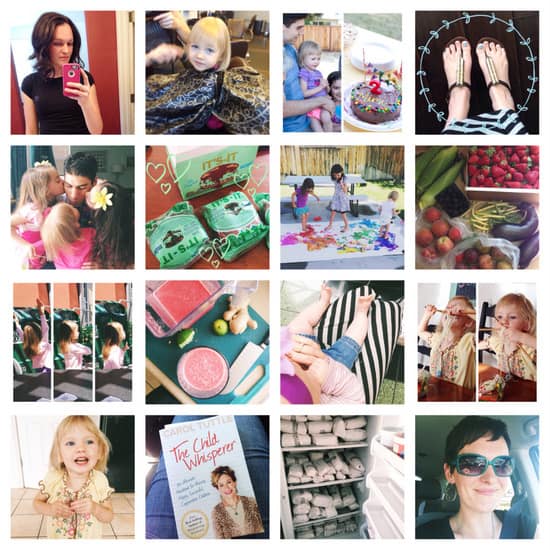 All of these photos come from both my personal and my Perry's Plate Instagram accounts. I hang out there a lot. Come say hi!
1. At the beginning of June I cut my hair! I really wanted a pixie cut, but decided to wait until next summer. (If you noticed the last photo up there, you'll see that I have no patience.)
2. My little muffin got her hair cut, too! Now she looks like she's 3. She might as well because she acts like it.
3. Speaking of my mess maker, she turned two! How is this even possible. I remember writing the post when she was born. It was just a few months ago, right? *sigh* Oh, for her birthday cake I tried out The Paleo Mom's Vanilla Layer Cake with Dark Chocolate Frosting. Pretty fantastic for a grain-free, dairy-free, sugar-free (except for dark chocolate chips) cake. (Oh, and M&Ms because she insisted having them on her cake. She'll do anything for M&Ms.) I'll definitely do that one again.
4. I'm still obsessed with Sseko sandals and when they introduced their new t-strap line, I went absolutely ga-ga and ordered a pair. I wear them almost daily!
5. Happy Father's Day! Steve's a pretty lucky being surrounded by girls and getting smooched all the time.
6. I noticed Mint It's Its at our Target recently. This is bad. Very, very bad. (If you've never had an It's It, it's a SF Bay Area ice cream sandwich made from oatmeal cookies and mint ice cream and the whole thing is dipped in chocolate.)
7. School finished up and I decided to be a cool, creative mom for about 5 minutes. (Thank you, Pinterest.) This was the highlight of their week, I think.
8. Our farmers' market opened! Excuse me while I gorge myself on strawberries, melon, and corn on the cob for the next 3 months.
9. My 5-year-old gave an enthusiastic reenactment of her dance recital. In front of Whole Foods. I love that child.
10. Sometimes in the middle of my summer time fruit gorge, I stop and make my favorite smoothie — Strawberry Watermelon Smoothie with Ginger. I hear from a very talented photographer friend that it makes excellent popsicles, too.
11. I held a baby. Now I want one.
12. Eating with chopsticks 101. I laugh every time I look at this photo. She definitely gets an A for effort.
13. Speaking of effort, she decided she wanted to potty train herself recently. We're still working on it, but she's been really consistent. I'm not sure what I did to deserve a child so willing to train. I'm thinking she'll make up for it later in life.
14. Steve and I started reading The Child Whisperer by Carol Tuttle. This book gave us a new look at parenting and I'm positive it will help us relate to and nurture our kids better. I love it. If anyone has read it, I'd love to know your thoughts! (And your type. I'm a 4/2.)
15. We filled our freezer full of meat again! We bought another half cow from Mills Ranch and it ought to last us over a year. Like last time. When I asked the girls what they wanted to eat first, they said, "SLOPPY JOE'S!" They've been jonesing for them for months. When you have the recipe for the Best. Sloppy Joe's. Ever, it's easy to see why they get excited.
16. I cut it anyway.
Disclosure: This post contains an Amazon affiliate link. Purchases made using these links doesn't cost you any extra and may provide Perry's Plate with a few pennies.