November Stitch Fix Review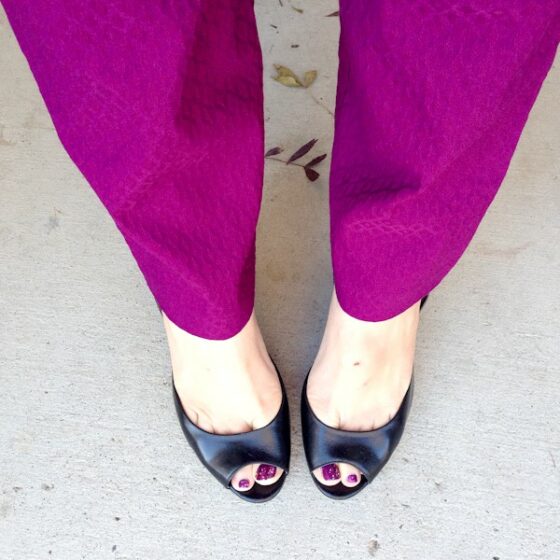 **This is not a sponsored post. I'm just in love with Stitch Fix. If you don't know what Stitch Fix is all about, read this post.**
This review should be called "the dream pants that got away". Do you see the color of those pants?? It's absolutely dreamy — that bold, vibrant fuchsia is one of my most favorite colors, if not my favorite.
Those pants even matched my toenails. And my blog.
Sadly, they fit rather strangely. Since I'm sitting here lamenting them, let's start with those.
By the way, I'm trying to figure out the best way to do these posts and how to take pics. I'm working on replacing a full-length mirror and bathroom shots just aren't cutting it.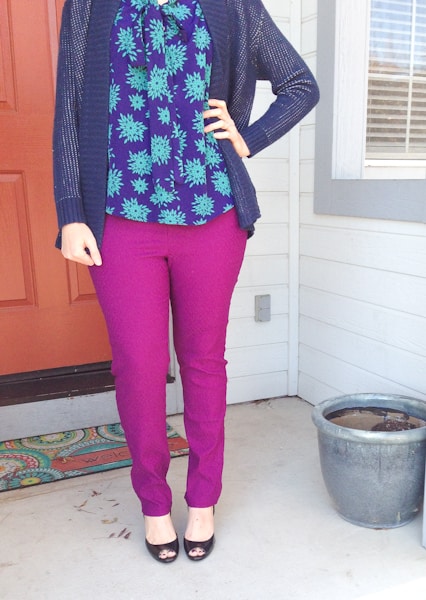 Item #1: Margaret M, Emer Printed Straight Leg Pant
Price: $98
Verdict: SEND BACK. I think I might be premature in venturing out into new pants since I still have about 15 pounds of baby weight (all in my rear) that I still have to lose. As much as it pains me to send these back, I had to. I think they were the right size, but yet, they didn't stay put and kept sliding off my hips, particularly when I bent over. The color was spot on though. And I liked the subtle print, too. This outfit was suggested by my stylist, Jessica. I love the colors together!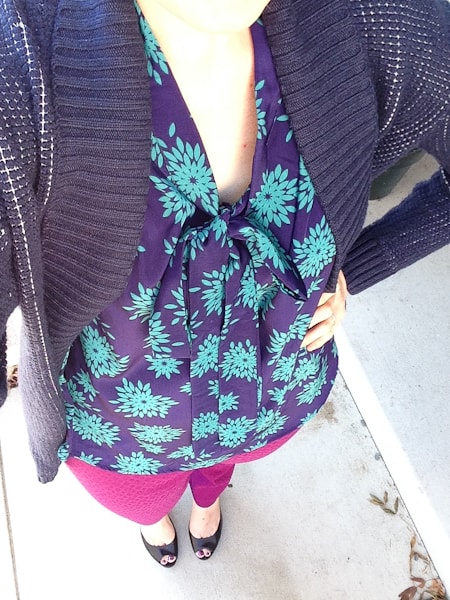 Item #2: Market & Spruce, Joolie Waffle Knit Cardigan
Price: $78
Verdict: SEND BACK. This was easy. I didn't like this cardigan at all. It was too bulky around my shoulders and had this "batwing" thing going on under my arm. Not a fan of that.
Item #3: 41Hawthorn, Astrid Tie Neck Blouse
Price: $54
Verdict: SEND BACK. At first glance I told myself I was going to keep this shirt. I love the colors and the print and the fit. The neck tie… I hoped it would grow on me, but sadly, no. I even looked to see if I could snip them off, but it would ruin the neckline. *sigh*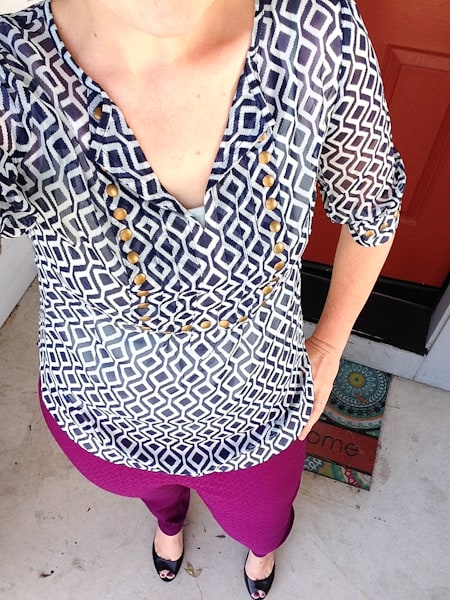 Item #4: 41Hawthorn, Moni Geo Print & Camisole Blouse
Price: $58
Verdict: SEND BACK. WHY DOES EVERYTHING LOOK GREAT WITH THOSE PANTS?! I'm not sure if I can get over those pants very quickly. So, the shirt. I loved the print and colors (navy/aqua), but the bib part with the gold studs wasn't my fave. Also it fit a little snug around my midsection.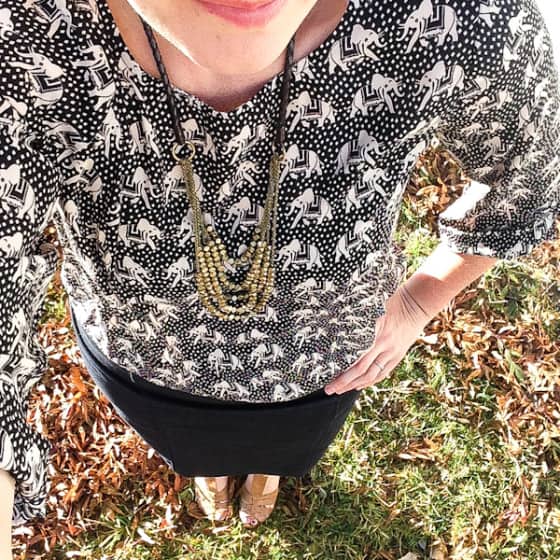 Item #5: Pixley, Ellie Printed 3/4 Sleeve Blouse
Price: $48
Verdict: KEEP! DING! We have a winner, folks. Funny, because I was unsure about this one until I put it on. I loved it so much I wore it to church the next day with a dark, denim-like pencil skirt and brown wedges. I adore the print and the fit was nice, too. I also appreciate that the neckline wasn't too wide or too low so I didn't have to layer underneath.
Even though I only kept one thing, I loved this box. It was full of bright colors and fun prints and it made me realize that I absolutely, positively need to find some fuchsia pants.
I'd love to hear about your experience with Stitch Fix. If you've never tried it, check it out  and let me know what you think!
Disclaimer: Again, this is not a sponsored post. I signed up for Stitch Fix and purchased the clothing myself. This post does contain referral links and Stitch Fix will give me a small credit for new-sign ups who use my link. This isn't a special privilege for bloggers. Anyone can get referral credits. If you try out Stitch Fix, shout it from the roof tops and you may end up with a free box in a few months!