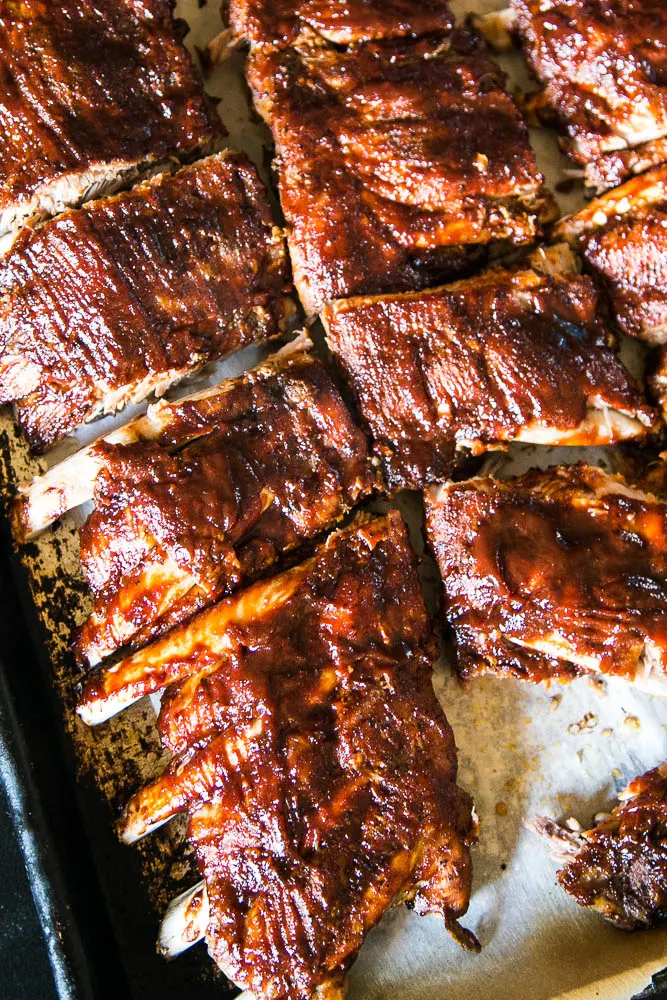 How's everyone hanging in there?
We're into week 2 of #stayhome and although Steve and I still have our chiro office open, we don't go anywhere.
(Honestly, it's not that different from my regular life. Heh.)
One thing I'm grateful for is all of the stuff I stashed in the freezer. Including ribs.
Before Instant Pots came out, ribs used to be a lot of time and effort to get them to that tender, fall-off-the-bone place.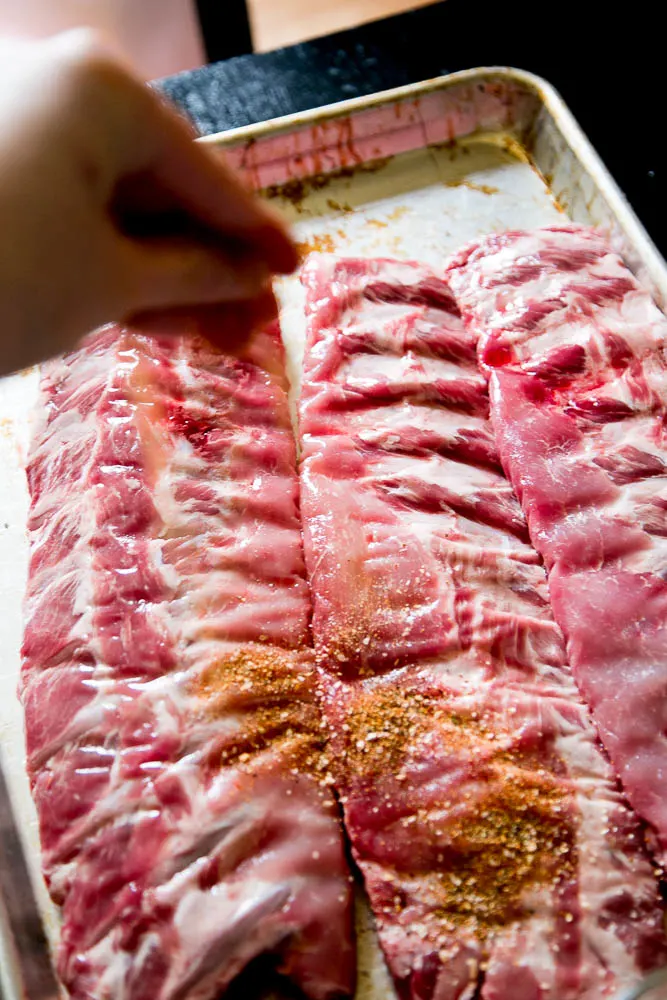 Now?
Throw a quick rub on them.
(It's literally just steak seasoning. I usually make my own Homemade Montreal Steak Seasoning, but you can use whatever favorite steak seasoning you like.)
And put them in your Instant Pot for just a few minutes!
Do You Have to Marinate Ribs?
Well, you'll always get more flavor if you let that seasoning sit on them for a while.
As far as making them tender — no, it doesn't matter.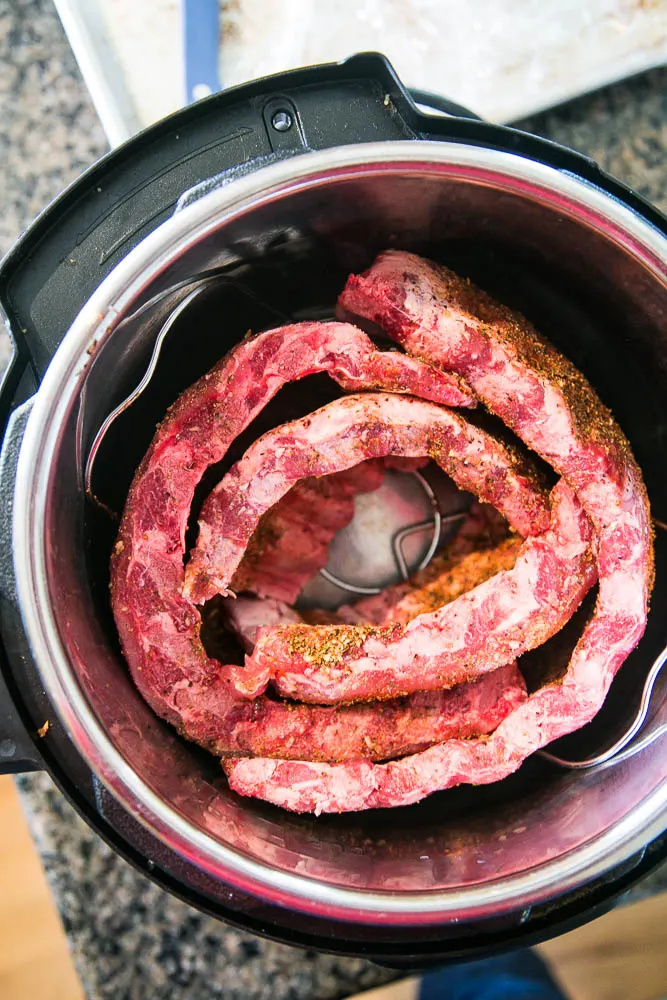 Then you put them into your Instant Pot like this!
I do want to say that these racks are pretty small. I bought some well-sourced ones from a local hippie grocery store and they tend to be much smaller than the regular ones you see at Costco or the grocery store.
If you're using the regular rib racks that are much larger, you can probably just get one rack in there. I cut it in half so it fits better.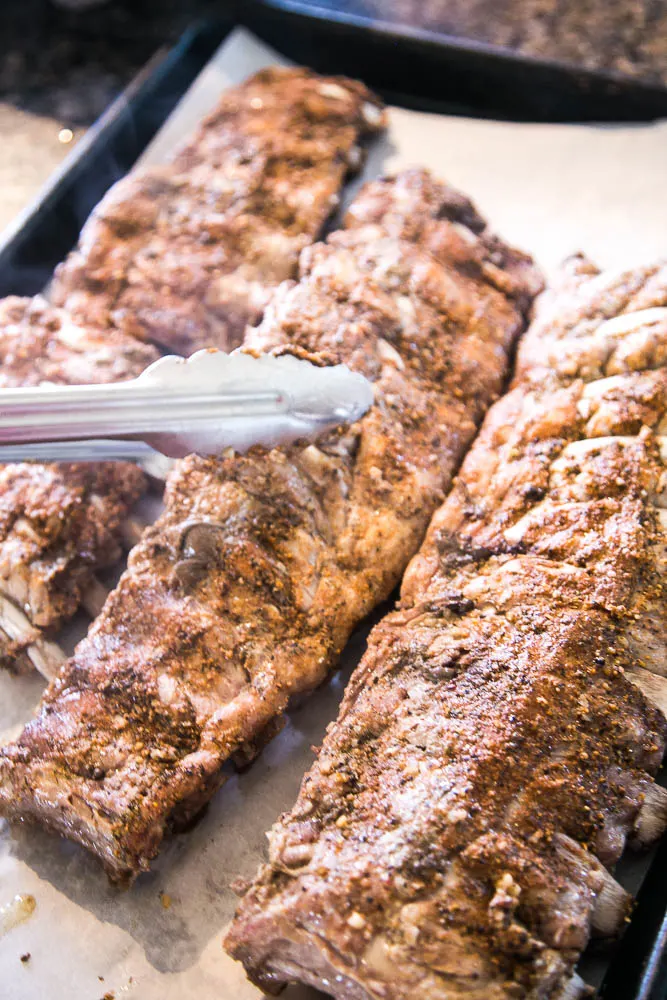 They're not super photogenic when they come out.
But they should be pretty tender.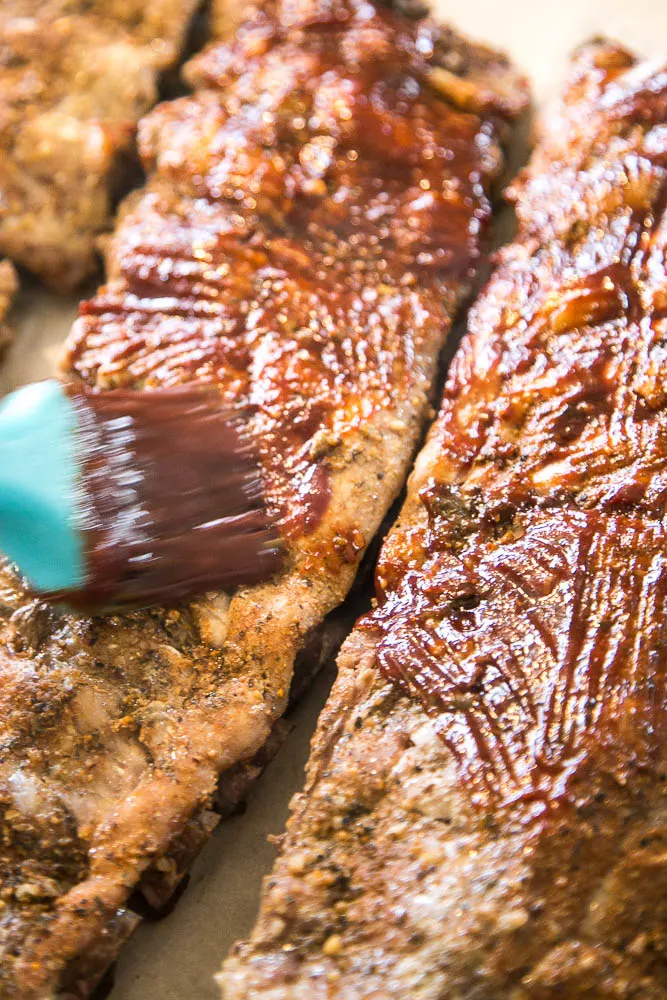 Now, grab some BBQ sauce. Whatever kind you want.
Healthy BBQ Sauce Recipes
I have a few healthy, low-sugar BBQ sauce recipes if you want to check them out! You can make any of them low carb by swapping out the sweetener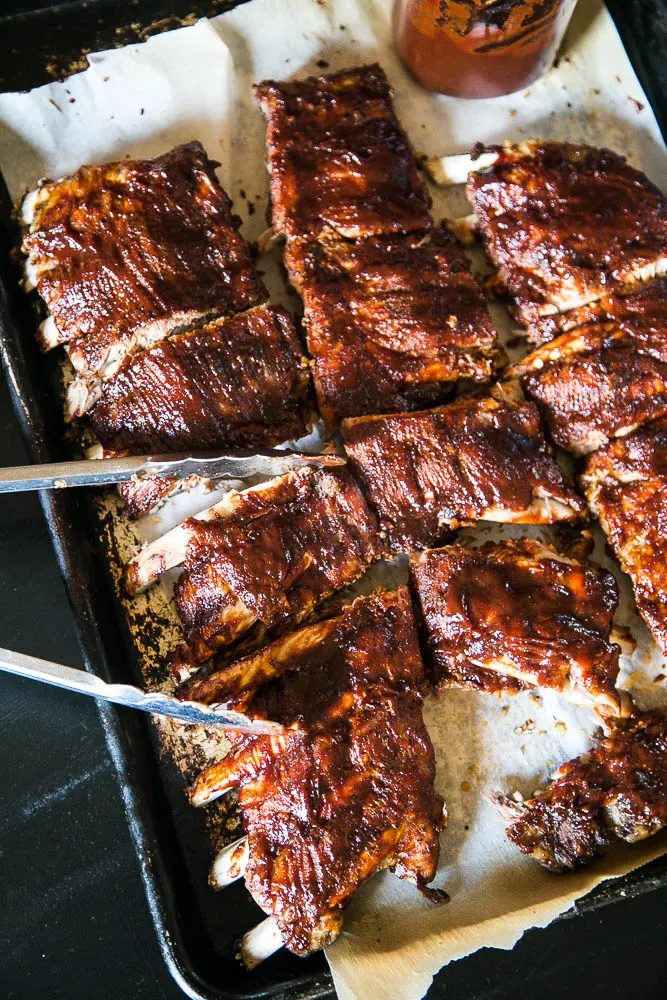 After a quick trip under the broiler and a couple more layers of that BBQ sauce brushed on, voila!
You'll love these. They're ridiculously easy and turn out fabulous every. single. time.
What to pair with BBQ ribs?
These are some of my favorite side dishes for ribs:
Costco Copycat Sweet Kale Salad
Instant Pot Steakhouse Mashed Potatoes — I make this the most often with ribs. The recipe is in my cookbook — The Big Book of Paleo Pressure Cooking. I love having a second Instant Pot for times like this!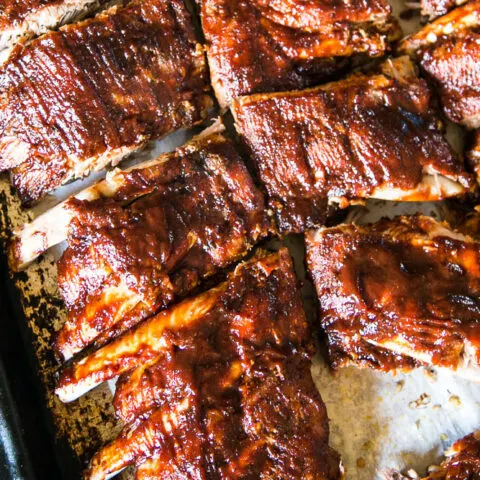 The Best Instant Pot Ribs
Using an Instant Pot is the fastest and easiest way to get fall-off-the-bone ribs! Letting them marinate in some seasoning and finishing them off in the broiler with your favorite BBQ sauce are the secrets to making these spectatular. (And easy enough for a weeknight meal!)
Ingredients
2-3 pounds pork baby back ribs
2 cups BBQ sauce
Instructions
Place the ribs on a large rimmed baking sheet. Sprinkle the steak seasoning over the ribs -- back and front. Cover the whole thing with plastic wrap and chill for at least 2 hours, up to 24 hours.
When you're ready to cook the ribs, put a cup of water and the rack in the insert pot of your pressure cooker.
Place the ribs in the cooker on their sides (see photo in post). If your racks are particuarly large you may need to cut them in half to make them fit.
Close the cooker and set the steam valve to "sealing". Cook on high pressure for 18 minutes. Allow the cooker to release steam naturally for 10-15 minutes before releasing steam manually. (Don't skip this step -- it'll help your ribs be more tener!)
While the ribs are cooking, turn on your oven broiler to high and line another rimmed baking sheet with parchment or foil.
When the ribs are finished, put them on the newly prepared baking pan and brush the tops with BBQ sauce. Broil for 3-5 minutes until the BBQ sauce begins to bubble. Brush with another layer of BBQ sauce on them and broil for another 3-5 minutes.
Remove from the oven, slice into 1-2 rib pieces and serve with remaining BBQ sauce. And lots of napkins.
Recommended Products
As an Amazon Associate and member of other affiliate programs, I earn from qualifying purchases.