Pineapple Chicken
Steve still can't figure out why I liked this dish, but I still refuse to eat pineapple on pizza. It makes complete sense to me.
Pineapple + tomato sauce = blech
Pineapple + coconut milk + chicken = mmm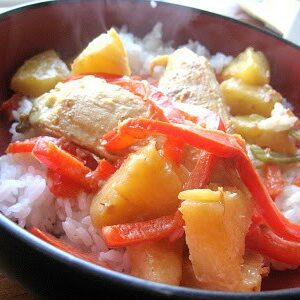 Ingredients:
2 Tablespoons oil, divided
2 boneless, skinless chicken breasts, cut into fat strips
1/2 teaspoon curry powder
1/2 teaspoon salt
1/4 cup water
1 red bell pepper, cut into strips
2 cups fresh pineapple chunks
1 serrano pepper, seeded and thinly sliced (If you wish to singe your tastebuds off, then by all means, leave the seeds in.)
1 cup unsweetened coconut milk
1 Tablespoon packed coconut sugar or honey
Hot jasmine or cauliflower rice, for serving
Directions:
Sprinkle chicken with curry and salt.
Heat 1 T oil in a skillet (preferably not non-stick) at med-high heat and add chicken. Brown on both sides and continue to cook until almost done. Remove from pan and keep warm.
Add remaining oil to pan and add bell peppers. Cook for 3-4 minutes.
Add water to pan. Add pineapple; cook 5 minutes or until it begins to brown.
Add serrano pepper, coconut milk, and brown sugar. Cook for a minute or so to heat through, then add chicken back to skillet. Simmer on low for 2-3 minutes.
Serve with hot rice.
Adapted from Better Homes and Gardens (BHG.com)