Perry's Plate Taco Seasoning
I use taco seasoning quite a bit. After looking at the ingredients of store-bought packets and noticing spice combinations of mexican/southwestern dishes that I make, I came up with my own version. I like it because it has a lower salt content than most store-bought brands, no fillers, and doesn't have MSG. (Some brands don't have this anyway. Nice job!)
If you scan the list of ingredients and think, "What the. . . cocoa?!" I'm not crazy, I promise — cocoa is no stranger to Mexican cooking. It makes the flavors richer, but it doesn't make your tacos taste like chocolate, I promise. You can use this blend in any recipe that calls for taco seasoning, and it turns out just as good, if not better, than a taco seasoning packet.
Oh, and it's cheaper this way. I made a big bottle of it for a lot less than spending $1+ per packet. Gotta love frugality.
I'll be posting my favorite
"throw anything in" burrito
recipe soon! It might be tricky because I usually just "throw anything in," and it turns out a little different each time. I love that kind of flexibility. Ok, back to the recipe…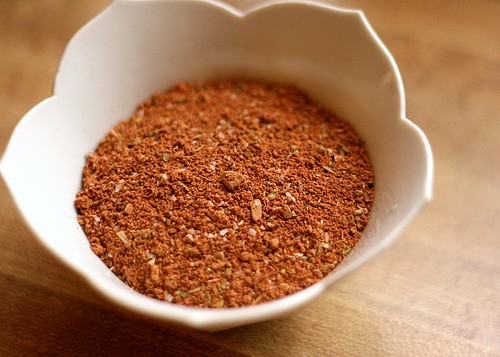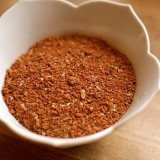 Perry's Plate Taco Seasoning
Ingredients:
To make about the equivalent of one seasoning packet (3-4 T):
1 T flour
1 T chili powder
1 tsp cumin
1 tsp oregano
1 tsp cocoa
1 tsp salt
1/2 tsp garlic powder
1/2 tsp onion powder
1/2 tsp black pepper
1/8 tsp cayenne pepper
1/8 tsp. coriander
To make about one cup or 4-5 packets worth of seasoning:
1/4 c flour
1/4 c chili powder
4 tsp cumin
4 tsp oregano
4 tsp cocoa
4 tsp salt
2 tsp garlic powder
2 tsp onion powder
2 tsp black pepper
1/2 tsp cayenne pepper
1/2 tsp coriander
Directions:
Combine all well and store in an airtight container. Use 3-4 T of seasoning plus about 1/3-1/2 c water to season about 1 lb of ground meat for tacos. (Depending on how strong and saucy you like it.)
Nat's Notes:
1. If you don't have coriander, it won't be the end of the world.
2. If you want it spicier, add more cayenne.
3. To make it gluten-free, substitute the flour for 2 T of cornstarch. You can leave it out entirely if you want. Just use less seasoning when you take the flour out because it's more concentrated that way.