Easy Caramel Cake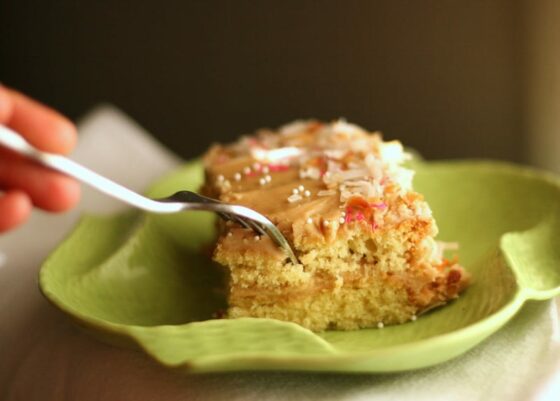 I think 2010 was the year of the birthday cake for me. I love doing cakes for birthdays, and I think a birthday, of all days of the year, should entitle one to indulge a lot bit. The last cake I made in 2010 was for my sweet, talented, amazing best friend in California. I miss her lots – along with all of my other Cali girls. I mean LOTS.
(Oh geez. I'm getting emotional during a cake post. Stupid hormones. But seriously, though. I need someone to hang out with. Anyone live in Reno and want to come over for lunch?)
(I am NOT joking.)
Anyway, the CAKE…  The frosting on this cake is the real star here, but the cake itself, a delicious, moist, yellow recipe, gracefully takes a supporting roll. This frosting reminds me of a denser version of what you'd find on ooey-gooey caramel corn. I was impressed at the overall flavor and texture of this cake — especially because it doesn't require any fussy ingredients or techniques. I'll definitely be adding this one to my collection.
Here's a run-down of the cakes (and cupcakes) from 2010:
Coconut Cake with Toasted Coconut Cream Cheese Frosting
Maple French Toast and Bacon Cupcakes
Chocolate Chip Cookie Dough Cupcakes
Mexican Chocolate Ice Cream Cake with Orange Meringue
Chocolate-Malt Cake
Pumpkin Cake with Butterscotch Filling
Easy Caramel Cake

Ingredients:

For the cake:
1/2 cup buttermilk
4 eggs
2 tsp vanilla extract
2 1/4 cups unbleached all-purpose flour
1 1/2 cups sugar
1 1/2 tsp baking powder
1/2 tsp baking soda
3/4 tsp salt
2 sticks (8 ounces) unsalted butter, cut into tablespoon-sized pieces and softened

For the frosting:
1 1/2 sticks (6 ounces) unsalted butter, cut into tablespoon-sized pieces and softened
2 cups packed dark brown sugar
1/2 tsp salt
1/2 cup heavy cream
1 tsp vanilla extract
2 1/2 cups powdered (confectioners') sugar, sifted

Directions:

To make the cake: Place an oven rack in the center of the oven and preheat to 350 degrees F. Grease and flour two 9-inch round cake pans.

Whisk the buttermilk, eggs, and vanilla in a large measuring cup (or small bowl). In a large bowl (or the work bowl of a stand mixer) mix the flour, sugar, baking powder, baking soda, and salt. Beat in the butter, one piece at a time, until only pea-sized pieces remain. Pour in half of the buttermilk mixture and beat at medium-high speed until light and fluffy, about 1 minute. Slowly add the remaining buttermilk mixture to the bowl and beat until incorporated, about 15 seconds.

Divide batter between prepared pans and bake until golden and a toothpick inserted into the center comes out clean, about 20-25 minutes. Cool the cakes for about 10 minutes, the turn out onto wire cooling racks. Allow them to cool off completely, about 1 hour.

To make the frosting: Heat 8 tablespoons of butter, brown sugar, and salt in a large saucepan over medium heat until small bubbles appear around the edge of the pan, 4-8 minutes. Whisk in the cream and cook until a ring of bubbles reappears, about 1-2 minutes. Remove from the heat and stir in vanilla.

Allow frosting mixture to cool slightly (about 5 minutes), then transfer to a mixing bowl (or work bowl of a stand mixer). With an electric mixer on low speed, gradually add the powdered sugar until incorporated. Increase speed to medium, and beat until the frosting is pale brown and just ward, about 5 minutes. Add the remaining 4 T of butter, one piece at a time, and beat until light and fluffy, about 2 minutes.

To assemble the cake, Place one cake round on a cake stand or platter. Spread 3/4 cup of frosting over the cake, top with the second layer, then spread the remaining frosting all over the cake. Serve.

Nat's Notes:
1. I made this cake in a 9x13 pan and sliced it into two layers with a bread knife. Chilling the cake for a few hours makes dividing it into layers much easier.
2. I added some toasted coconut around the edges of the cake for decoration and thought it added a nice texture.

from The Best of America's Test Kitchen 2010 Cookbook