The Goat Cheese Lover's Burger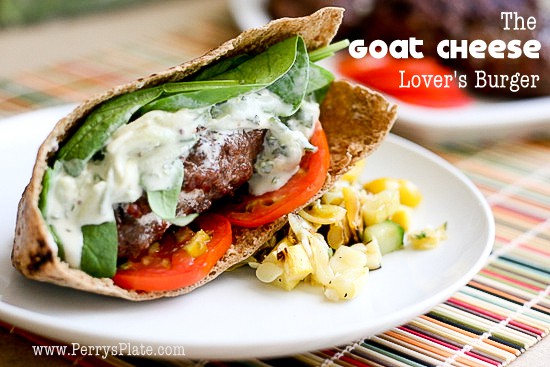 This post is for die-hard goat cheese lovers only.
Or wanna-be die-hard goat cheese lovers.
Or someone who would like to cook for a die-hard goat cheese lover.
Basically the person eating this has to like goat cheese. A. LOT. There's a goat cheese filling in those burgers PLUS a goat cheese dressing on top.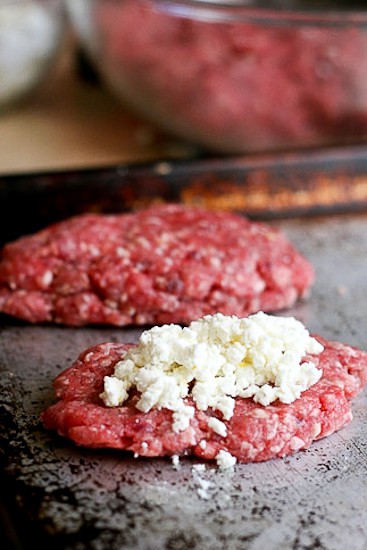 If you've done a stuffed burger before, this is pretty straightforward. Make two really thin patties, top one half with the filling, then seal the two halves together! I added some lemon zest and garlic to the filling which you can TOTALLY taste.
I formed my patties into a football shape because I was using pitas instead of buns. We like doing that because the bread element doesn't overpower the burger, which is the reason why you're eating the burger…. right?
I drizzled an adaptation of the goat cheese recipe from this salad recipe over the top.  (One of my favorite dressings ever. And if you don't like goat cheese that much, the goat cheese flavor is quite mild.) We served with this with the Grilled Summer Squash Salad I just posted. Perfect end-of-the-summer meal!
Burgers & goat cheese were just meant to be together, guys.
Goat Cheese-Stuffed Burger with Tangy Goat Cheese-Cucumber Dressing

Yield: 4 or 5 burgers

Prep Time: 30 minutes

Cook Time: 15 minutes

Total Time: About 45 minutes

Ingredients:

For the burgers:
1 1/2 pounds ground beef or lamb (organic & grass-fed if possible)
1/2 teaspoon salt
1/2 teaspoon black pepper
5 ounces goat cheese
1/2 teaspoon lemon zest
1 teaspoon minced fresh garlic
Buns (or pitas), lettuce (or spinach) & sliced tomatoes

For the dressing:
4 ounces soft goat cheese
1/4 c buttermilk
2 T cider vinegar
1 T extra-virgin olive oil
2 tsp whole-grain mustard
1/3 cup shredded cucumber
3 T chopped fresh cilantro

Directions:

For the burgers:
Preheat your grill (or stove-top grill pan) to high

In a medium-sized bowl, add the salt and pepper to the ground beef and gently mix well. Don't squish the meat in your fists, but gently "toss" it around in the bowl. The less you handle the meat, the better.

In a small bowl combine the goat cheese, lemon zest, and garlic. Grab a large plate or platter to set the patties on. Score the meat while it's in the bowl so the meat is divided evenly. Divide it into 4 or 5 sections, depending on how thick you want your burgers.

Take out the amount for one burger and divide that in half. Make two very flat patties out of them. Place a large spoonful of the goat cheese mixture into the center of one of the patties. Top with the other patty and seal the edges the best you can. Repeat with remaining ground beef and goat cheese mixture.

Grill burgers over high heat for 10-15 minutes, flipping once, until they're cooked all the way through.

Meanwhile, make the dressing:

Combine all of the dressing ingredients (except the cucumber and cilantro) in a food processor and process until smooth. You could whisk it, but I would recommend at least using a blender or a hand mixer to break up the goat cheese evenly. Stir in the cucumber and cilantro.

Assemble the burgers, drizzling the dressing over the meat.

Nat's Note:
1. This dressing is fantastic with steak that's coated in a cumin-coriander-cayenne spice rub. Just sayin'.

Burgers from Perry's Plate
Dressing adapted lightly from Food Network Magazine, June/July 2009