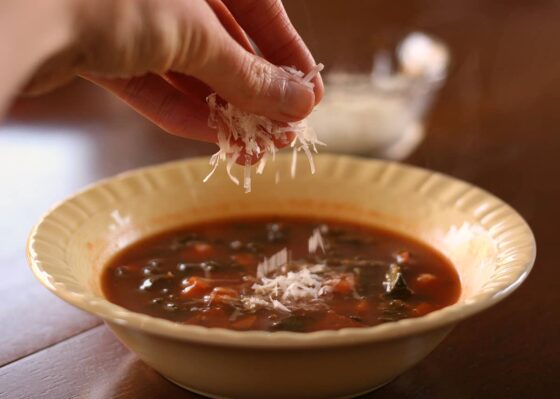 I have a quick, easy, and healthy soup you can make with your kids!
Getting kids involved in the kitchen is a great thing. Not only does it teach them important life skills, but they learn about food in its raw form. (Even better if you're eating from a garden in your backyard!)
When my kids help out in the kitchen, they're also more excited to eat what we've made.
This little soup was my 3-year-old's idea.
I asked her what she wanted for lunch and she said, "Pizza Soup!"
Funny, because I don't think I've ever made pizza soup. I'm still wondering where that came from. Luckily I had some turkey pepperoni and some pizza sauce on hand, and we threw in some veggies to round it out. (Which, if you ask my daughter, will make your hair grow pretty.
Hey — some nights we get desperate!) I usually throw in a handful of whole wheat pasta when I make lunchtime soups, but this time I reached for the quinoa. Loved it!
So did my kids. And they had fun with mom. (Goals accomplished!)
You could add any of your kids' favorite pizza toppings to this, like olives, pineapple, chopped bell pepper and your kids would love you.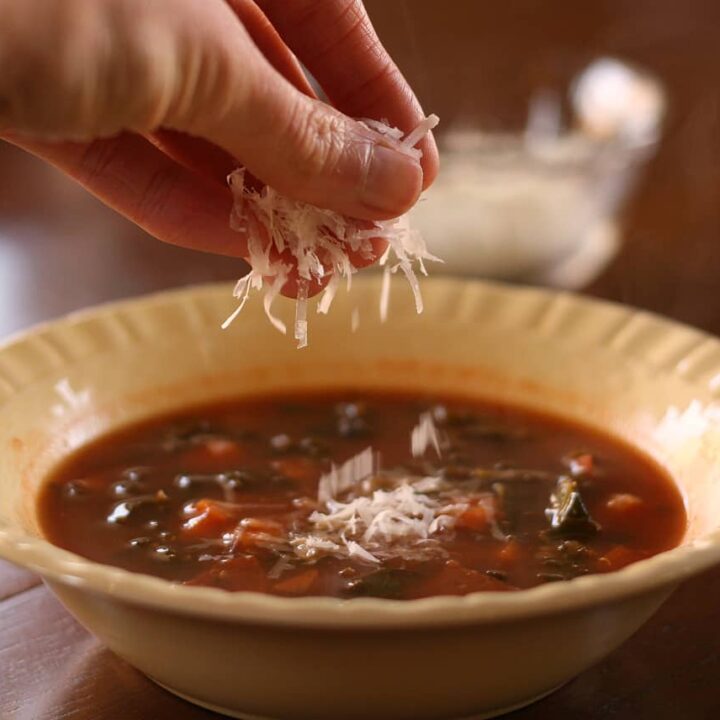 Quick & Healthy Pizza Soup
Yield:
Serves 4 adults or 6-8 small children
This quick & health pizza soup is a great weekend dinner recipe and you can adapt it to be paleo, Whole30, or even vegetarian!
Ingredients
10-15 ounces of pizza sauce (1 1/2 cup to 2 cups -- a small jar will suffice)
1 quart (4 cups) low-sodium chicken broth
1/2 teaspoon dried oregano
1/4 teaspoon garlic powder
2 cups of chopped fresh greens, tough stems removed (kale, chard, spinach, etc.)
1 cup diced carrot (about 1 large)
2 ounces sliced & quartered pepperoni, cooked sausage, or diced ham
1/4 cup quinoa, rinsed or small gluten-free pasta or rice
shredded fresh Parmesan or Pecorino-Romano cheese, for garnish
Instructions
1. Combine all ingredients (except for cheese) into a medium saucepan and bring to a low boil.
2. Reduce heat to low and simmer for 15 minutes until the quinoa is cooked and the carrots are tender.
3. Ladle into bowls and top with a few pinches of shredded cheese.