Sushi-Themed Valentines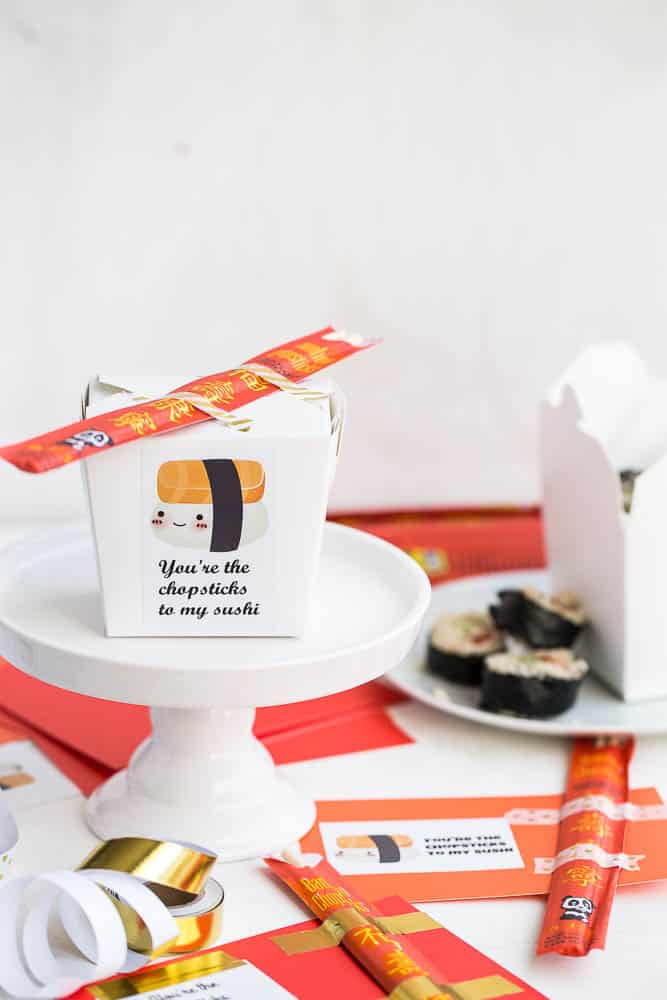 I cleaned out the cupboards a few weeks ago and saw a big bag of chopsticks leftover from a Chinese-themed church dinner, and had an idea of using them in a non-candy valentine for the girls' classes. The girls were excited, too!
They're obsessed with chopsticks lately. We make some variation of California Roll Sushi Bowls every Sunday. If you follow along on Instagram you'll see our weekly #sushibowlsunday. It's such a fun tradition.
Making valentines is something the girls and I have always loved to do. In the past we've tried to do creative non-candy valentines and now that they go to a candy-free school it's been fun to see all the creative valentines that get passed out.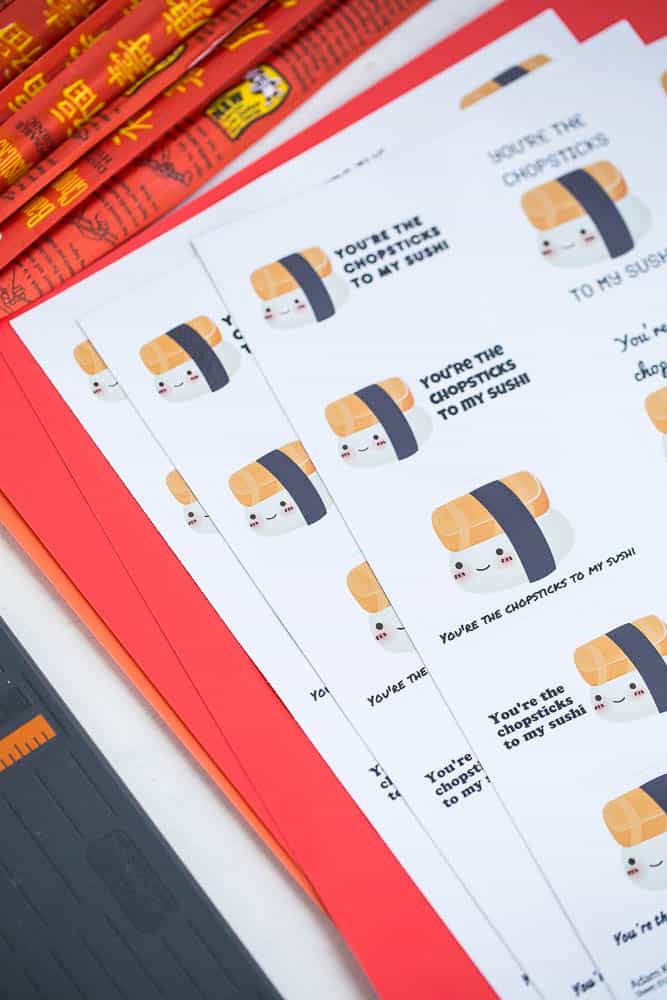 The stars of these valentines are these fantastic stickers I designed with StickerYou.com. Adorable, right?
I told them what I had in mind, sent them some clipart I found online, and they sent me sheets of stickers with a variety of layouts and fonts.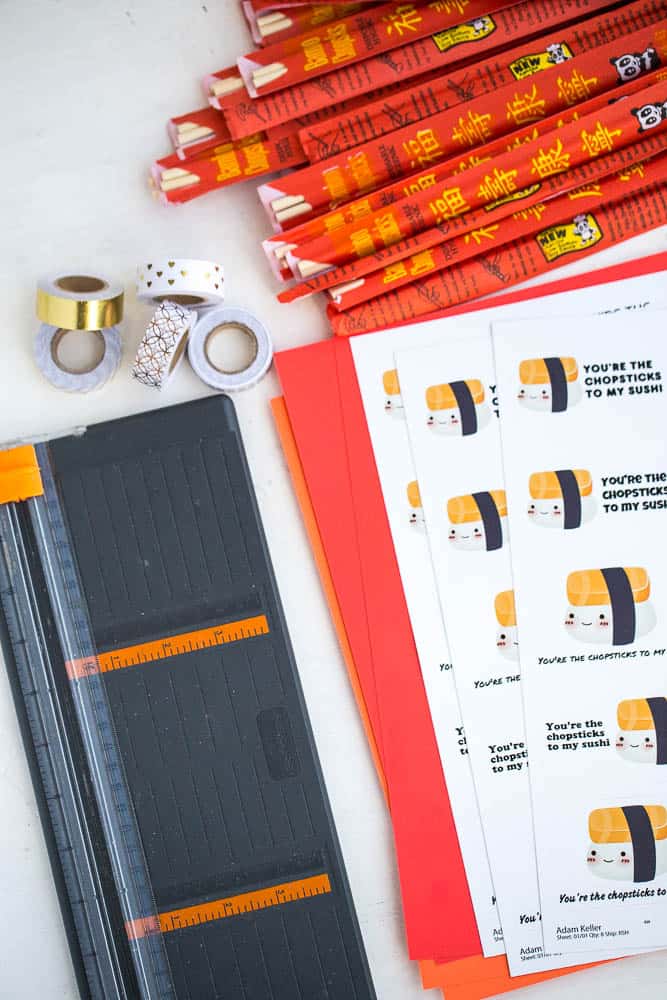 For quick and easy classroom sushi valentines you'll need stickers, 12″ x 12″ cardstock, chopsticks, washi tape, and a paper cutter or scissors.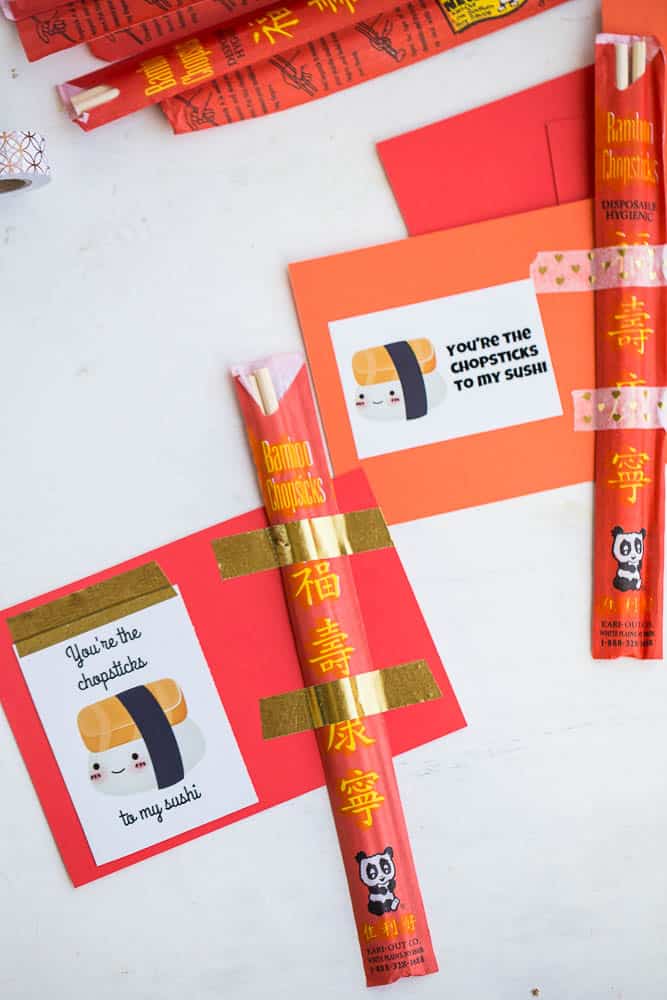 Cut the cardstock into 4″x 6″ cards, put the sticker on one side and tape the chopsticks to the other side. And. Done. (Oh, and address them. Duh.)
When I peeled off the first sticker I realized what great quality they were — they're thick and feel more like vinyl than paper. So, after chatting with the girls we decided to cut the stickers out with their backing and tape them to the valentines so the kids in their class could use the sticker however they wanted.
If you're looking for a more elaborate sushi-themed valentine for a teacher or a friend, I've got another idea for you….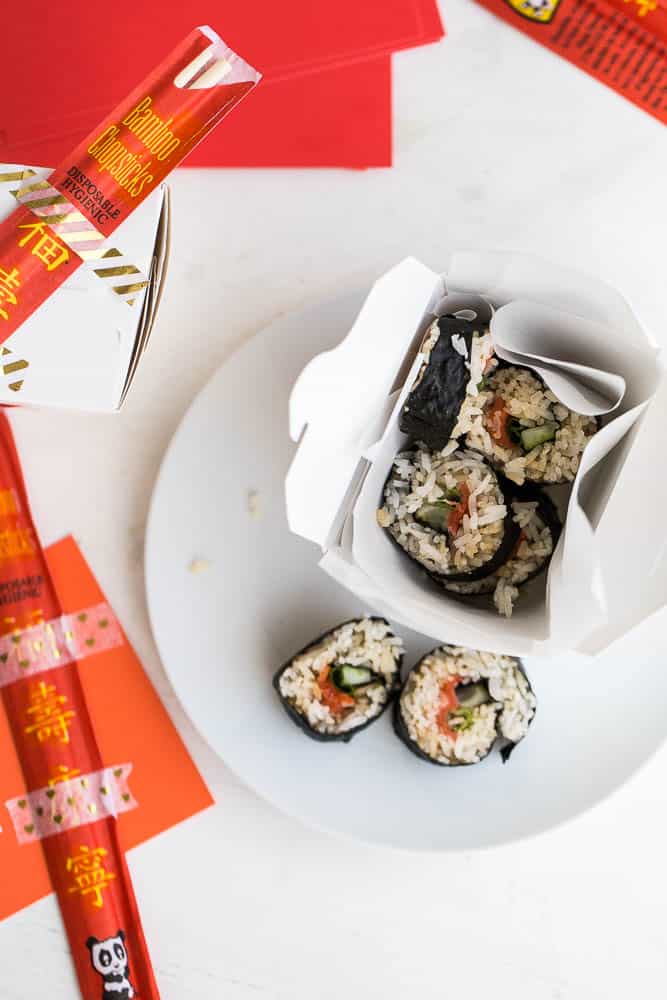 Have you ever made sushi rolls? They're so easy. Seriously. I wrote a post a long time ago about it — How to Roll Maki Sushi. For these ones I just used smoked salmon, cucumber, and scallions.
Just make (or buy) a few rolls and put them in little parchment-lined takeout boxes (or any other container you like). Yes, I realize that we're mixing Chinese and Japanese here, but takeout boxes are adorable. Just go with it.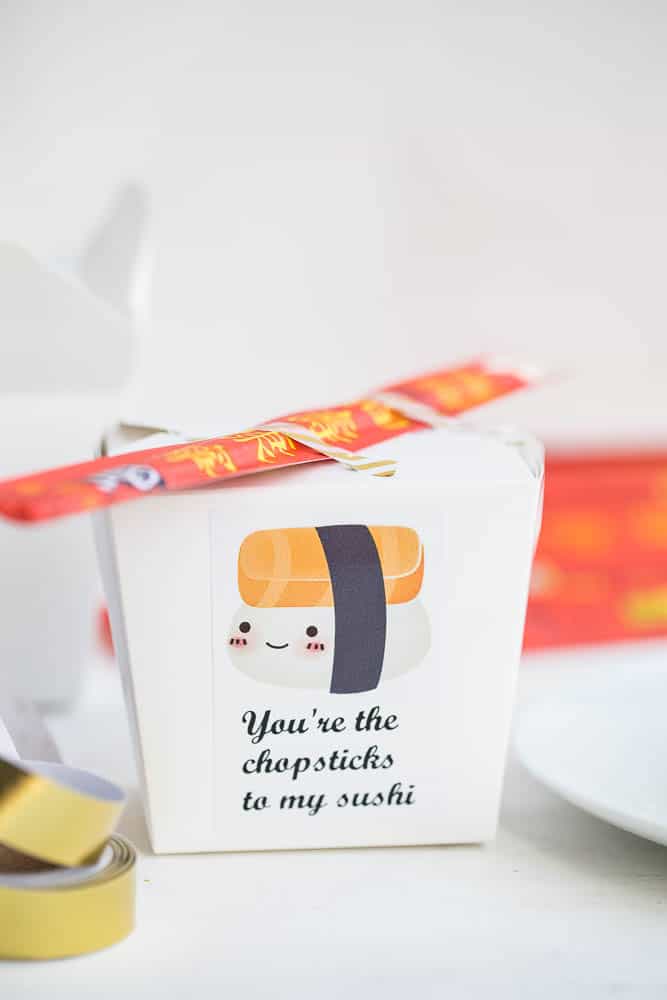 Slap a cute sticker on the side and use the washi tape to attach a set of chopsticks to the top! Done!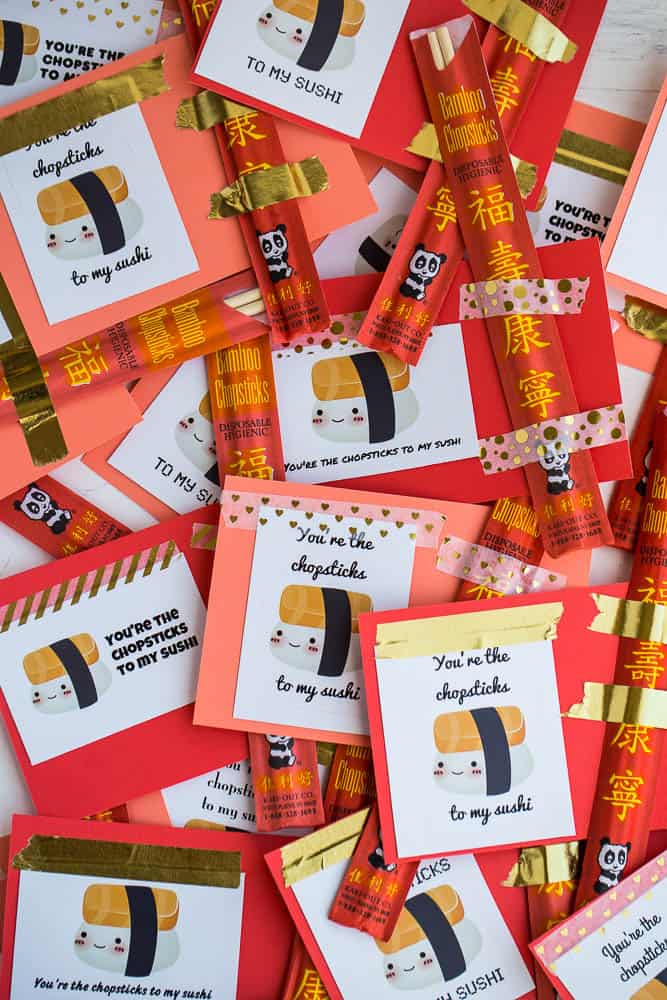 I cut the cardstock and the stickers and the girls assembled about 70 valentines in under an hour. See? Fast and easy. And super cute.
They still have to write their names on them, but we'll save that for another day.
I'm so pleased with StickerYou.com, and I'd love to try out their PageMaker Tool to make some jar labels to spruce up some sugar scrub and spice blend gifts later this year! They also make window/car decals and temporary tattoos. I kind of want stickers for every holiday now.
I'd love to hear your Valentine's Day plans!
Disclosure: This is a sponsored post in collaboration with StickerYou.com. All opinions shared are my own, as always.