Zuppa Toscana
Hi! This recipe has been updated and reposted! You can find a paleo/Whole30/Keto INSTANT POT version right here:
---
Though a popular soup at Olive Garden, this isn't meant to be a "copycat" recipe. It might taste pretty close, but I can't even remember the last time I had this soup, let alone ate at OG. (Not my favorite place. Carino's stole my heart.) I ran across a couple of recipes lately and combined them according to my liking and this is what I ended up with.
This soup is rich, creamy and the flavors just pop, for lack of a better word. The type of sausage and chicken broth you use are important as the majority of the flavor in the soup come from those two. So get good quality broth and sausage that you like.
This soup also has kale in it. If you've never had kale, here's a (slightly wilted. . . the kale, not the photo) shot of this good-for-you green:
rip off the leaves from the stem, then chop them up however you want. Easy. One of the things I like about kale is that it's a tough green. Tougher than spinach and won't turn slimy when you add it to soup — even after 20 minutes of simmering. And don't be afraid to use a lot. Like just about all greens, the mountain you have sitting on your cutting board won't take up that much space once it's cooked.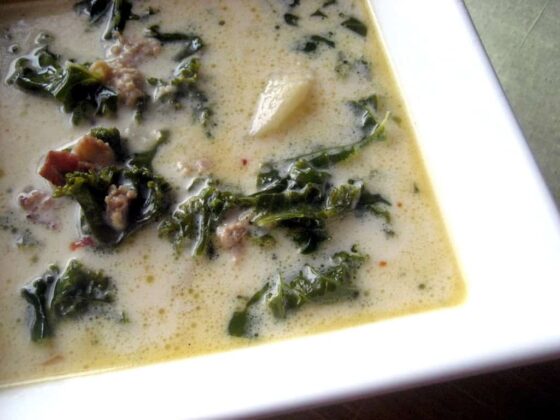 Zuppa Toscana (Tuscan Soup)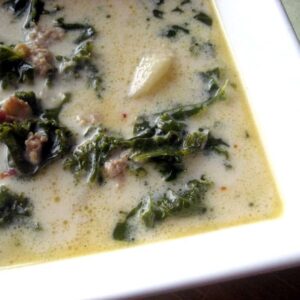 Ingredients:
1 pound uncooked Italian sausage (sweet or spicy)
3 slices uncooked bacon, chopped
1 medium onion, chopped
4 cloves garlic, minced
1/4 teaspoon red pepper flakes (see note)
2 medium russet potatoes, peeled and cut into 1/2-inch cubes
2 cups fresh chopped kale, about 1/2 bunch
4 cups chicken broth (or 3 1/2 cups chicken broth + 1/2 cup white wine)
1 1/2 cups water
1 cup heavy cream or coconut milk
Salt and pepper to taste
Directions:
Heat a large Dutch oven or heavy pot over medium heat. Add bacon to the pot and cook for about 4-5 minutes until it starts to render off its fat. Remove sausage from casings and crumble into pot. Cook until the sausage is well-browned and the bacon is crisp, about 5-6 more minutes. Remove sausage and bacon from the pot with a spider or slotted spoon and transfer to a bowl; set aside.
Add onion to the pot and saute until tender, about 6-7 minutes. Add garlic and red pepper flakes and cook for another minute. Add 1/2 c of the chicken broth (or wine, if using) to the pan and stir, scraping the bits off the bottom of the pan. Add the remaining broth, potatoes, kale, water to the pot. Return the sausage and bacon to the pot as well. Increase heat to medium-high and bring to a boil. Reduce heat and let simmer for about 20 minutes or until potatoes are fork-tender. Stir in heavy cream and season with salt and pepper to taste. Serve with crusty French bread if you like.
Serves 6.
Nat's Notes:
1. If you use spicy sausage, take that into consideration when you add the red pepper flakes, holding back if necessary.
compiled from multiple sources
SaveSave