Grilled Pizza, Revisited
Last summer I discovered the wonderful world of grilling pizza. We had our summer's first grilled pizza a couple of weeks ago using my trusty stove-top grill pan
. (I've put up this link so many times, I should really start getting paid.)
Where else can you get a crust that looks like THIS?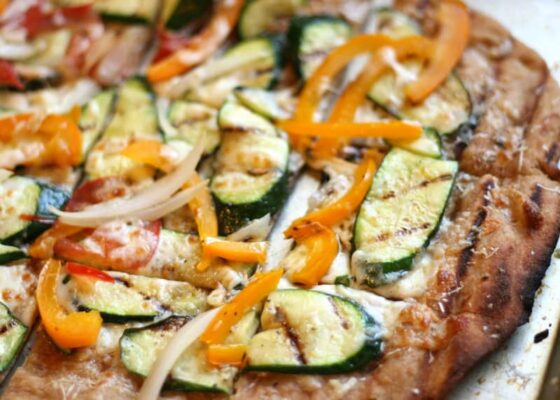 Maybe a brick oven with open flames, but honestly, who has that?
Instead of posting another grilled pizza recipe, I'm going to leave you with some tips that I've picked up along the way. If you want exact directions on how to grill a pizza (and lots of ways to use zucchini), see this post.
Tips for Grilling Pizza
Note: I have only done this on a stove-top grill pan and never on an outdoor BBQ. It shouldn't affect the outcome too much, but I thought I'd let you know. 
To get melty, golden-brown cheese like a traditional pizza, finish it off under the broiler in your oven for a couple of minutes. (It's probably cheating, but I don't care. I have to have my cheese browned.)

The thinner you stretch the dough, the more crispy your crust will be, but it will also cook (and burn) faster, so be careful. I've also found that all-white dough crisps up more than whole wheat dough, which seems to be chewier (and also very good.)

Don't brush too much oil on the dough if you stretch it out thin or it may not crisp up as well.

Because there's no heat source coming from the top when you grill, your toppings should be precooked or simply need warming up (like pepperoni, olives, ham, etc.). Grilling a bunch of vegetables (like I did above) before you put the dough on will save you a pan to clean later on.

Have all of your toppings ready to go (cheese & sauce included) before you put the dough on the grill. (see above)

Go easy on the sauce, especially if you have thin crust or it may get mushy and hard to move around. You could even just brush on some garlic oil (fresh chopped garlic mixed with olive oil) in lieu of pasta sauce.