Indoor Nutella S'mores + Homemade Graham Crackers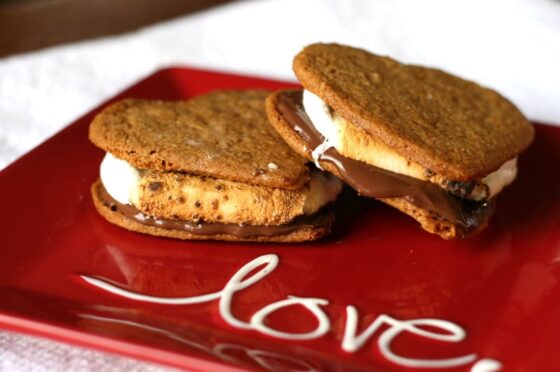 Hello, there. Yes, those are s'mores. Made with homemade graham crackers. And Nutella.
I see I have your full attention. That's good. You're going to want to pay attention to this. Did you know that today is World Nutella Day? True story. I fell in love with Nutella in 2002 while I was living in Austria. I gained over 10 lbs that summer, despite being on my feet all day. I'm almost powerless against its rich, chocolatey, hazelnutty goodness. . . which is why I only buy one container a year.
I figured today was a good day to get one, being a world holiday and all. And it was also the first day in my 15-year driving career that I have weighed less than what my license says. Might as well kiss that good-bye for a couple of weeks.
I found the same recipe for homemade graham crackers on both 101 Cookbooks and Smitten Kitchen. Having those two talented ladies give their stamp of approval was enough for me. They're pretty easy — less work than sugar cookies because you don't have to frost them. You throw the dough together, let it chill for a couple of hours, roll & cut the cookies, let them chill for a few minutes, then toss them into the oven.
Simple squares was the original plan, but then I noticed on Facebook my spunky little Hawaiian friend, Akaemi, had made some heart-shaped ones with her kids this week. So I swiped her idea.
Have you ever toasted marshmallows over a gas stove? My husband and I did it last week and wondered why we had never tried it before. Brilliant. Although, the flames are much hotter than a campfire, so I held it 6-8 inches above the burner and turned it constantly.
Oh, and they catch on fire really easily. Especially if you're trying to look through a viewfinder on your camera and toast it at the same time.
Posting sweets is a lot harder than other things. My kids aren't hovering over the plate when it's full of vegetables.
Oh boy, are these good. The cookies are far better than store-bought graham crackers (no surprise there). Mercy.
I'm not surprised that this is the first recipe I've posted featuring Nutella. I'd rather plop myself on the couch with the jar wide open and a bag full of pretzels — my all-time favorite grab-and-go treat. In order to preserve its richness, I thought a s'more would be a good idea. The only thing that would make this better is homemade marshmallows. I can only do so much in a day, peeps.
Here are a few more Nutella recipes from some great bloggers:
Chocolate Nutella Turnovers from Bake at 350 (Have you seen this woman's cookies? Crazy.)
Nutella Cream Pie from Lauren's Latest (I love Lauren. She's so great. Plus she's been on Good Morning America. How cool is that?)
Super Simple Nutella Ice Cream from Chocolate and Zucchini (I've wanted to make this forever.)
Nutella Caramel Hazelnut Brownies from bell'alimento (If you go there today I think she has Nutella-covered bacon on her front page. I think I love her now.)
And if you want to make this an ultra-homemade Nutella s'more, try making your own Nutella:
Homemade Nutella from Elana's Pantry (I love this woman's recipes. This was the recipe that drew me to her site.)
Go make these s'mores. Soon.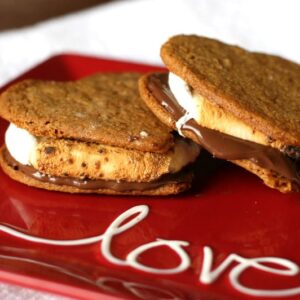 Ingredients:
2 1/2 cups unbleached all-purpose flour
1 cup dark brown sugar, lightly packed
1 teaspoon baking soda
3/4 teaspoon kosher or coarse sea salt
7 tablespoons unsalted butter, cut into 1-inch cubes and frozen
1/3 cup mild-flavored honey, such as clover
5 tablespoons milk, full-fat is best
2 tablespoons pure vanilla extract
Topping (optional)
3 tablespoons granulated sugar
1 teaspoon ground cinnamon
Directions:
Make the dough:
Combine the flour, brown sugar, baking soda, and salt in the bowl of a food processor fitted with the steel blade or in the bowl of an electric mixer fitted with the paddle attachment. Pulse or mix on low to incorporate. Add the butter and pulse on and off on and off, or mix on low, until the mixture is the consistency of a coarse meal. (If you don't have a food processor or electric mixer, you can cut the ingredients together with a pastry blender. Just make sure they're very well incorporated.)
In a small bowl, whisk together the honey, milk, and vanilla extract. Add to the flour mixture and pulse on and off a few times or mix on low until the dough barely comes together. It will be very soft and sticky. Lay out a large piece of plastic wrap and dust it lightly with flour, then turn the dough out onto it and pat it into a rectangle about 1-inch thick. Wrap it, then chill it until firm, about 2 hours or overnight. Meanwhile, prepare the topping, if using, by combining the sugar and cinnamon in a small bowl and setting aside.
Roll out the crackers:
Divide the dough in half and return one half to the refrigerator. Sprinkle a layer of flour on your workspace and roll the dough into a long rectangle about 1/8 inch thick. The dough will be sticky, so flour as necessary. Cut into squares or use cookie cutters to make shapes.
Place the crackers on one or two parchment-lined baking sheets and sprinkle with the topping. Chill until firm, about 30 to 45 minutes in the fridge or 15 to 20 minutes in the freezer. Repeat with the second batch of dough. Finally, gather any scraps together into a ball, chill until firm, and re-roll.
Adjust the oven rack to the upper and lower positions and preheat the oven to 350°F.
Decorate the crackers:
Poke holes in the cracker to make the tops textured like the store-bought ones. You can even poke a line of holes down the middle to make them "perforated".
Bake for 20 to 25 minutes, until browned and slightly firm to the touch, rotating the sheets halfway through to ensure even baking. I baked the shorter end because I liked them slightly chewy.
Makes 10 4 x 4.5-inch graham crackers or 48 2-inch squares
Nat's Notes:
1. I substituted 1 1/2 cups of whole wheat pastry flour for the all-purpose. Worked great! You could even swap the whole thing out, and I bet it would be fine.
To make the S'mores…
1. Toast a marshmallow.
2. Smear Nutella on a couple of graham crackers.
3. Smash marshmallow between crackers.
4. Eat.
5. Swoon.
6. Repeat.
adapted from Nancy Silverton's Pastries from the La Brea Bakery (via 101 Cookbooks and Smitten Kitchen)