The Beach Salad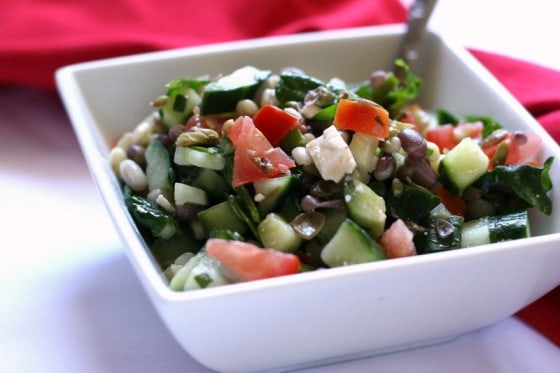 This is my new favorite summer salad. Completely sun-safe. After 3-4 hours in the sun you won't find any grody mayo or slimy lettuce. Just a warmer version of the salad that you started with. Sans salmonella.
On a recent trip to Costco I found a dried sprouted bean mix (The brand is truRoots and no, this not a sponsored post.) The blend of sprouted lentils, mung beans, and adzuki beans cooks up in about 15 minutes. You could also use regular lentils. Garbanzo beans (chickpeas) would also work well.
Anyways, I love it. And since I've been on a kind of Greek/Mediterranean/anything with feta kick lately I chopped some cucumbers, tomatoes and fresh baby spinach (you know it) and dressed it with a simple lemon vinaigrette with fresh herbs. Oh, and feta.
I added some chopped peperoncini peppers for some kick. Olives would be a natural addition (especially chopped kalamata), but I'd rather have a mouth full of sand than a mouth full of olives.
I've made this a couple of times in the last month and to put it to the test, we took it to the beach…
it passed with flying colors.
The Beach Salad (Mediterranean Sprouted Bean Salad)

Ingredients:

2 cups uncooked sprouted bean mix (or lentils)
1 whole English cucumber, diced
2 Roma tomatoes, seeded and chopped
2 cups fresh baby spinach (about 2 handfuls)
3 T chopped fresh herbs (oregano, parsley, mint) or 1 T dried
3 T chopped canned Greek peperoncini peppers + 1 T of juice from the jar
1/4 cup extra-virgin olive oil
juice from 1 large lemon
1/4 tsp each salt and black pepper or to taste
1 cup crumbled feta cheese
2 green onions, sliced thinly

Directions:

Cook the beans (or lentils) according to package directions. Drain and rinse with cold water until they're about room temperature.

In a large bowl, combine the cooked beans, cucumbers, tomatoes, spinach, herbs, & chopped peppers.

In a small bowl whisk together the peperoncini juice, olive oil, lemon juice, salt & pepper. Drizzle over the salad and toss to combine. Carefully stir in the feta cheese and sliced green onions.

Serves 6-8.

Nat's Notes:
1. A natural addition to this salad would be chopped olives (black or Kalamata), but we no likey. So we didn't.