Hey there! You may be wondering what this recipe for real-deal gingersnaps is doing on a paleo-ish food blog. Well…. it dates back to when I wasn't a paleo-ish blogger, and it's one of our favorites.
Eventually I'd like to clean it up and make it (at least) gluten and dairy-free, but in the meantime it'll stay and have a home here on my blog as totally-worth-it recipe we'd indulge in.
---
Cookies are one of my most favorite things ever. I rarely make them, though.
Why, you ask?
I have a really, really hard time not eating my most favorite thing ever if it is sitting on my counter. I was curious to know how many cookie recipes I've posted this year and it was rather shocking. The last one I posted was a Breakfast Cookie back in March. And… that was it for this year. (I also posted cookie dough bites, but I don't know if that counts.)
Kind of sad, I know. That's why I'm so excited to share these with you.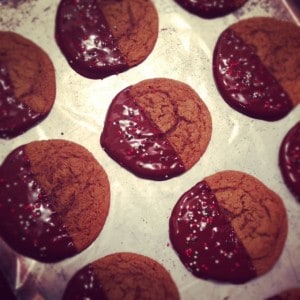 These cookies have a back story. My sweet California BFF gave me the recipe for these when I was pregnant with #2. They also had a different title, which was "Jump-start your labor cookies".
She ate about a dozen of these at the end of two of her pregnancies and was in labor within hours both times. I gave them a whirl this last time, and I ended up giving myself really bad heartburn, but no labor.
Bummer.
I liked them anyway, though. They're like a gingersnap on steroids, with lots of fresh ginger and a touch of cayenne. I decided to dip them in chocolate (because I love chocolate and ginger together) and send them off when I participated in the Great Food Blogger Cookie Swap last week.
Speaking of… you may want to check out that site for over 500 types of cookies that were flying through the mail system over the past few weeks. All the links should be up by the end of Thursday. I'm excited to browse through them!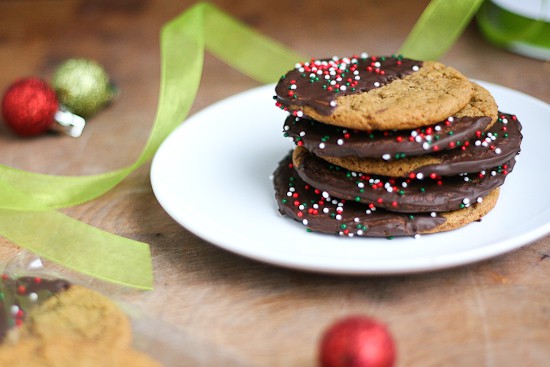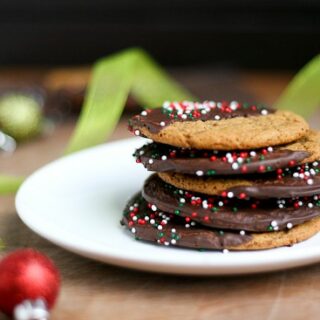 Chocolate-Dipped Spicy Gingersnaps
This cookie recipe was given to me by a friend who received it from her midwife. Supposedly they will help induce labor. I tried it, and it didn't work for me, but MAN did I discover the best gingersnap recipe I've ever eaten! I love the kick of spice from the cayenne and fresh ginger. Dipping them in chocolate is optional, but super tasty and festive!
Ingredients
2 1/2 cups flour (see notes)
1 1/2 teaspoon baking soda
3/4 teaspoon cinnamon
1 teaspoon ground ginger
1/2 teaspoon ground cloves
1/2 teaspoon salt
1/4-1/2 teaspoon cayenne pepper (see notes)
8 Tablespoons butter, room temperature
1 cup brown sugar
1/2 cup white, granulated sugar
1/3 cup molasses
2-3 Tablespoons grated fresh ginger (about a 2 or 3-inch knob)
1 egg
for dipping:
1 1/b pounds of dark chocolate chips
sprinkles, if you're into that
Instructions
Preheat oven to 350 degrees F.
Whisk together the flour, baking soda, dry spices, and salt.
In a separate bowl or the bowl of a stand mixer, cream the butter and sugars together until lighter in color and well blended, about 3-4 minutes.
Add molasses, fresh ginger, and egg and mix well. Add the dry ingredients gradually until everything is incorporated.
Roll dough into 1-inch balls and place on a rimmed baking sheet a couple inches apart, using multiple baking sheets, if necessary.
Bake for 9-11 minutes, until the tops are cracked and the sides appear dry and slightly golden brown. Let them cool completely before you dip them.
Melt the chocolate by either microwaving the chips in a bowl in 30-second increments, stirring between each time, until melted, or putting the chips in a heat-safe bowl fitted over a pot with 1-inch of simmering water on the stove. (aka double broiler)
Prepare a place for the cookies to set once dipped, either a baking sheet lined with wax paper or simply a piece of wax paper on the counter. (I like using a baking sheet because I can move them around easier and into the fridge if I need them to set quickly.)
Dip each cookie into the melted chocolate and lay on the wax paper. Sprinkle with something colorful, if you want. They should harden up at room temperature within a half hour or in the fridge after a few minutes.
Store in an air-tight container and keep away from heat or you'll have one, giant, chocolate covered mess.
Notes
Nat's Notes:
1. I've used whole wheat pastry flour in place of white and it works well.
2. I use 1/4 teaspoon of cayenne. It has a kick, but it isn't too spicy for my kids. They do feel it, and they don't eat as many. (...which is good. haha.)