Chorizo and Goat Cheese Quiche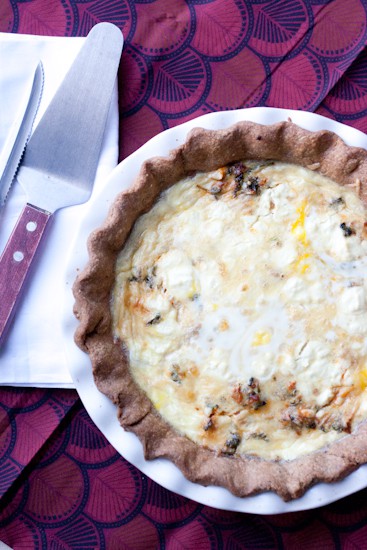 You know what you should do? You should whip up this quiche over the weekend and freeze it until Thanksgiving morning.
Then, BOOM!
Into the oven it goes and breakfast is off your mind while you're prepping the turkey, getting the table set up, and reminding yourself that you are, indeed, grateful for the small, curious creatures in your house who insist on "helping" you cook which, to them, means sticking their little fingers into everything and asking 28734 questions.
And always dumping stuff on the floor. Usually flour. Or something really annoying to walk on with bare feet, like salt.
I love them! I really do. Otherwise we wouldn't be doing this all over again.
So this quiche…
I adapted this recipe from one I tore out of a Food Network Magazine from last year. I've had my eye on it for a while, but I could never bring myself to buy regular Mexican chorizo. Have you read the ingredients? It's scary. And there are parts of animals I'd rather not think about while I'm chewing.
Fast forward to a couple of weeks ago. I found Diestel turkey chorizo at a Natural Grocers that just opened close to us. And it was reasonably priced, too, so I bought a few. Diestel is a free-range turkey ranch just over the hill in California, and I love their sausages. And turkeys. Obv.
Suddenly I realized I had chorizo and goat cheese. AT. THE. SAME. TIME.
I had to adjust the recipe to what I had on hand, but it turned out to be one of my favorite quiches ever.
No, that isn't a paleo crust. If you're strict about avoiding grains, then go crustless! (Just grease the pan well so there aren't tears later.) Or if you're just wanting a gluten-free version, try it with my Perfect Gluten-Free Pie Crust.
I decided on a crust because 1) I'm pregnant, and I pretty much do what I want lately and 2) it's Pie Month. I used my grandma's pie crust recipe (basically my Perfect Gluten-Free Pie Crust with regular flour), making it in a food processor instead of grating frozen butter, and swapping out the regular flour for half spelt, half flax meal.
See? I did compromise. A little. Spelt doesn't make me feel weird like regular wheat flour does. Also, cut the crust recipe in half because the full recipe make two crusts. Or you could always save the other for a pumpkin pie next week!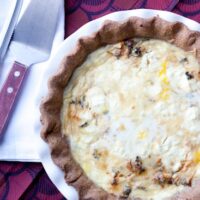 Chorizo and Goat Cheese Quiche
This chorizo and goat cheese quiche may have been my favorite of all time. Truly. You can go the grain-free route and make it crustless or use my Perfect Gluten-Free Pie Crust recipe to make it GF. Either way it's pretty spectacular.
Ingredients
1 prepared 9 or 10-inch pie crust (see note)
1 Tablespoon coconut oil
1/2 pound Mexican turkey chorizo, casings removed
10 ounce bag of baby spinach, chopped
4 eggs
2 cups almond milk
1/4 teaspoon sea salt
3 green onions, thinly sliced
3 ounces soft goat cheese
Instructions
Preheat oven to 350 degrees F.
Heat oil in a large skillet over medium-high heat. Add chorizo and cook for about 10 minutes, breaking it up into small pieces.
Add the spinach to the skillet and cook for another 5 minutes or until the spinach is wilted.
Remove from heat and set aside to cool.
Combine the eggs, milk, sea salt and green onions. Whisk well.
Transfer the chorizo-spinach mixture to the prepared pie crust, spreading evenly across the bottom. Sprinkle cheddar and put dollops of goat cheese on top. Pour the egg mixture over the cheese and tilt the pie pan a little to ensure that everything is coated.
Place the pie plate on a rimmed baking sheet and bake for 40-50 minutes. The edges should be set and the center should jiggle slightly. Let it cool for 15-20 minutes before slicing.
Cut into wedges and serve.
Notes
Notes:
The crust is totally optional here. You can make a crustless quiche or make mini quiches in a muffin tin (I recommend a silicone one). Just make sure you grease it well. For mine, I used my regular pie crust recipe (link in the post), but used half spelt flour, half flax meal in place of the flour in the recipe. That's why it looks so dark. I pre-baked it for about 15 minutes before adding the quiche filling.
Speaking of dark crusts. If you find that your crust is getting too dark for your liking while the quiche is baking, wrap some aluminum foil around the edges of the crust and pie plate to cover it.
If you plan on freezing this, use a foil pie tin, but make sure it's big enough for the filling. Otherwise the pan might explode in the oven. (I'm looking at you, Pyrex.)