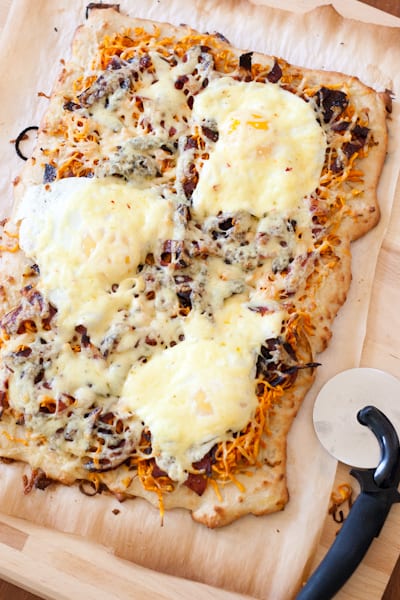 Pizza for breakfast. Yes, please.
My mom used to make breakfast pizza when I was growing up, but I don't remember if we actually ate it for breakfast or for dinner. All I remember is that my brother hated eggs and he would point to the jiggly whitish parts underneath the toppings and ask what it was.
"White cheese," my mom would say.
And he'd happily eat it up.
I have an egg hater as well, but when I put fried eggs on top, it's not so easy to convince her that it's cheese. She's actually picky about cheese, too. (Sometimes I wonder if we're related.)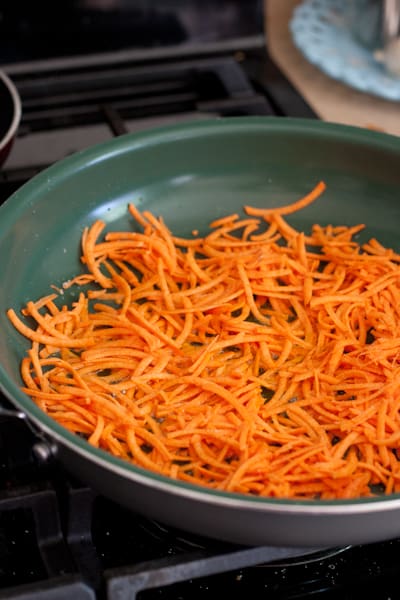 My egg hater also has lukewarm feelings toward sweet potatoes. You can imagine her delight when I put it all on a pizza — one of her favorite foods. *snicker*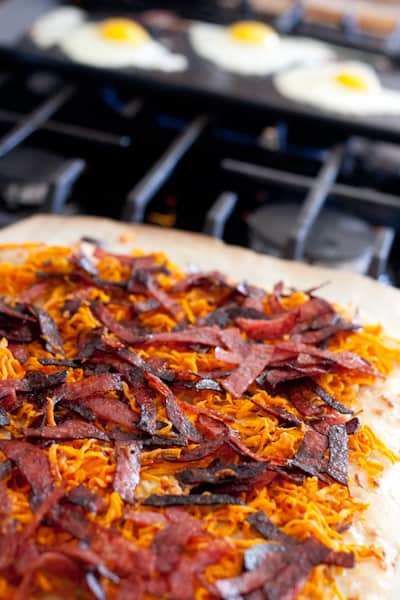 She does love salami though. I've made this with breakfast sausage before, but all I had on hand was salami leftover from a big family party. I cut them into pieces and toasted them in a pan before putting them on the crust.
She was absolutely, 100% convinced it was bacon. We even argued over it. Luckily she likes both salami and bacon so this was a silly issue.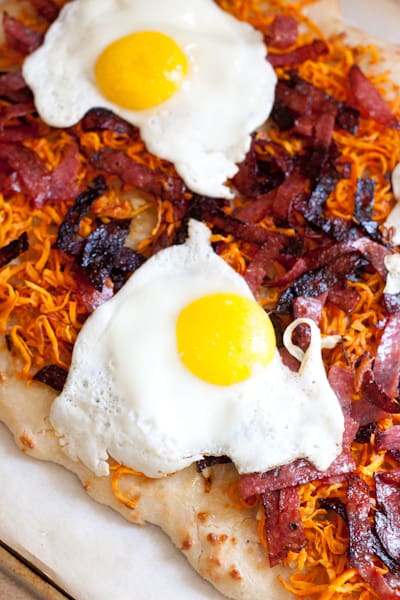 But she's not a fan of eggs, unfortunately — unless they're scrambled and buried underneath so much ketchup you can't tell what it is. *facepalm*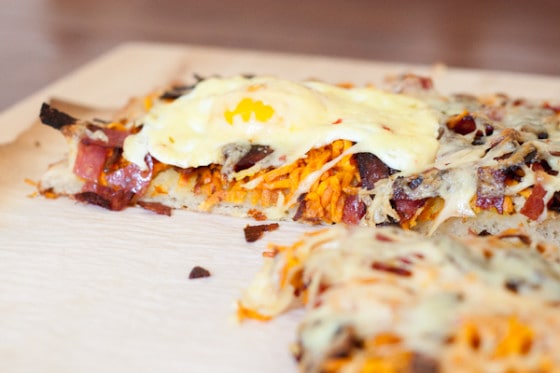 She's also very dubious when it comes to paleo-ified baked goods. I've tried cauliflower crusts and greens crust, and she'll tolerate them at best.
This time when I told her I was making pizza she asked me if it was "real" crust. I told her it was real, and that I don't make fake food. Then she asked if it had "cauliflower or anything like that" in it. Nope. It didn't. After one bite she yelled, "It's real crust! yay!' If by "real" you mean gluten-free and grain-free, then yes, it's real.
Speaking of the crust, I used the NY Style Paleo Pizza Crust by Zenbelly. Hands down the most realistic paleo crust I've tried. I tripled the recipe and tweaked it ever so slightly to feed my little herd. The recipe may look a bit long and daunting, but it's just because there are a lot of components. It's all easy. Promise.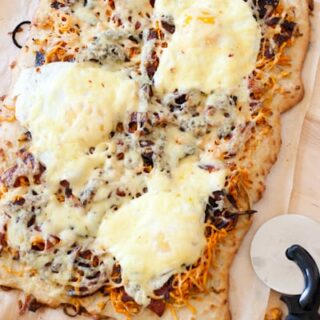 Grain-Free Breakfast Pizza
Ingredients
For the crust:
2 1/2 Tablespoons gluten-free yeast
3 Tablespoons raw honey
3/4 cup warm water
3 Tablespoons cooking oil (avocado oil/ghee/light olive oil)
2 egg whites
4 1/2 teaspoons apple cider vinegar
2 1/4 cup blanched almond flour
2 1/4 cup tapioca flour
2 1/4 teaspoon sea salt
Toppings:
1 large sweet potato
4 Tablespoons cooking oil (avocado oil/ghee/coconut oil), divided
salt
1/3 cup paleo mayonnaise
2 garlic cloves, peeled and minced
preferred meat (breakfast sausage, ham, bacon, etc.)
3-4 eggs
Whole-milk mozzarella cheese, grated
Instructions
For the crust:
Whisk together yeast, honey, and warm water in the bowl of your mixer (or a large mixing bowl) and let it sit for 5 minutes.
In another small bowl combine oil, apple cider vinegar, and egg whites.
In another medium bowl combine the almond flour, tapioca flour, and salt.
Add the wet and dry mixtures to the yeast mixture and beat for 30 seconds. Scrape down the sides to combine thoroughly.
Scrape down the dough and pull to the center of the bowl. It will NOT look like regular pizza crust - it'll be much wetter. Cover with a towel and let it sit in a warm (not hot) place for 75-90 minutes. (Mine only takes 45-60 minutes to rise, but it was in the summer next to a window.)
After an hour or so, check to see if it has risen. It won't rise as dramatically as traditional dough, but it should get a bit larger and look aerated.
When it is ready, preheat oven to 500 degrees F. If you're using a pizza stone, place it in the oven.
Line a rimmed baking sheet with parchment paper and oil the paper lightly. Turn the dough out onto the parchment and get out as much as you can from the bowl. (If you're using a pizza stone, you can flip the baking sheet over and use the parchment on top -- it makes it easier to slide in and out of the oven. But, make sure you form a circle or a shape that will fit on your stone.)
Oil your hands well and gently press the dough lightly to stretch it to fill the pan as best you can. It might take a few minutes because the dough is so sticky. Don't add extra flour, though. I'll be alright in the end.
Transfer dough to the oven and bake for 6-8 minutes or until the bottom of the crust has golden brown spots and the top is firm. Don't let it get too dark.
Prep Toppings (this can be done while the dough is rising):
Cook grated sweet potato in a large nonstick skillet over medium heat with a couple Tablespoons of cooking oil and a generous pinch of salt. Cook for 10-12 minutes or until cooked through and is golden brown in spots. Set aside.
If you need to pre-cook your meat (like bulk sausage or bacon), do it now. Set aside.
Fry your eggs to your liking, but take them out a few minutes before they're finished. They'll finish in the oven.
Combine paleo mayo and garlic cloves in a small bowl. Chill until ready to use.
Assemble pizza:
Spread the garlic mayo on the crust evenly. Sprinkle hash browns over the top. Add the meat and fried eggs. Cover with desired amount of cheese.
Return crust to the oven for 2-3 minutes until the cheese is melted, eggs are finished cooking, and everything is heated through. Keep an eye on the bottom of the crust as it will darken quickly.
Remove from the oven and serve!