Green Bean Succotash
Still have some corn left? Here's my final corn recipe of the season and some of my favorites dug out of the archives. . .Succotash is a classic Southern side dish usually made from corn and lima beans. Here fresh green beans and some chopped red bell pepper are added. I love the colors in this! This recipe caught my eye because Old Bay, a typical seafood seasoning, is used here. We loved this, and I've used Old Bay many times since to season sauteed vegetables.
If you're lima bean phobic, be sure to get the small, green baby limas. I was raised on them, and my Southern grandma always boils hers with a few pieces of okra and a lick of bacon grease. They're amazing, I tell you. Don't knock it til you try it. :)
Here are a couple more recipes to try if you've got a lot of corn to use up.
Chevy's Sweet Corn Tomalito: A sweet, denser-than-cornbread, side dish that seems more like a dessert!
Spicy Corn Fritters: I've made these multiple times (and still don't have a photo!), and can't get enough of them. They have a coriander-cumin flavor to them, and go excellent with the accompanying spicy dipping sauce. They go well with Middle Eastern or Indian dishes.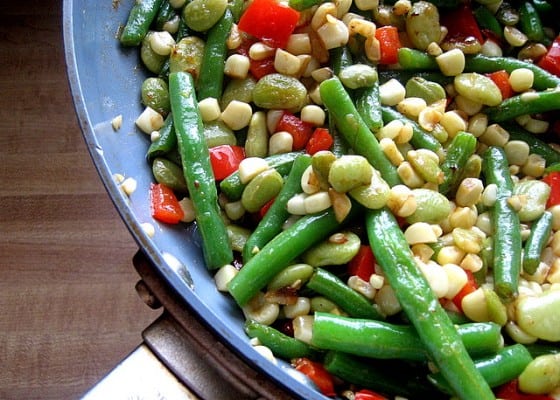 Green Bean Succotash

Ingredients:

1 c frozen baby lima beans
8 ounces green beans, trimmed
2 T olive oil
2 c fresh corn kernels (from 2 medium ears) or frozen corn
3/4 c diced red bell pepper
2 T butter
1/2 tsp Old Bay seasoning

Directions:

Put the frozen lima beans in a small saucepan with about 1 cup of water and a few big pinches of salt. Bring to a boil, then reduce heat and cover. Allow to simmer about 15 minutes or until the beans are tender and soft on the inside. Remove with a spider or slotted spoon and set aside.

Bring that same water back to a boil and add the green beans. Blanch until crisp-tender for about 4 minutes. Transfer to a bowl of ice water to cool; drain the water.

Heat oil in a large skillet over medium-high heat. Add green beans and saute one minute. Add lima beans, corn, and belle pepper. Saute until vegetables are crisp-tender, about 5 minutes. Mix in butter and Old Bay; season to taste with salt and pepper.

Nat's Notes:
1. The original recipe had the lima beans going into the skillet frozen. Limas need to cook for a while or else they'll be gritty.
2. Old Bay is a spice blend used mainly for seafood, but works well with chicken and vegetables. If it's not in the spice aisle of the grocery store, check the seafood department.

adapted from Bon Appetit June 2009