Proper Chicken Caesar Salad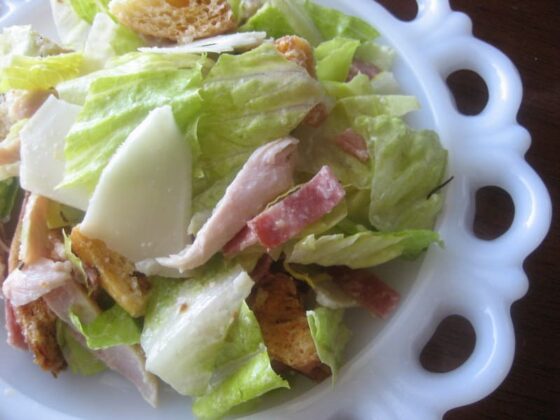 I thought I might as well post this recipe since we're on the subject of Caesar salads and using anchovies. This, my friends, is THE best chicken Caesar salad I have EVER had. It may be the best salad I've ever had PERIOD.
I saw Jamie Oliver make this on his show "Jamie at Home" and loved how rustic and rough he is with everything — I don't think he ever used a utensil. Not to mention his adorable accent. I loved hearing him say "Caesah" over and over. It never got old. And after making this recipe I want to run out and buy his cookbook.
The reason why this salad is so dang, freaking good is because of this technique right here:
The man is brilliant. Not only does he use chicken legs (which I've overcome my fear of by the way and frozen tons of so I can make this salad whenever I feel like it), which have more flavor and moisture than breast pieces, but he puts them OVER THE BREAD to make the croutons for the salad.
At the end of the baking, you put BACON over top and stick it back into the oven. Do you realize what you end up with when it's done? Croutons that have been soaking in herbs, chicken and bacon drippings. Then crisped up.Did I mention how my house smelled while this was baking? Intoxicating.
I could NOT stop eating these croutons when they came out of the oven. It's a good thing he has you make an obscene amount of them — way too much for the salad. He must have known I'd snitch about 1/3 of them.
"Propah" Chicken "Caesah" Salad

Ingredients:

6 whole chicken legs, skin on
1 loaf ciabatta bread (about 9 ounces), torn into thumb-sized pieces
3 sprigs fresh rosemary, leaves picked and roughly chopped
Olive oil
Sea salt and freshly ground black pepper
12 thin slices bacon or pancetta
¼ clove peeled garlic
2-3 anchovy fillets in olive oil, drained
3 ounces freshly grated Parmesan, plus a few shavings to serve
1 heaped tablespoon creme fraiche or sour cream
1 lemon, juiced
Extra-virgin olive oil
2 or 3 heads romaine lettuce, outer leaves discarded

Directions:

Preheat the oven to 400 degrees F.

Place the chicken legs and the bread cubes in a 9x13 casserole or roast pan. Sprinkle with the chopped rosemary, drizzle with olive oil and season with salt and pepper. Mix with your hands to make sure everything is well coated, then place the legs on top, so they sit above the bread.

Bake for 45 minutes. Take the pan out of the oven, drape the pancetta or bacon over the chicken and croutons, and put back for another 15 to 20 minutes to allow the bacon to crisp up. The chicken legs are ready when you can pinch the meat off the bone easily.

When everything's cooked through, remove the pan from the oven and allow it to cool slightly. 
Grind the garlic and the anchovy fillets in a mortar and pestle (or simply mince as finely as you can, then use the back of your knife and "scrape" it into a paste). Scrape into a bowl and whisk in the Parmesan, creme fraiche, lemon juice and 3 times as much extra-virgin olive oil as lemon juice. Season dressing, to taste, with salt and pepper.

Pull the chicken meat off the leg bones. Tear (or cut) up the washed and dried lettuce leaves and toss with the chicken, croutons, bacon and creamy, cheesy dressing. Mix gently until everything is coated in dressing. Scatter some Parmesan shavings over top.

Makes 4 servings. Unless you're us. We eat the whole bowl ourselves.

adapted from Jamie Oliver