Beet and Chickpea Hummus
I'm not a huge fan of beets, but I love their vibrant color. After getting them for 3 weeks straight in my CSA box, I tried to find new ways to use them. Then I saw
this recipe on Simply Recipes
.Beets in hummus! Brilliant! I decided to combine her recipe with
the one I usually use
, which included keeping some of the chickpeas in the hummus and reducing the tahini. Since beets don't have a strong flavor, they just added a little sweetness and a gorgeous color.
The color was so bright it looked artificial. Sophie loved it and asked for "purple" hummus several times!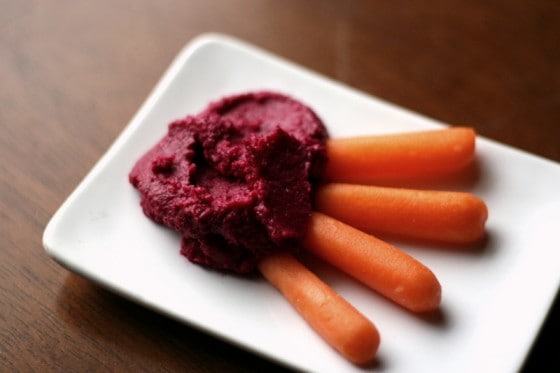 Beet and Chickpea Hummus

Ingredients:

1 15-oz can of chickpeas/garbanzo beans + 1/4 c of juice from the can
2 medium-sized beets, cooked and quartered
juice from 1 lemon (about 4-5 T)
2 cloves of garlic, coarsely chopped
2 T tahini sesame paste
1/8 tsp. cayenne pepper
a couple big pinches of coarse salt & black pepper to taste
1/4 c extra-virgin olive oil

Directions:

Place all ingredients except for the olive oil in a food processor (or blender) and pulse to combine. While the food processor is running, slowly add the olive oil and process until smooth. Check for taste and adjust salt and pepper as needed.

Serve with vegetables (baby carrots, sliced cucumbers) pita wedges or corn chips.

Makes about 2 1/2 cups.

Nat's Notes:
1. To cook beets, cut the green tops off and scrub clean. Either place the beets in a pan filled with 1/4-inch of water and bake, covered, at 375 until they're fork-tender, or boil them in water for about 30 minutes. Remove from water, let cool, and peel.