Green Chile Cheeseburgers
I think grilling (and roasting) is probably the best thing that could happen to a vegetable. Grilling, mincing, then adding them to a burger is pretty nice, too. Especially when the vegetables are onions and chiles.
I grilled the chiles whole, but the recipe said to slice them in half. Either way is fine. I just don't read directions very thoroughly sometimes. . .
This recipe came from the
Best of America's Test Kitchen 2010
cookbook — a series of cookbooks I'm becoming more and more fond of. In this recipe they tried to mimic the green chile cheeseburgers popular in New Mexico without having to ship in their famous Anaheim "Hatch" green chiles. By using store-bought Anaheim (which aren't as spicy as the ones in NM) and jalapeno peppers together, the flavor was pretty close to the ones found in NM.
What does an Anaheim pepper look like? Here it is next to a jalapeno. The Anaheim chiles are bigger and lighter in color.
Part of the grilled chiles and onions mixture is pureed and added to the ground meat. The other part is left more coarsely chopped and put on top of the patty during cooking. (With a slice of cheese on top to prevent them from slipping off.)
The result? A moist, flavorful burger with hints of green chile. Next time I think I'll leave more of the seeds from the chiles in to give it more kick.Speaking of kick. . . do be careful when handling and chopping chile peppers. And for future reference, do not chop a jalapeno and then to immediately upstairs to put in your contact lenses. Even if you scrubbed your hands and fingernails three times it may still feel like your eyes are burning out of your head. If that particular incident ever happened to me (it did), I'd be sure to wear latex gloves the next time I prepped a hot chile (I do).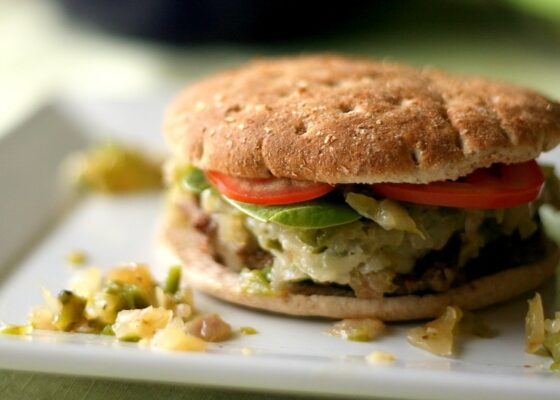 Green Chile Cheeseburgers

Ingredients:

3 Anaheim chiles, stemmed, seeded, and halved lengthwise
3 jalapeno chiles, stemmed, seeded, and halved lengthwise (see note)
1 medium onion, sliced into 1/2-inch thick rounds
1 garlic clove, minced
salt and pepper
1 1/2 lbs lean ground beef
4-6 slices of cheese (Monterey jack, pepper jack, or cheddar recommended)
burger garnish (tomato, lettuce, etc.)

Directions:

Preheat grill or stove-top grill pan to high heat (see note). Oil the cooking grate if necessary. Lay the chiles and onion slices on the grill and cook until the vegetables are lightly charred and tender, about 4-5 minutes per side. (Covering them while they cook helps them to soften faster.) Transfer onions and chiles to a bowl and cover with plastic wrap or a kitchen towel. Let them sit for a few minutes to cool. (And to steam -- it makes the peel come off the chiles easier.) Remove the skins from the chiles and discard; separate the onion rounds into rings.

Transfer the chiles, onions, garlic, to a food processor and pulse until coarsely chopped, about 10 pulses. Remove all but 1/4 c. of chile mixture to a bowl and set aside. Season with salt and pepper to taste. Process remaining mixture until smooth.

In a large bowl combine the beef, pureed chile mixture, 1/2 tsp salt, and 1/4 tsp pepper. Knead gently until well incorporated. Shape into patties. (Either 4 big and thick or 6 small patties.) Press your thumb gently into the middle of each patty to create a shallow divot. (This keeps the burgers from getting rounded tops while grilling.)

Grill the burgers, covered, until well-browned on the first side, 3-5 minutes. Flip the burgers, top each with a spoonful of the chopped chile mixture and a slice of cheese. Continue to grill, covered, until the cheese is melted and the burgers are cooked through, about 4-5 more minutes.

Serve on toasted buns with desired garnishes.

Makes 4 large or 6 medium-sized burgers.

from The Best of America's Test Kitchen 2010 cookbook