Chicken Parmesan Salad
In the July/August issue of Food Network magazine, they had a section where they took popular dishes and turned them into salads. What a great way to get the flavor of an indulgent dish without the guilt and heartburn. Brilliant!
The one that caught my eye first was the Chicken-Parmesan-turned-salad — pieces of juicy grilled chicken & chunks of mozzarella on a bed of salad greens with a drizzle of tomato-ey vinaigrette (similar to this sun-dried tomato vinaigrette) and a sprinkle of flaky Parmesan bread crumbs.
Yep, I think that includes all the components of Chicken Parm.
Except the puddle of grease left on the plate. But I think we'll live.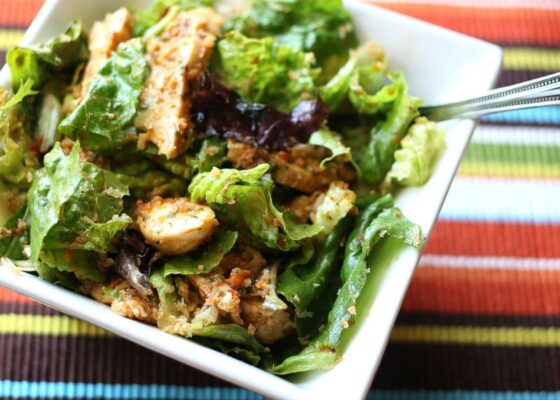 Chicken Parmesan Salad

Ingredients:

1 plum tomato, halved
4 sun-dried tomatoes packed in oil, plus 2 tablespoons oil from the jar
2 tablespoons red wine vinegar
1 clove garlic
1/2 teaspoon dried oregano
1 bunch fresh basil, torn
1/3 cup grated Parmesan
Kosher salt and freshly ground pepper
2 skinless, boneless chicken breasts (about 1 pound)
3 tablespoons extra-virgin olive oil
1 cup panko breadcrumbs
2 tablespoons chopped fresh parsley
8 cups Italian-blend salad greens or baby arugula
8 ounces bocconcini (small mozzarella balls), quartered

Directions:

Preheat a grill to high. Puree the plum tomato, sun-dried tomatoes, vinegar, garlic, oregano, a few basil leaves and 2 tablespoons parmesan in a blender, drizzling in the sun-dried tomato oil until smooth. Add 2 to 3 tablespoons water, if needed; season with salt and pepper.

Halve the chicken breasts horizontally to make four 1/4-inch-thick cutlets. Brush with 1 tablespoon olive oil and season with salt and pepper. Grill the chicken until marked on the bottom, about 4 minutes, then turn and grill until cooked through, about 3 more minutes. Transfer to a cutting board.

Heat the remaining 2 tablespoons olive oil in a large skillet over medium-high heat. Add the breadcrumbs, season with salt and pepper and cook, stirring occasionally, until golden, about 2 minutes. Add the remaining 3 tablespoons plus 1 teaspoon parmesan and the parsley and cook until toasted, about 1 more minute.

Toss the salad greens and remaining basil in a large bowl. Cut the chicken into pieces and add to the greens along with the mozzarella. Toss with the dressing, then sprinkle with the breadcrumb mixture.

Nat's Notes:
1. Panko bread crumbs are flakier than normal bread crumbs and are usually found in the Asian section of the grocery store.

from Food Network Magazine, July/August 2010