Meet April! + Bombay Stew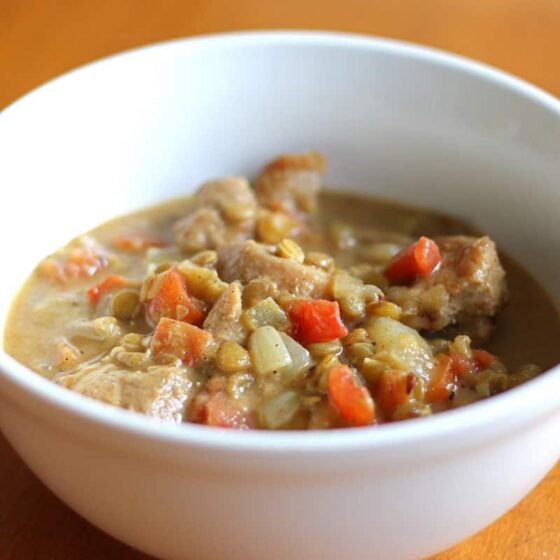 Hi Friends! Do you miss me yet? Probably not, huh? I can't say I blame you. You've been spoiled rotten lately with daily doses of fantastic recipes and a parade of new bloggers! Today I want to introduce you to April who blogs at Apple Loves Orange. I met April through the blogosphere when I was posting over at The Mama Dramalogues. April is a mom of two from Texas and has an undying love for cupcakes. (So much so that she occasionally wears them on her head. That's love.) April has a great sense of humor and great taste in food! Give her a warm welcome!


*****
Hello, Perry's Plate readers!  I'm April and I love food… Natalie's food just happens to be VERY inspiring so I'm thrilled to be guest posting today!  When it comes to food, I have a sweet tooth so I generally post recipes for desserts.  Today, though I've got a wonderful soup/stew recipe for you!  I realize that in most parts of the country (like here in TX, hello 100 degree temps) it's too warm for soup type dishes, but trust me you won't care how hot it is outside.  This stuff is THAT good!!  I call it Bombay stew.  It was born from a package of pork stew meat (you could substitute chicken or a veggie of your choice) and an obsession with Indian flavors.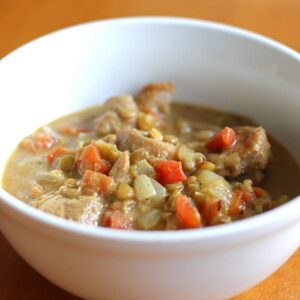 Ingredients:
2 lbs pork stew meat, trimmed of fat

3 tbsp olive oil, divided

1 onion, chopped

1 c carrots, chopped

1 c celery, chopped

1 tsp minced garlic

1 tsp ginger, grated fresh

2 tsp curry powder

1 tsp cumin

1 tsp garam masala

salt and pepper to taste

2 tbsp flour

15-oz can diced tomato (with green chili if you like it spicy)

1 can of water

2 c chicken broth

1 c dried lentils

1/2 c cream (or half & half)
Directions:
In a large pot, heat 1 tbsp oil over med high heat and brown pork in 2 batches, adding another tbsp of oil between batches. Remove to a plate.
Add final tbsp of oil to pot, followed by onion, carrot and celery. Saute for about 5-6 minutes then add in the garlic and ginger. Stir in curry powder, cumin, garam masala and salt and pepper and cook for another 2 minutes. Sprinkle flour over the vegetables and stir until the flour is incorporated.
Add lentils, tomatoes, water and chicken stock and bring to a boil. Reduce heat and simmer for about an hour, stirring occasionally. Stir in the cream during the last 10 minutes of cooking. Serve as is, or over rice.
from April at Apple loves Orange