Spicy Buffalo Chickpea Salad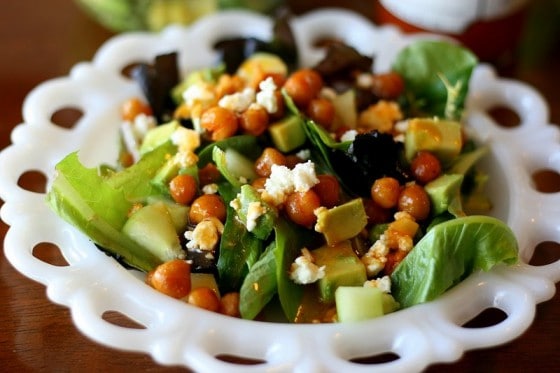 The idea of using hot wing sauce on anything other than meat may sound a little sacrilegious to the most devout carnivore. And the thought of me using hot wing sauce, period, is a bit strange since I don't even like wings and I (thought) I didn't like hot wing sauce.
So why do I have the stuff around? Well, the nice people at Barhyte Specialty Food are hosting a recipe contest right now and urged bloggers to enter by sending them sample packs of some of their most popular condiments. I agreed to accept some (free!) samples, but I told them (in a very polite way) that if I didn't like their products, I wouldn't be blogging about it. I like you guys, and I want you to trust that when I "endorse" something, it's because I really do like it and everything I say about it is my honest-to-goodness opinion.
For example: the Spicy Mama Hot Wing Sauce that came in my sample pack. I opened it, stuck the tip of my finger in the bottle, and hesitantly placed it on my tongue. I'm not sure what I was expecting — hot lava, maybe — but I was pleasantly surprised. Like I said, I'm not a hot wing sauce eater, so I have nothing to compare this to. That little dab was plenty spicy, but there was also flavor underneath the heat — slightly sweet and tangy.
Steve and I were both in the mood for salads one night, and I like to add some kind of protein when we eat salads as a meal. Recently I've been experimenting with roasted chickpeas and thought hot wing sauce might be an interesting addition. Let me tell you . . . they were too spicy for my kids, but they were some of the best "croutons" I've ever had. I also added a little wing sauce to the vinaigrette to give the whole salad a touch of heat. I didn't want the salad too spicy, so I added some avocado, cucumber, and goat cheese to tone down the heat. Beautifully balanced, I must say.
Like I said earlier . . . this salad would probably be scoffed at by hot wing lovers, but would make vegetarians, or non-wing eaters like me, feel included at a party where wings are abundant. And we wouldn't have wing sauce dripping from our chins.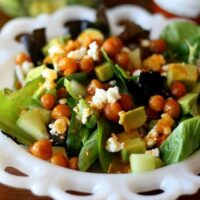 Spicy Buffalo Chickpea Salad
Instructions
To make the chickpeas, preheat oven to 400 degrees and place the oven rack to the upper third position. Place chickpeas on a large, rimmed baking sheet, add 2 T hot wing sauce and 2 T oil. Using your hands, toss them together so all of the chickpeas are coated. Bake for 15 minutes, then pull a chickpea out to taste. If you'd like them spicier, toss in an additional tablespoon (or two) of hot wing sauce and return to the oven for an additional 15 minutes. Even if you don't add more sauce, they still need to bake for another 15 minutes or so until they're slightly crisp on the outside, but soft on the inside. When they're finished baking, let them cool off, then transfer to a serving bowl. To make the dressing, put all ingredients except oil into a small bowl and whisk to combine. While continuing to whisk, add the oil in a small, continuous stream. Dressing should thicken slightly as it combines. At this point, you can place all of the ingredients in separate bowls for guests to build their own salads or toss the greens, dressing, cucumbers, and avocados together, then sprinkle the goat cheese and some of the chickpeas on top. Makes 8 side-dish or 4 main-dish servings. Nat's Notes: 1. Blue cheese dressing is traditionally served with hot wings and "buffalo" type dishes (right? I'm not the expert on this, remember?), but because of our family's preferences, we opted for goat cheese.