Pear Caramel Ice Cream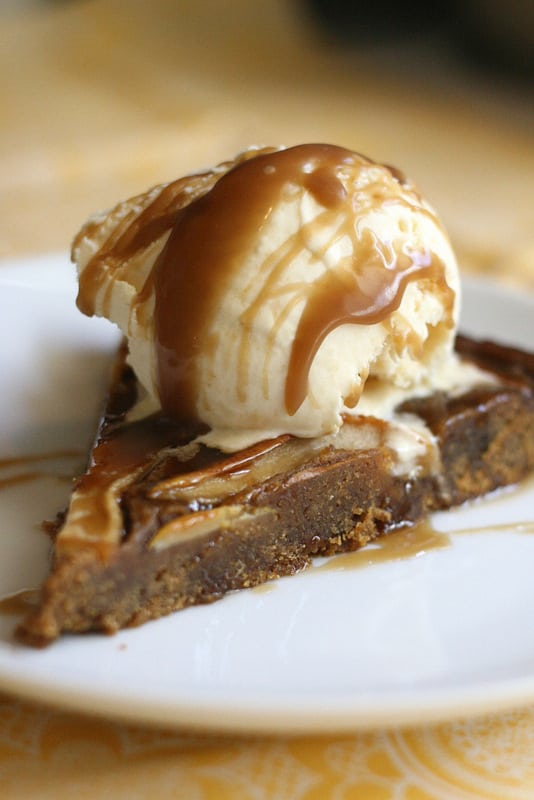 In the midst of our pear eating marathon I was also in the midst of an intense dessert craving.
The result? Pear Caramel Ice Cream on Pear-Ginger Skillet Cake with a drizzle of Easy Caramel Sauce. No, not made all in the same day. Luckily ice cream waits patiently until you're ready.
Do I need to tell you that this was heaven on a little plate? Because it was.
The ice cream recipe? Below. So easy. And you don't have to crack eggs.
The
caramel recipe
? The sauce from
this Pioneer Woman recipe
. Gets thicker and better tasting in the fridge overnight. Just so you know.
Plus I need to make this cake again because I screwed up the first time. Apparently cakes need baking soda to rise. Psh.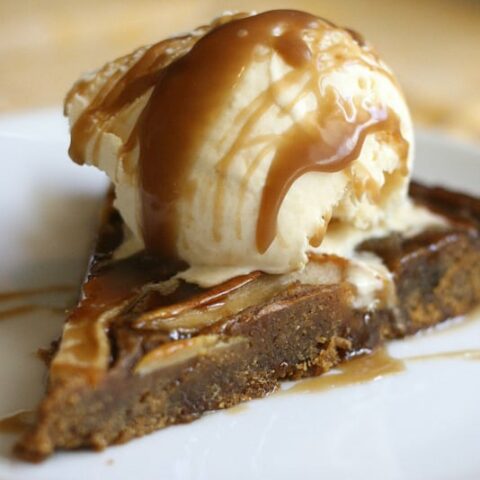 Pear Caramel Ice Cream
Ingredients
3 medium-sized ripe pears, peeled, cored, and diced
3/4 cup sugar
2 cups heavy cream
pinch of salt
1/2 tsp freshly squeezed lemon juice
Instructions
Spread the sugar in a large saucepan. Cook over medium heat, watching it carefully. When it begins to liquify and darken around the edges, use a heatproof spatula to (very) gently stir the sugar, coaxing the liquified sugar to moisten and melt the crystals in the center. Once the sugar becomes deep amber in color and completely melted, stir in the pear pieces. There might be some splattering, so be careful. As you stir you may find that the sugar has hardened into a rock-hard lump. Keep stirring. As you cook the pears, the liquid will dissolve the sugar chunk. Continue to cook until the mixture is entirely liquid and the pears are cooked through, about 10 minutes. Remove from the heat and stir in 1/2 cup of the cream, then mix in the remaining cream, along with the salt and lemon juice. Let the mixture cool to room temperature. (Optional step. To me anyway, I didn't do this part.) Puree in a blender, then press the mixture through a strainer. Chill the mixture thoroughly in the fridge, then freeze it in your ice cream maker according to the manufacturer's instructions. Nat's Note: Because I didn't strain out the pear fibers the ice cream had a slight grainy texture (like pears do). It didn't bother me.