Nutty Cinnamon Chocolate Truffle Squares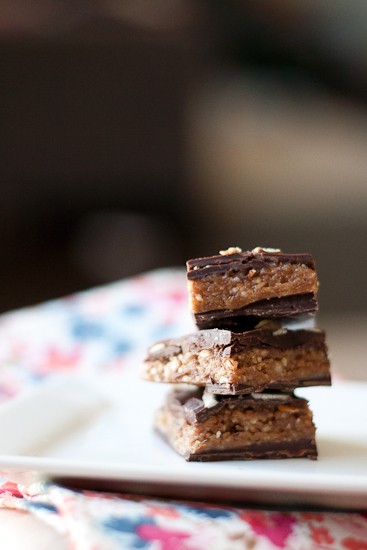 Remember those Dark Chocolate Cookie Dough Cups that were more like a peanut butter truffle?
Well.
I made them again. With pecans. And a bit of cinnamon.
At the last minute I realized I was out of mini muffin liners because, you know, I always plan ahead when I make sweet, snacky type things at 7PM on a Sunday. I just. . . uh, didn't this time.
So, I layered the chocolate and nut mixtures in a baking dish and made little squares.
Much faster and less tedious. Plus, I didn't have to clean my mini muffin pan, which, in a very crusted state, is my least favorite thing to clean in the whole house.
No, wait. Clogged drains are. But I make hubs the hubs is sweet enough to do that. He's a gem.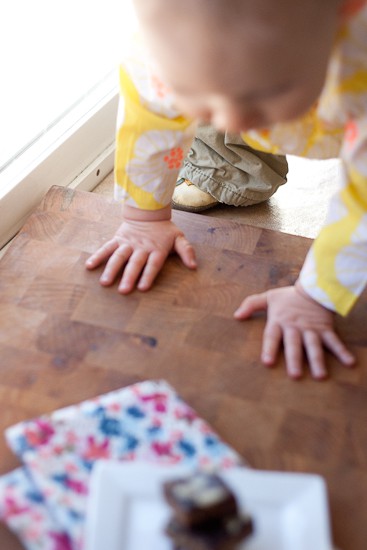 Because so many of you requested it — a little more curious baby footage. That girl kills me with her cuteness. I don't even care if she wrecks my set up.
Back to the chocolates! There are so many variations to these. You can change up the nuts, the nut butter, the type of chocolate. Heck, you could even use white chocolate and add bits of dried fruit! I added cinnamon to these (because I love chocolate and cinnamon together) but cayenne or ginger would be nice, too.
Or even coconut!
I, um… need to go make more.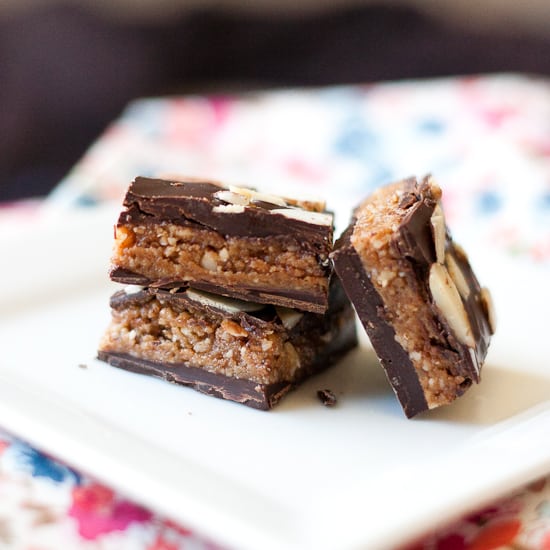 If you're feeling like something a little more decadent, try these Paleo Magic Cookie Bars from Taylor at Food Faith Fitness. (I adore Taylor, so logic says everything she makes must be amazing.) Or these Gluten-Free No-Bake Chocolate Coconut Oat Squares from Chrystal at Gluten-Free Palate!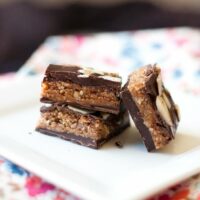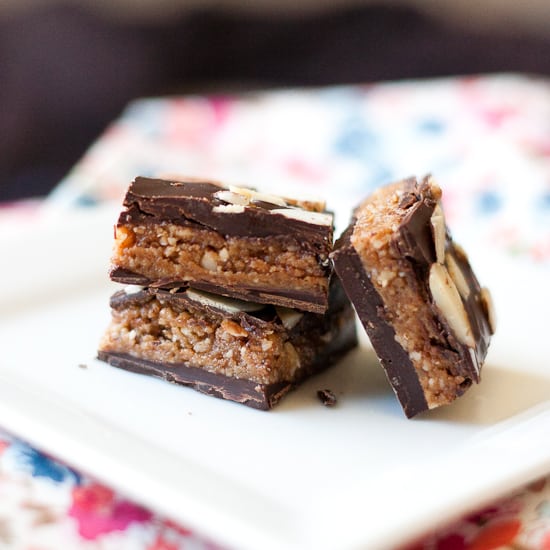 Nutty Cinnamon Chocolate Truffle Squares
Yield: 16 2-inch squares
Prep Time: 20 minutes
Additional Time: 10 minutes
Total Time: 30 minutes
A cinnamon-spiked nutty concoction nestled between two layers of dark chocolate.
Ingredients
10 ounces dark chocolate chips (about one bag)
1/2 cup pecan halves
1/2 cup roughly chopped almonds, plus 1 tablespoon, divided
3 Tablespoons peanut butter or other nut butter
2 Tablespoons maple syrup (or raw honey)
1/4 teaspoon cinnamon
1/4 cup sliced almonds, for garnish
Instructions
Line an 8x8 baking dish with foil or parchment (bottom and sides).
Melt the chocolate using either a double-broiler method or in 30-second increments in the microwave.
Spread half of the chocolate evenly in the prepared pan. Place pan in the freezer to harden while you make the filling.
Combine the pecans and almonds in the bowl of a food processor. Pulse until finely chopped. Add the nut butter, maple syrup, cinnamon and a pinch of salt. Process until the mixture is well-combined. It won't be completely smooth, but will take on a dough-like consistency.
Press the filling evenly over the hardened chocolate, then spread the remaining chocolate over the top.
Sprinkle with sliced almonds and return pan to the freezer until the top layer of chocolate is hard.
Lift the foil (or paper), transferring the entire contents of the baking dish onto a cutting board. Chop into 16 squares. (They cut more cleanly this way than if you try to cut them inside the pan.)
Store in an airtight container in the fridge.